Serendipity in the Process of the Error
Show me how we make Art international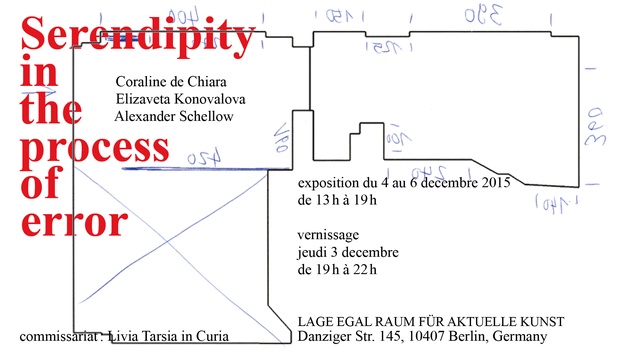 About the project
This exhibition shall be my first one as a curator in Berlin and the last project of my Masters at l'Institut des Études Supérieurs en Art in Paris. Born in France from a German mother and an Italian father I've always thought that art has no borders ! Thanks to your help I will be able to unite three young art talents displaying their masterpieces in the exhibition Serendipity in the Process of Error. This event offers three different points of view of the error into the art practice. It'll be set up in Berlin, one of the most important European center for Contemporary Art - in the project space LAGE EGAL - Raum für aktuelle Kunst. 
PRESENTATION OF THE PROJECT                                                        
I AM, THEY ARE, WE ARE ...                                                 
For the last project of my Masters with a focus on the Spreading and Business of Contemporary Art at l'Institut des Études Supérieurs en Art in Paris I decided to launch my first exhibition as a curator in Berlin.
I was born in France from to a German mother and an Italian father. This European composition inspired me to show 3 international artists together : Elizaveta Konovalova from Moscow, Coraline de Chiara from Jakarta and Alexander Schellow from Berlin. I believe they correspond to the theme of the exhibition, as I have been following their work for three years now, I feel lucky to get this opportunity to show them.
Thanks to your help I will be able to unite these three international artists, two of which currently reside in Paris, for what I beleive to be surely successful exhibition !
The exhibition Serendipity in the Process of Error details three different views of the error. Alexander Schellow will show his china ink drawings on paper and an animated film; Elizaveta Konovalova will show her photographies and Coraline de Chiara will exhibit collages and paintings. All of them will approach the notion of error in a conceptual way saying respectively:
Alexander Schellow : "The notion of error depends on which side of the system you are situated";
Elizaveta Konovalova : "An error is a freedom area in a process";
Coraline de Chiara : "The error leads to a solution…there is a before and an after";
WHERE ... ?                                                                                                              
I had the chance to organise the exhibition at Lage Egal - Raum für Aktuelle Kunst a project space that is run by the French artistic director Pierre Granoux. I immediately liked the space where most of the artists who are displayed are really the kind I like. In fact Pierre Granoux generally sponsors artists who work with the absurd, many of which were part of the Duchamp movement and who like the focus on the diversion of the objec.

YOU COULD ASK WHY BERLIN ... ?                                                                          
Naturally Berlin has always been a part of my culture, but specifically two recent professional highlights have allowed me to fully embed myself in Berlin's world of art - which is the reason why I am so excited to contribute to this thriving community.
YOU ...                                                                                                                      
Are the sponsors of this exhibition, and without your help I wouldn't be able to realize my first experience as a curator and realize the entire production of the show! Thank you for supporting this young contemporary creation and contributing to the financing of this endowment! 
PRACTICAL INFORMATION
Opening / Thursday 3rd of December 2015 from 19.00pm to 22.00pm
Exhibition / from the 4th December to the 6th December 2015 from 13.00pm to 19.00pm
Project Space LAGE EGAL RAUM FÜR AKTUELLE KUNST
DANZIGER STR. 145 10407 BERLIN / www.lage-egal.de
What are the funds for?
 5 STEPS ARE ESSENTIAL TO THE WELL CONSTRUCTION OF THIS PROJECT
- Flight's tickets (Paris-Berlin): 170€
- Shipping from Paris to Berlin: 200€
- The rental of Lage Egal: 150€
- Communication: 150€

The total amount of the budget is: 670€
About the project owner
Livia Tarsia is a student in the last part of her Master 2 Business and Spreading Contemporary Art (at IESA) in Paris and also a young curator. In 2014 she was in charge of the relations with the artists for the second Video Art auction sale Pixelingwhich took place on the 12th June at Garage Turenne in Paris. 
After many experiences in business of art like auction sales by phone at Drouot Auction House she is now much more orientated towards spreading art.
She is currently living in Berlin, she already assisted the curator Pauline Doutreluigne on Picture Berlin and her upcoming project "Design Anthropology" with artist/curator Yana Milev at Bureau Europa (Maastricht) in 2016 and currently she is doing an internship in a relevant cultural institution Künstlerhaus Bethanien which is also an art residency.