About Jacques Lacan's Seminar
A documentary series dedicated to Jacques Lacan's first Seminars with Antonio Di Ciaccia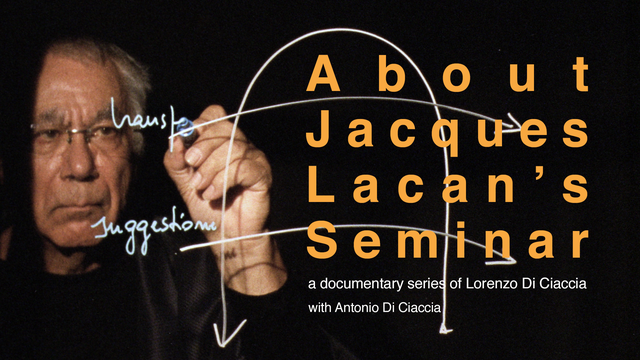 About the project
The campagna ULULE è arrivata finished on 26th Gennaio 2019 e siamo fieri di aver potuto contare su un gran numero di partecipanti.
The raccolta è finita, my potato continuare contattarmi per qualsiasi informazione! Possibilmente via the page facebook del progetto.
___________________
Antonio Di Ciaccia, lacanian psychoanalyst and the Italian translator of Lacan's whole work, gives us a reading of the first Seminars in 11 documentaries lasting 10 minutes.
HOW THE PROJECT WAS BORN
Since I was a child I heard about Lacan from my father Antonio Di Ciaccia who is a lacanian psychoanalyst and has been studying his teaching for over 30 years. He is the Italian translator of all Lacan's work edited by Einaudi and Astrolabio. His aim was always to convey Jacques Lacan's teaching. My brother and I were his privileged audience. He spent with us interesting hours talking in details about Lacan who was always present in our lives. Even during our holidays my father brought with him onto the beach to continue his task of translation. Still today he is working on the translations, and the last time I came back home I found him working on the revision of the Seminar. Book XVI that will be published very soon. I always look at my father as an insatiable researcher, who always focuses on deciphering the complexity of Jacques Lacan.
As Umberto Eco said in Saying almost the same thing - the best way to know an author is to translate him. So this project came from the desire to know something about the Seminar, and to share the explanations of my father, with everyone can be interested. I persuaded him to write together with me this film adventure.
THE PROJECT
More than one year ago we began to write. The idea was to produce a short paper for each Seminar that could be able to show some useful guidelines. The aim was not to be exhaustive but as clear as possible concerning the teaching of Lacan, established and published by Jacques-Alain Miller. We worked on the Seminars running from 1953 to 1963, and we agreed with the editor Ubaldini-Astrolabio to publish this work in the future. This paper will be the fil rouge of the first series of 11 episodes. For this reason we launched a campaign of crowdfounding.
In each episode, the voice of Antonio Di Ciaccia will bring us inside the Seminars while the images will be a more or less direct interpretation of some elements to which Lacan referred. With the editing, images will dialogue and echo with theoretical elements in a visual and poetic way.

Although this project was born at first in Italian, if we reach the expected budget of the 3rd level (20.000 €) we will be able to develop a version in French. Then in a third time, if we reach the 4th level (25.000 €) we will be able to make subtitles in Spanish and in English (Dutch under reserve).
ARTISTIC CHOICES
My desire is to work in an home made and poetic way because this atypical project has the ambition of an extremely precice theory.
Several years ago, while I was studying cinema in Geneva, I faced with a film that was shot on 16 mm using a Bolex camera. For various reasons, this experience taught me a lot. I found this approach so interesting but at the same time binding. In fact working with a spring-wound clockwork power system camera, with limited metres of film, and with a system of manual measure of the light, strongly influences your activity. Film is precious and it requires a lot of thinking by the film maker. Then, people have a different reaction when you use this camera. It seems that an old camera can raise curiosity and respect establishing a privileged relationship between the operator and the filmed subject. The Bolex is a very compact camera and can be used by one person only and this feature helps a kind of simple and an intimate relationship with the filmed subject. So, in order not to compromise this privileged relationship with my father, I need to work by myself.
This kind of work permits a bigger formal freedom also at a sound level. It is not possible to record sound directly on this camera but this permits a de-synchronization between sound and image: this was exactly what I needed to experiment with this filmic research. So, Bolex seemed to me the best camera to use in the project.
I think that the editing is an important phase of a film production and this way to work is useful to edit and shoot at the same time, getting the theory of Lacan and the poetry of moving images to interact. I consider this way to work the best one for the film writing.

CONTEXT
The Seminars: Jacques Lacan has left a complicated intellectual heritage made of papers and a whole teaching called The Seminar. Lacan left to Jacques-Alain Miller all his written and oral work. The Seminars are annual courses that Lacan taught from 1953 to his death (in 1981). At the beginning, he taught at home, then at the Sainte-Anne Hospital, subsequently at the École Normale Supérieure della rue d'Ulm and at the end in the Faculty of Law at Sorbonne. Lacan gave Jacques-Alain Miller the task to write down and publish the papers of the Seminar. Their publication is still now a work in progress.
Antonio Di Ciaccia has spent a lot of time to translate these papers into Italian: it is a hard work that brought him to become a great expert of the theoretical and clinical thought of Jacques Lacan and this is the reason why today he can offer us his reading of Jacques Lacan's teaching.
The episodes will deal with the first ten years of the Seminar - from 1953 to 1963 – the period spent at Sainte-Anne Hospital before he was expelled. In these Seminars, Lacan made a deep research on the Freudian discovery. He takes Freud's whole work and tries to understand the meaning of das Ding. During his theoretical and clinical journey about Freud, Lacan points out the same questions: how has speech effects on trauma and symptom? In what way does a psychoanalyst have to act according to his function? By his work Jacques Lacan tries to answer these questions.
ABOUT ANTONIO DI CIACCIA
Antonio Di Ciaccia was born in Rome on the 7th February 1944. He graduated in Theology at the Marianum Pontifical Faculty of Rome in 1969. Then he went to Belgium to study Psychology at the University of Lovanio where he graduated in 1972. There he attended the Superior Institute of Philosophy but he didn't present the final thesis. In 1972 in Paris he knew Jacques Lacan who became his psychoanalyst. In 1976 Antonio Di Ciaccia was appointed member of the Ecole freudienne de Paris. Then he became AME (Analyste Membre de l'Ecole) member de l'Ecole de la Cause freudienne, after the dissolution of the Ecole freudienne de Paris, Lacan considered it his own school.
In 1974, Di Ciaccia founded Antenne 110, an Institute for the treatment of autistic and psychotic children in Bruxelles working with a new method oriented by lacanian psychoanalysis and called pratique-à-plusieurs. Then, with Jacques-Alain Miller and the editor Ubaldini-Astrolabio, he founded in 1987 the Italian review called La Psicoanalisi that is now approaching to the 62° edition. In 1989, he came back to Rome with his family where he began to build the Italian Freudian Field and the Istituto freudiano per la clinica, la terapia e la scienza - a Training Institute in Psychotherapy oriented by lacanian psychoanalysis that was recognised by the State in 1993: he is the President and Jacques-Alain Miller the Scientific Chief of this Institute. In 1989, Jacques-Alain Miller gave Di Ciaccia the task of translating 15 volumes of The Seminar published by the editors Einaudi and Astrolabio. He worked also to the Italian translation of Altri scritti and other minor volumes always published by Einaudi and Astrolabio. Nowadays, Antonio Di Ciaccia is a member of SLP – Scuola Lacaniana di Psicoanalisi and AMP – Association Mondiale de Psychanalyse.
What are the funds for?
As you have probably already understood, this project represents a very important amount of work, which extends over a long period of time. We have already worked for more than a year in writing, developing the series, shooting etc. We started some time ago, and somehow, we will be able to finish this project, at any cost. The reason why today we are asking your financial help is to allow us to complete the project as soon as possible. We decided to start with a target of € 10,000, which just covers the basic costs of the project, such as travel, negative film and shooting expenses. However, our real goal is to be able to get € 30,000. So we could spend time working on the series more easely.
YOUR CONTRIBUTION SERVES TO:
- 8% for the commission of Ulule
- 50% Negative film (purchase, development, digitalization, delivery charges)
- 10% Renting Audio and Video Equipment
- 10% Renting postproduction studio
- 7% Transport charges
- 7% Translation costs and subtitles
- 8% Funding the compensatory measures of Ulule
STEPS TO ACHIEVE OUR GOAL:
First step 10.000€ goal achieved : It will allow us to buy the necessary argentic film to end the series and to cover some necessary expences during the shooting.
2nd step € 15,000 €goal achieved : we will work even better and we will deal with the translation of subtitles in French, Spanish, English, Dutch and German.
3rd step 20.000 €: We will work on an original French version.
4th step € 25,000: We will work in better conditions during post-production (editing, mixing, calibration), in order to release the series as soon as possible.
WORKING PLAN:
Start date of writing: MAY 2017
First phase of shooting: JULY - SEPTEMBER 2018
First phase of editing: OCTOBER 2018
Other phases of shooting and film editing: OCTOBER 2018 - AUGUST 2019
Final cut: OCTOBER 2019
Postproduction finishing: NOVEMBER 2019
Forecast of distribution: DECEMBER 2019
About the project owner

STAFF
Lorenzo Di Ciaccia: writing, production, audio and video footage.
Antonio Di Ciaccia: writing, voice.
Nalia Giovanoli: cooperation in writing, editing.
LORENZO DI CIACCIA
Education and training titles:
- July 2013: Bachelor's Degree in Cinema at HEAD-Geneva, department Cinema / cinema du réel (2010-2013). Final thesis of the film The adventure of Michelangelo Antonioni. Diploma obtained with the congratulations of the jury for the film of study end The witch's path (title in French: The witch's path)
- 12/05/2008: Bachelor's Degree in Arts, Music and Entertainment (DAMS) Direction Direction in Cinema and Television at the Faculty of Philosophy and Letters of the Roma Tre University. Final thesis on Todo Modo by Elio Petri.
Lorenzo's end of study film:
Il sentiero della strega. /trailer/ 2013. Doc. 50'. VO IT sous-titres FR
to see the film send me an email. I will send you the link
Some exercises of studies (of the HEAD - Geneva):
Moonlight n°1 and n°2. 1' 30'' + 1'30''. FR 2012
La Boîte à désirs. 13' 30''. FR 2012
'A Tammurra. 7'. IT (song) 2011
Dimanche, Lollo et une bolex. 3' 38''. 16mm – no dialogue 2011
Un destin contrarié. 5'. FR 2010
C'era una volta un bambino. 2'. IT st FR 2010
Links:
Video
​Antonio Di Ciaccia, conferenza su Il Seminario VI di Jacques Lacan