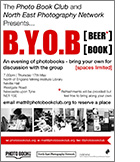 Matt Johnston of the Photo Book Club will present the book dummy at a Newcastle meet-up on Thursday (May 17th).
About the Photo Book Club:
"The Photobook Club aims to promote and enable discussion surrounding the photo book format. In particular looking at old, rare and influential photography books from the 20th century onwards."