Thanks to Tom Griggs, the Salaryman Project features in Fototazo.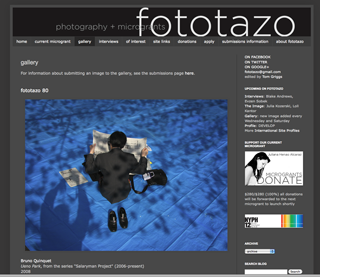 FOTOTAZO is a unique site combining social giving and photography. Its mission is to raise funds to purchase equipment for young, emerging photographers from economically disadvantaged backgrounds from Colombia - and eventually from around the world - that demonstrate a high level of artistic ability and commitment. The grant program aims to serve those already building a career in photography whose development is currently limited by the inability to purchase necessary equipment.
Posts on fototazo feature in-depth interviews and project releases of new work by selected contemporary photographers, writing from photographers on the work of other photographers and on their own images, exhibition reviews, opinion articles, and an online gallery, as well as more posts of original content.