Run for Multiple Sclerosis
5 October, Brussels Marathon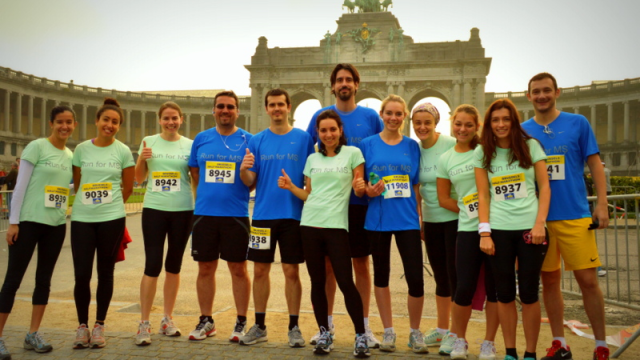 About the project
The project
Run for Multiple Sclerosis (MS) is a project of the European Multiple Sclerosis Platform. It all started one year ago as a chat over lunch, when Emma told Andreea how much running helps her to cope with her MS and how important physical exercise is in the battle with fatigue. That was the moment when we decided to start our own project, to run for poeple with MS and to fundraise in the same time. 
We will participate in the Brussels Marathon on the 5th of October  to raise money for the production of a video telling the story of people with MS from Estonia.
What is MS?
Multiple sclerosis (MS) is a nervous system disease that affects your brain and spinal cord. It damages the myelin sheath, the material that surrounds and protects your nerve cells. This damage slows down or blocks messages between your brain and your body, leading to the symptoms of MS. They can include visual disturbance, muscle weakness or trouble with coordination and balance etc.
No one knows what causes MS. It may be an autoimmune disease, which happens when your immune system attacks healthy cells in your body by mistake. Multiple sclerosis affects women more than men. It often begins between the ages of 20 and 40. Usually, the disease is mild, but some people lose the ability to write, speak, or walk.
Managing multiple sclerosis is not just about early diagnosis and proper treatment and care. Physical activity can also help those living with MS cope better with the symptoms.
The exercise of running has already allowed numerous people with MS to stay in shape and fend off anxiety and depression.
Today, I am winning my MS WAR, and over the last four years have been getting stronger and stronger. Exercise has been one of the key ingredients that have helped me beat MS. When I started exercising, I did it 30 minutes per week.  This year I will compete in all sorts of adventure races including three marathons. Dreamers move mountains!
(Conor Devine, MS Athlete)
What are the funds for?
We need your help to highlight the sharp discrepancies in the quality of life of people living with multiple sclerosis in different parts of Europe!
All the money raised will be used for the production of a video telling the story of people with MS from Estonia. This is part of Under Pressure multi-media poject, a project that has already shown the big discrepancies in the management of MS in countries such as Belarus and Germany, or Ireland and Greece. See below what was done in Greece and let's make it happen in Estonia as well!
Answering the call of our MS Society from Tallinn, we now want to raise awareness of the main challenges of the 1,500 people living with MS in Estonia. We are willing to work for your help. To run, more precisely! We will dedicate this run to our Estonian MS Society and hopefully we will raise the remaining amount we need to produce this documentary.
Help us fight for a better world, a world without MS!
About the project owner
From left to right: Andreea Antonovici, Claudiu Berbece, Emma Rogan
We are three enthusiastic young people who, besides our work at the European Multiple Sclerosis Platform, are addicted to sports, love to run and want to support and inspire people. .
The only thing that feels better than running for yourself is when you are running to support and inspire others. That's what the "Run for MS" project is all about: running can really change people's lives for the better. 
(Andreea Antonovici)
How do I know it's worth it? Because I know what it was to be uninspired, without purpose, when I'd rather do anything but put one foot in front of the other. Motivation takes a shift in attitude as well as reminders to get out and sometimes support from others. Being part of the EMSP "Run for MS" Team is a powerful reminder that not only am I using my body, I'm part of a bigger movement, a team to inspire. You are not alone and better than that we are here for one another. 
(Emma Rogan)
A journey of a thousand miles begins with a single step! Join us in the journey to improve the quality of life of people with MS and support our campaign! Also, if you would like to join our team and run with us in the Brussels Marathon, send us an email.
Also, a BIG THANKS to all those who joined our team!