PHOTO REPORTAGE CAMBODIA
Assist in the education of young disadvantaged girls through a humanitarian reportage pictures in Cambodia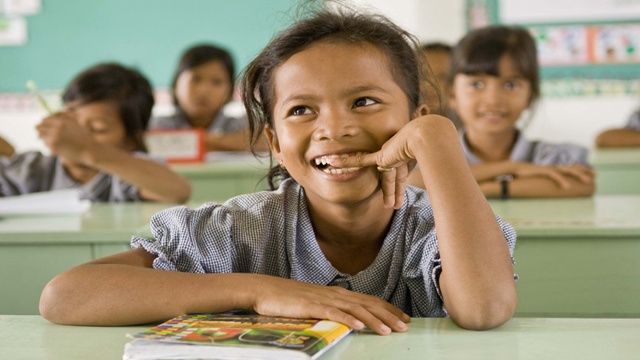 About the project
Participation in the funding of a photographic reportage that will be realized for the occasion of the ten anniversary of the association "All to School", created by journalist Tina Kieffer and to support the visibility of an education project for girls in Cambodia.
Why do I need your help?
I am a photographer and the project that I present revolves a noble cause:  Girls in Cambodia who need our help.
I have to go close to Phnom Penh, to perform an artistic reportage on the schools who are fully funded by the association "All to School" for about two weeks.
Presentation of "All to School":
The Association "All to School" was created in 2006 by journalist Tina Kieffer, then director of MARIE CLAIRE magazine.
The godmother of the association is Claire Chazal, featured presenter of the Tv News in France, who is committed in long term, deeply touched by the retrieved happiness of these girls, who are eager for instruction.
Less than a third of school children worldwide are girls. Faced with this terrible situation, Tina Kieffer founded the association whose primary mission is to provide a high-level education to poor girls and to lead this to a trade that will bring them freedom and dignity.
The school, located 12 km from Phnom Penh, now educates 1080 students!
100 new girls are enrolled each year.
A vocational training center has also been opened in September 2013. The girls are accompanied throughout their academic or professional training to their first job.
Finally, a boarding school with a capacity of 130 seats welcomes the poorest girls.
All this is very expensive!
The aim of the school is to train young women in positions of reflection and decision of tomorrow. Some will become doctors, teachers, judges, entrepreneurs...
The others will follow an apprenticeship and will be supported to have a job that brings them freedom and dignity. They can build a future here of free and educated woman, and in the future participate in the economic life and reconstruction of Cambodia.
Why Cambodia?
Cambodia is a country in which half of the population is under the age of 18 years, and who has lost 90% of its intellectuals in the genocide by the Khmer Rouge.
Poverty is huge and many parents often have no choice but to let their daughters work at a young age. Many families live in very great precariousness: poor housing, overcrowding, very low incomes (resulting in food shortages, addiction problems or acts of abuse).
Public schools are overcrowded and offer courses at halftime. Girls are often forced out of school by the end of primary to help their families. Prostitution is rampant among young girls.
Why helping these girls?
As in many poor countries, it is often the women who has to deal with inequality and precarious conditions.
Today, 30% of older Cambodian women aged 15 and more, can neither read nor write (to 15% of men).
Girls account for only 36% of school children in Cambodia.
Over 65% of the women are living in rural areas working the land without remuneration (subsistence production).
Only 21% of legislators, officials and managers are women.
40% of the women are living in rural areas and have poor access to medical care.
This trip is scheduled for June 2016, it is therefore urgent to find the necessary funds.
The monsoon, who are particularly impactful in Cambodia, will come just after the summer, which will make it impossible to make a photo report for the school year.
By funding this report, you will make a nice gesture, to help me create beautiful images that themselves will serve to help these girls!
I count on you!
What are the funds for?
For what purpose?
To celebrate the tenth anniversary of "All to School", this reportage will lead to an exhibition in Paris, and another in Brussels.
At the opening of the Paris exhibition will gather many celebrities of culture and television, all photos will be auctioned and all the raised money will be donated to the association for the benefit of these girls (school fees or uniforms, meals, etc.).
By helping me to start this project you will help me off course, but mostly you will help these children without education, whom will otherwise never have the chance in having a better future.
The role of schools built and financed by the Association is decisive for the future of girls in the region.
The report will highlight schools, built thanks to the association, and thousands of schoolgirls, and of course Cambodia, a sublime country where more than half the population is under 16 years.
To what serves the raised money?
Making such a journey and fulfill this kind of reportage is expensive.
The money will pay for the different displacements (planes, trains, buses and car), the meals, various fees (visa, etc.), camera equipment and insurance, and also the photo prints wich are very expensive!
I will be housed there, so therefore I will have no hotel expenses.
Why is this important to me?
Since always, I keep a special place in my professional activities to take care of others, to share, assist, wherever I can.
Currently, I am teaching photography to people with Down syndrome, psychiatric patients, elderly people in a retreat center, and the Gypsy youth to whom nothing is proposed.
It is so rewarding to see how they are happy to share this, how they are in the sincerity and emotion when someone is interested in them, and valuing them around a fine art project.
Then of course, the fate of these girls in Cambodia touched me, and I want to bring my contribution by doing what I do the best: pictures.
About the project owner
Who am I ?
My name is Gregory Herpe and I am an eclectic photographer, professional and self-taught.
I am specialized in art photography (especially black and white), on traveling, and I have been fortunate to achieve coverages of Paris and France, the Netherlands, Scotland, animals of Africa, Kenya, Tanzania, religious heritage, the Maltese vintage buses, the gypsy community, Barcelona and Catalonia, and more recently the beautiful city of Brussels.
Last year I had the chance to win two awards for my photographs:
-Price of 2015 Best Press Picture (Press Club)
-Prime at the International Biennial of Contemporary Art in Genoa, Italy, 2015
I also realized portraits of numerous celebrities, from Gerard Depardieu to David Bowie, Iggy Pop, Omar Sharif, Jack Nicholson and Beyoncé, for a press agency...
And because I love people and I wanted to share my passion for the image, I created a photographic studio in the south of France where I learn people with Down syndrome, psychiatric patients, nursing home residents, and young people from minorities, making pictures with much fun!
My photos were published in France, the US, Russia, Great Britain, Netherlands, Italy, Spain, Poland, Greece, Slovakia, Thailand, Switzerland ... and exhibited in Paris, Boston, San Diego, Bristol, Porto, Brussels, Spa, Cannes ...
I worked as a journalist for various magazines in Paris and London and I was also editor on NRJ, Fun Radio & TV where I have interviewed George Clooney, Will Smith, Arnold Schwarzenegger, and other rock and film stars.
A pupil of Francis Huster the Cours Florent with my friends Jean-Paul Rouve and Edouard Baer, I played and staged several plays in Europe, a few films for Jean-Pierre Mocky, André Téchiné, Pierre Etaix, and I was artistic director of a movie production studio, with label.
You can find me on my official website:
www.gregoryherpe.fr or www.gregoryherpe.com
and on my Instagram and twitter account:
https://www.instagram.com/gregoryherpephotographe/