RE-UP
The Art of Up-cycling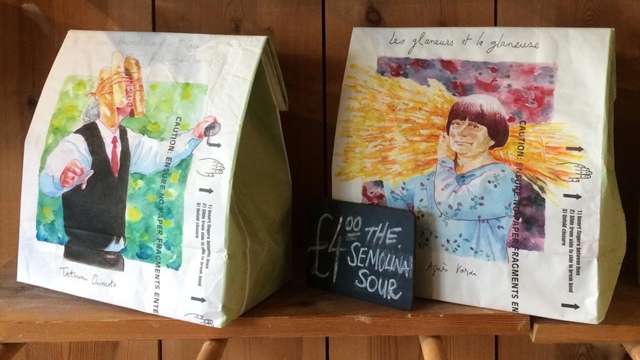 About the project
The RE-UP (re-use, re-purpose, up-cycle) art project is about using creativity to tackle issues around sustainability. The idea started during my time working at October 26 x Downstairs, a small artisan sourdough bakery in West London.
For this project I have been recycling flour sacks from the Shipton Mill, an organic mill based in the Cotswold valley in the south west of England. I was really inspired by the design of the bags and the quality of the paper. At the time I really wanted to get a large sketchbook to draw on, and seeing the many flour sacks we were throwing away every week, I started putting them aside and creating different sketchbooks. The brown paper is great for illustrations as it makes the colours really pop out of the page.
After the notebooks came the bags. Once folded and glued, there is this nice empty space at the back which is perfect for an illustration, and so I sarted painting on them using watercolours and ink.
Raluca, the owner of the October 26 really liked the initial samples I showed her, and offered me to make use of the downstairs shop which was vacant. I decided to use that opportunity to create an exhibition. It ran from 9th to 21st of December 2019, with a notebook-making workshop taking place on the 14th of December.
Each notebook is indivually hand bound using japenese binding, and all have a unique look and come in 3 different sizes. The bags come in 3 forms, large tote bag, handbag, folio, all using 100% recycled paper.
There is a limited edition series of 9 Folio bags, with custom illustrations painted onto the back of the bag. The illustrations I created reference the many discussions we had about life, art and food, and are a celebration of the time I spent working there and the people I met.
POSTCARDS
The postcards are printed on 300gsm non-coated paper. Each design is taken from original artworks painted using watercolour and ink on recycled paper on the flour sacks. W10.4cm x H12.7cm
The postcards are available with different options:
- Individual postcards
- Artist Series : Tatsumo, Agnes, Andy
- Typographic Series : Nouvelles Vagues, The menu is not the meal, The moon and Sixpence
- Baker Series : October 26, Kneading, Yes we can.
- Full set
POSTER
Each design is taken from the original artworks (as featured on the postcards). Giclee print on 290gsm Hahnemühle Bamboo (the world's first digital fine art inkjet paper made from bamboo fibres). W27.9cm x H35.5cm (11"x14")
NOTEBOOKS
Each notebook is individually handmade using recycled paper from the flour sacks, and stitched together with a japanese binding.
The notebook is available with different options:
- Small notebook W15 cm x H20 cm (72 pages)
- Medium notebook W20 cm x H24 cm (48 pages)
- Large notebook W38 cm x H45 cm ( 72 pages)
Also available : your choice of notebook with handwritten word art on the cover using a marker and my custom typography.
FOLIO BAG
Each bag is handmade from recycled paper flour sacks from Shipton Mill, the design features a japanese button tie closure. W29cm, H24 cm (open 42cm), D12 cm.
ORIGINAL ARTWORK FOLIO SERIES
This bag is the same as the plein folio, with an original artwork featured at the back. Each artwork was individually painted using watercolour and ink and crayons. The illustrations feature the 9 designs presented on the postcards (original size around 20cm x 20cm)
TOTE BAG
The Tote bag is individually handmade made from recycled flour sacks, with a japanese binding stitch at the bottom to recall the original design. The handles have been sewn and lined with fabric to make them more resistant. Size W40cm x H50cm (handle 66cm)
The Tote Bag also comes with the option of an additional original handpainted flower.
HANDBAG
Each bag is individually handmade from recycled paper flour sacks from Shipton Mill. The handles have been sewn and lined with fabric to make them more resistant. W29cm, H24 cm, D12 cm. (The handbag below was customised by Fiona, Raluca's daughter)
SHIPMENT
We ship worlwide. The regular shipment time are:
Europe: 2-4 weeks
North America, Asia and Australia: 4-6 weeks
South America and Africa: 6-8 weeks
Please note that we use regular postal services with economy shipping and no tracking. If you wish another option please send us a message with your name and residence address at [email protected] and we will arrange special shipment for you. The additional fee on demand for priority shipment with tracking is 10€.
Important: it is imperative that you register with a postal address and an email address valid at least until May 31, 2020.
What are the funds for?
By supporting this project you will allow me to spread it to different places. I plan to organise more workshops in 2020 around London, in collaboration with local art institutions, communities and schools, to promote recycling and sustainability through creativity, whilst also being a way to inspire and empower people to celebrate there communities and peers. The funds will allow me to buy a few more tools for the bookbinding workshops.
The second phase of the project is to collaborate with other independent illustrators and printmakers to create a new collection of bags for 2020, which will be exhibited and auctionned. The money will go towards retributing the artists, and getting a spot at the other art fair in London to exhibit the new collection.
(above drawings made on Shipton Mill's brown paper, by my 5 year old niece and 3 year old nephew)
About the project owner
I'm Vincent - a French graphic designer and illustrator based in London. I have been working in design agencies and independently for the last 14 years, and have recently started focusing on projects which involve collaborating with artists and working with local communities and schools to get them excited about creativity and design.
If you enjoy my work and want to see what else I am up to, you can use the contact details below.