Quantum Knights.
Short live action film on a dangerously dysfunctional family, murder and space-time.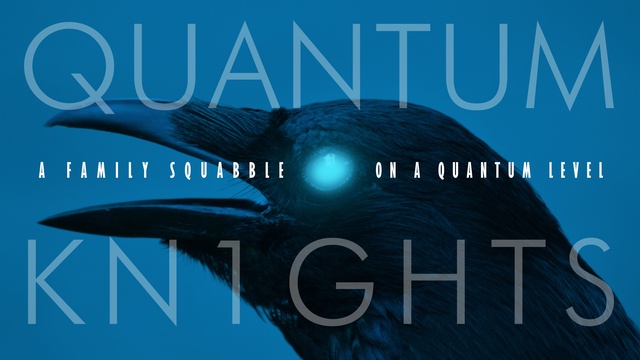 About the project
''Quantum Knights'' is the introductory Short-Film to the universe of Knights & Bishops (a feature film trilogy, written in 2017) that follows the adventures of Oliver Knight, a young noble from another world who travels freely through space and time using his mind and who uses quantum physics manipulations to modify his environment. In Quantum Knights, Oliver, his brother Ben and sister Camille come together from different worlds to fend off an assassination attempt on their family and plan their next move ( can't tell you too much, that would ruin the surprise ).
The Cast:
Oliver / Mark Ghanimé
Ben / Alex Stines
Camille / Émilie Leclerc
Lord What's His Name / Mike Chute
Julie / Claudia Ferri
The team:
Director: Charles-André Bertrand
First Assistant Director: Théo Thivierge
Editor: Robert E. Newton
Production Designer: Raymond Dupuis
VFX / CGI: Leclerc-Dumont
Prop Master: Ken Meany
On set Props: Claude Rainville
Make-up / Hair: Audrey Bitton
Sound: Pascal Van Strydonck / Daniel Fontaine-Bégin
Steadycam: Mathieu Charest
Gimbal: Benjamin Granet
Craft: Luis Moreno
Set P.A: Marika Dalpé
and more to come.
What are the funds for?
Producing a professionnal short film is no small task and would easily require $100,000 if we paid everyone. Luckyly we have very good friends amongst the best film technicians in Montreal who are willing to freely give 4 days of their time to shoot Quantum Knights. The funds are required to pay insurance for the equipment and crew, the rental of the equipment, camera and lighting and food to feed the crew ( we usually shoot for 12 to 14 hr days and the crew works very hard, sometimes barely stopping to eat ). Evidently if we were to manage to raise more funds, we could also give the crew members at least a symbolic summ for their troubles.
OUR CAMPAIGN ONLY LASTS A MONTH SO PLEASE CONTRIBUTE NOW.
About the project owner
   Charles-André Bertrand: Writer / Director / Producer
Charles has worked for 20 years on film sets as a Property Master, Assistant Director and sometimes Actor. He has directed a short film : Oh! Ciel!  (coming out this year at the Cannes Festival), directed  closed circuit commercials and corporate videos. He has a Bachelor Degree in Marketing, a Bachelor Degree In Politics, and a Commercial Pilot License with a multi-engine rating but what he does best is telling stories and this story will set up the great adventure to come. This short film will blow your mind, you are in for a ride and you will be awed with what we can do here when the best film crew comes together.
http://www.imdb.com/name/nm0003848/?ref_=fn_al_nm_1
https://www.facebook.com/charles.a.bertrand