PUSH Sweden - International Climate Action
PUSH Sweden to COP24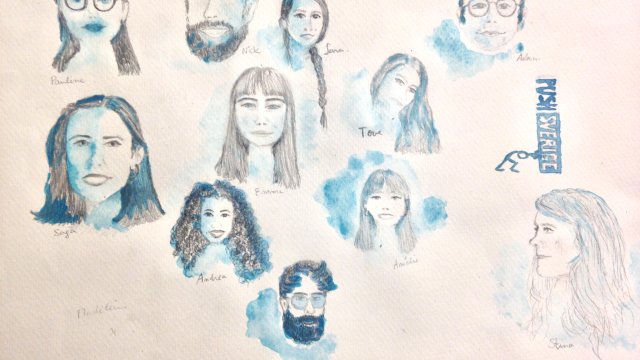 About the project
🌱🌎🌍🌏Det finns hopp om klimatet - men vi måste fortsätta kämpa! PUSH Sverige, plattformen där unga samarbetar för hållbarhet, har en internationell grupp som jobbar utanför Sveriges gränser för att lösa världsproblemen, framförallt på internationella klimatförhandlingar. Stöd oss när vi 2-14 december 2018 representerar Sveriges och världens unga, vid FN:s internationella klimatförhandlingar i Katowice, Polen - COP24! Vår blogg: http://pushtocop.org - PUSH Sveriges hemsida: www.pushsverige.se
There's still hope on climate change - but not if we don't fight for it! Support PUSH Sweden and the international group as we represent Swedish youth from Dec 2-14, at the international climate negotiations, COP24, in Katowice, Poland! Our blog: pushtocop.org – check it out!
OUR MISSION 🌱🌎🌍🌏
As PUSH Sweden's international knot, we create a network and build a bridge between the international climate politics, the European and the Swedish ones. As we feel climate politics need a push to get more ambitious, we are here to:
💬Raise, primarily Swedish's Youth, awareness on environmental and climate issues
🌟Empower people in these issues
🔝Push climate politics on various levels
How?
By creating space where knowledge transfer takes place, such as lectures or workshops. It enables people to have an exchange on thus topics, get an understand of what is at stake and developp together new narratives.
By taking part at different climate related events such as the international climate negotiation called "COP" for "Conferences of Parties" to the United Nations Framework Convention on Climate Change.
What are the funds for?
Shorter, in English:
🌿🌎🌍🌏🌀In order to both represent young people on the international stage and collect information to empower and continue to improve and strengthen our capacity building activities for the Swedish youth, we want to go to the next international negotiations on climate change called the COP24, happening this December in Katowice in Polen.
On-site, we will be active 24/7, advocating for strong rules of the Paris Agreement, as well as higher ambition to fill the huge gaps between pledges and practice, needed to avoid catastrophe.
But the work continues when we get home: we will offer so called workshops, sustainability hangouts, targeted knowledge on certain issues (e.g. improved blog posts) and moreover strengthen our network to continue to build bridges between youth and other groups needed in the transition to a clean, healthy and sustainable world.
💚💛Your contribution, even if small (i.e. 5-10€), is extremely appreciated! One part of the collected funds will go in travelling, as you might have noticed, our current system is not valuing clean travelling means, but as a rule, the majority of our team tries to take the train or the bus to come to this event, even if this means a looong journey. We are pledging for more environmental life-styles such as trying to go into zero waste habits, eating locally and no or less meat, taking less the plane, etc. A BIG THANKS for supporting us!
Longer, in Swedish:
❕❕📍I Paris hösten 2015 träffades ett historiskt avtal mellan världens högsta ledare för att rädda världen från en skenande global uppvärmning. Det blev historiskt eftersom alla länder gick samman kring vissa gemensamma mål i kampen mot klimatförändringar. Men för att dessa mål ska bli verklighet måste de nu omsättas i konkret politik.

Konferensen i Paris, även kallad COP21, fick stort mediapåslag. Det var en viktig faktor till varför resultatet blev så bra som det blev. När politikerna känner att världen tittar på, skapas den press som behövs för att de akuta, nödvändiga och kraftfulla åtgärderna ska komma på plats.
Sedan Parishar länderna förhandlat om hur avtalet faktiskt ska genomföras i praktiken, och vilka regler som ska gälla. Nu, på COP24, är det dags att färdigställa detta regelverk. (OBS - för mer läsning om COP24, läs vårt blogginlägg: https://pushtocop.org/2018/11/25/cop24-paris-2-0/ .) Samtidigt måste länder i Katowice stå till svars för det faktum att nuvarande klimatpolitik världen över inte räcker till för att undvika katastrof - det behövs mycket högre klimatambitioner. Och det här är naturligtvis oerhört viktigt - släpper civilsamhället och media pressen på politikerna, så finns det starka krafter runt hörnet som verkligen inte sätter klimatet i första rummet.
Mot dessa krafter, och för en hållbar, fossilfri och rättvis klimatutveckling, står vi: PUSH Sverige! Vår delegation har ackreditering och observerande status. Det betyder att vi får komma in på konferensen och har som roll att utgöra en kraftfull och konstruktiv röst på plats, tillsammans med kollegor och vänner från hela världens civilsamhälle. Sammanlagt är vi en samling av 15 unga, proffsiga aktivister, fördelade över konferensens två veckor.

🌿Känner du dig orolig inför klimatet, och vet inte vad du konkret kan göra för att förändra? Stöd oss ekonomiskt! Vi står själva för resa, boende samt andra kostnader som PR-arbete. Vi arbetar alla ideellt, på plats men sedan också hemma med uppföljande events. Ge oss möjligheten att representera och kämpa för er - utan att behöva ta alltför mycket av sparpengarna! ;) Vi hade varit fantastiskt tacksamma för ert stöd. Och alla donationer, även mindre, spelar roll!
✅🐝🤝I gengäld lovar vi att göra allt vi kan för att skapa den politiska vilja som krävs, i Polen såväl som i Sverige (och, via våra vänner runtom i världen, även globalt). Vi kommer att rapportera från konferensen, men även om allt viktigt som händer på vägen fram. Vi hoppas verkligen att du vill följa oss i detta arbete, och hemskt gärna sprida ordet! Bloggen där allting händer är: pushtocop.org ! Där kan du som donerar följa oss, och tveka inte att höra av dig om du undrar något speciellt!

TACK för ditt stöd! Tillsammans är vi starka! 💚

Med hopp, tacksamhet och inspiration,

/PUSH:s internationella team, på väg till COP24 i Katowice
-------
Here, we give you a snap shot in our intimate life while travelling back to Sweden - please give not too much credit to our tiredness:
About the project owner
OUR TEAM:
Please note, Adam Leckius, as the group coordinator (the beautiful guy with glasses) will be collecting the fund.
Who is going? 12 cool climate neirds of this team will go to Polen.
Here you can see us in action:
With the People's Climate Case, defending human's rights to live in a societal environment taking into plantery boundaries
Through the Talanoa Dialogue, making outreach work and creating new climate narratives with other Swedish citizens
At the UNFCCC international climate negotiation, representing YOUNGO (the Youth Constituency of the UNFCCC) at the weekly press conference and reflecting there on the current state of the finance related negotiation items
And thanks to you: we can continue to be joyful climate neirds and defend on our level our Earth!
🌿😀Get to know us more & feel free to visit our following pages:
• Facebook
• Twitter