PROVISIONS AGOGO
Help me to create a platform to send food to Haiti, for the well-being of families in need!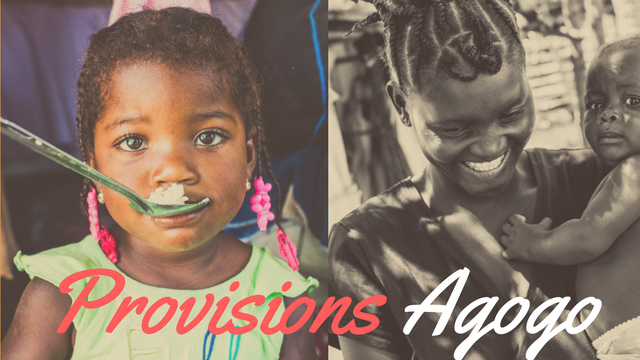 About the project
Anyone with a family member in Haiti will now be able to send them wholesale food supplies through a web platform that provides a wide range of products to help their families remotely
Platform Operation:
People outside of Haiti will order predesigned shopping baskets online from a smart phone, tablet or computer for a person in Haitian territory.
Once an order is completed, Provisions will be available to be picked up at 2 addresses in Port-au-Prince by the person in Haiti
Products in pre-designed baskets can be exchanged in stores for any other product with the same value.
Benefits of the project:
Feed a family remotely with a few clicks
Donate food donations to non-profit organizations in Haiti
Financing the inventory of a small shop (convenience store format) in Haiti
What are the funds for?
The funding will be used to build and launch an e-commerce platform that will allow people to send wholesale food supplies to their families and friends in Haïti.
Platform  70%
Marketing & Promotion 10%
Shipping costs 12%
Ulule 5%
Transaction fees 3%
About the project owner
I come from Haiti where it is not uncommon for a mother with 3 children to invest all her resources into one child  in the hope that this child can take care of the rest of the family. In mine, I carry this responsability.
Eight years ago my mother offered me to come to Montreal to study management accounting, under one condition, I had to give my brothers the same opportunity later in life. Every morning I wake up with this thought that failure is not an option for me. Why? Because someone else's future depends on me.
Giving back to the community was a value that Mom passed on to me by having me taking care of my little brothers. With this sense of duty, I have been involved in the following non-profit organizations: Young Haitian Chamber of Commerce, Saint-Denis Street Business Development Corporation, with the aim of contributing to the development of the Haitian and Quebec communities.
Now through this platform I want to make a difference in my community by allowing family leaders to help their mothers, fathers, sisters, brothers, women and children remotely in just a few clicks on the internet.
I care about the well-being of others and I believe in this Will Smith's quote: "If you're not making someone else's life better, then you're wasting your time. Your life will become better by making other lives better."
Futuristic, positive and passionate. Jude is a person committed to the economic development of his community in Montreal. A trained accountant, he believes that the most important asset to a project's success is oneself and that setting an example is the best testimony of life that can be shared.