The Musical Plants
Awareness project on the plant world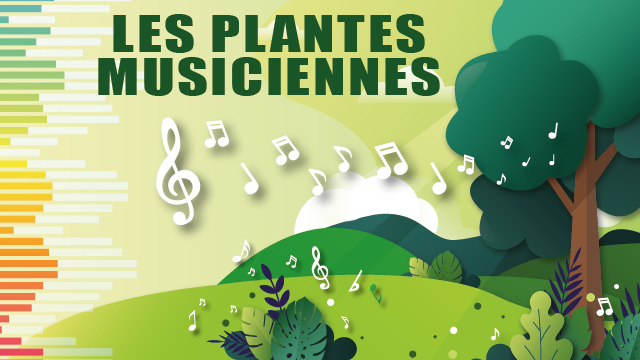 About the project
Hello everyone and thank you for visiting this page!
It's been four years now since I discovered a TedX conference that changed my perception of the plant world.
You can watch below this video of Alexandre that I hope to meet very soon. There are a handful of people on earth who have worked to develop and share a surprising tool.
And if I told you that we had the opportunity to discover a facet of our world that we do not perceive, that it is possible to hear the forests, the hundred-year-old trees, or even our green plants.

Here is the french video conference you need to take the time to watch. Please use the automatic translator, it works well. Alexander had a very interesting idea. :)

To go further, the experimenter Alexandre, at the origin of the lecture "The song of plants", explains that the lymph movements of the plant can be captured by a box that translates them into binary code, and then be transformed into sounds.
A digital instrument can then be assigned to the plant's activities. With this installation, you can finally listen to the singing of the plants.

In this video you can listen to a small duet between an avocado tree and the singer of the Croatian band Druyd.
Video posted 9 years ago.

After gathering the material for which I make this Ulule;
The first goal will be to listen, become familiar with the tool, and learn. All stages of the discovery will be important. I will give news, I will share so that you can live this adventure with us if you wish.
Eventually, the idea is to go to schools, to green classes, to listen to the musical plants.
I know from experience that music is important, especially in retirement homes, where sometimes not much happens. It will definitely be interesting to see the interaction between the elderlies and the harmonies that will come from the plants!
Professional gardeners will be happy to have their plants listened to before they are adopted ;)
And plant concerts will bring all generations together and mark the spirits!

Join the social medias :
- www.facebook.com/LesPlantesMusiciennes
- @Musical.Plants

What are the funds for?
The funding will be used to buy the box, called "DEVORAMA U1", produced by the Damanhur community in Italy. It is a MIDI box with electrodes, which must be connected to a computer.



The fixed device is 597 euros,
There is a lot with the fixed device and a portable device to allow me to go on school trips, go listen to the trees in the woods for example. It is possible to get this lot in a special offer around 900 euros. 

https://www.musicoftheplants.com/product-category/special-offers/

I also need a new computer.



I'm heading to a custom PC, performing in music production.
A computer that would last me 10 years, without rowing, without crashing, is a computer at about 2500 euros, see 2800 with Apple. In case the jackpot explodes, I will be able to turn to this comfortable option.
In the event that I turn to the PC option with Linux, it would immediately go down to 990 euros for the use I have of it, with the screen and all the other accessories.

Then it will be necessary to invest in Ableton software in a suite version because I need Samplers. This is exactly what allows me to create keyboards of sounds and words.(599 euros)

A MIDI-USB cable for 59 euros
https://www.bome.com/products/miditranslator#purchase
I invite you to read the page on Alexander's blog, which explains all the material he uses.
http://chantdesplantes.leparede.org/2020/05/20/le-materiel-neciciel-pour-composer-des-claviers-de-mots-et-permettre-aux-plantes-de-parler-et-decrire/



I would also like to invest in an audio speaker and afew accessories, I think I will find one around300 euros.

Even small contributions are important.
Thank you all.



About the project owner
Nature brings me a lot of joy. To see my eyes sparkle, wait for me to come across a snail or a pretty plant.
Expert level plant collector, I tend to "Junglize" all the places I live in in no time. I currently have about thirty different specimens. ( And it's growing days after days ) 
A self-taught and amateur musician, it is often said that I have my universe, and that it is quite dreamlike.
Looking forward to create with the plants!
In short, I am passionate, resourceful, creative, and I have a belief in doing things that make sense.
This is the perfect time for me to start this adventure, but I also think it's time to go one step further into what we don't understand yet. If nature has a message, today is the right day to give it a chance to get it across.