#ProCannabisTeam @ United Nations • Mission 2016
Help fundraising #ProCannabisTeam for the 59th session of the UN Commission on Narcotic Drugs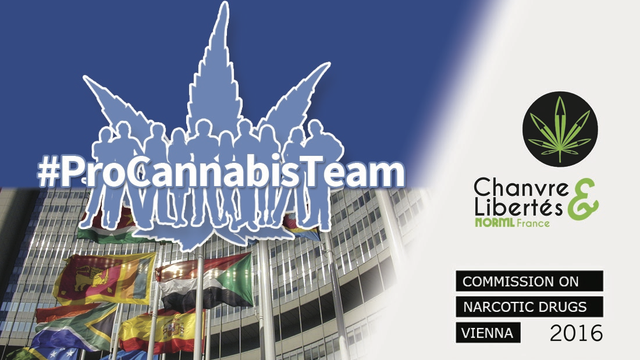 About the project
UPDATE 24th FEBRUARY :
We've reach the first limit of €1250, now help us reach €2100 before sunday 6th of March to ensure the printing and distribution on 3 languages of the International Advocacy Paper on Cannabis Social Clubs that we're hoping to launch, with your help, at the UN Commission on Narcotic Drugs (see the cover on the right)

Please share & donate !

Thank you for your help and support !
---
In a few months, the United Nations will host a world summit on drugs (UNGASS 2016).
At the heart of the international prohibitionist system, the UN Commission on Narcotic Drugs (CND) meets every year in march in Vienna. This year, the CND will decide in March the final word of the UNGASS of April.
Help the civil society grassroots activists to be representated during this important meeting.
Help making true the democratic transparency too often forgotten in those places, and halp us go spread a word of progress, social changes and drug policy reform !
The United Nations General Assembly Special Session, or UNGASS, is a meeting of UN member states to assess and debate global issues such as health, gender, or in this case, the world's drug control priorities. The last time a special session on drugs was held, in 1998, its focus was the total elimination of drugs from the world. Today, political leaders and citizens are pushing to rethink that ineffective and dangerous approach. International debates on drugs are rarely more than reaffirmations of this established ideological system.
But UNGASS 2016 is different : never before have so many governments voiced displeasure with the international drug control regime. Never before, to this degree, have citizens put drug law reform on the agenda and passed regulatory proposals via referenda or by popular campaigns. Never before have the health benefits of harm reduction approaches been clearer [click here to learn more about UNGASS]. For the first time, there is significant dissent at the local, national, and international levels. But the main concerned people should be as widely representated as possible. This is why we ask for your support to help spread the voice of cannabis prod-users and citizens ashamed by their government's prohibitionnist policies.
The 3 days of meeting of UNGASS, in New-York, will be the officialization of what has been decided in March in Vienna, in the very unknown Commission on Narcotic Drugs.
This year, the CND will be from March 14th to 22nd, in the Vienna International Center. As we did with success in 2014 and 2015, we would like to crowd-fund this journey and the costs of this action, for two experimented activists that have worked for a while on those topics : Farid Ghehiouèche (FAAAT, Cannabis Sans Frontières) et Kenzi Riboulet-Zemouli (FAAAT, Chanvre & Libertés-NORML France).
We will also be joined in Vienna by Olivier Bertrand MD, with whom we've been working on the thematics of cannabis and harm reduction for a while.
On our program, two main events :
Meeting between the official French délégation (MILD&CA, Vienna Ambassador, Foreign Affairs) and the French civil society plateform (AIDES, ASUD, Chanvre & Libertés-NORML France, FAAAT, Fédération Addiction, Médecins du Monde, SAFE, SOS Hépétites, etc), knowing that national contacts with French authorities are not easy, the framework of Vienna allows one of the fews interactions that exist between government and cannabis users social movments ;
Organisation of a "side-event" inside the Vienna International Center called "Introduction to Cannabis Social Clubs" with friends from the International Center for Ethnobotanical Education, Research and Sciences, the spanish Fundacion Renovatio and Regulación Responsable platform, the french FAAAT and the italian Nonviolent Radical Party, Transnational and Transparty.
We will also display a policy text on Cannabis Social Club (more info coming soon).
What are the funds for?
Costs for accomodation = €441,00
Costs for travel = €377,22
Costs for charges and food = €105,00
Fees for text and posters printing = €130
Fees for PayPal, Ulule and else = €131,78
 >>> TOTAL = €1250,00 <== FIRST LIMIT ALREADY REACHED
English version x500 = €238,90
Spanish version x250 = €198,24
French version x250 = €198,24
Postal service to Austria = €59,88
Posters and flyers printing for side-event = €50,00
>>> TOTAL=850,26 €
.  So we need to reach €2100,26 !   .
About the project owner
Farid Ghehiouèche
Former head of national commission on drugs at French green Party (from 1998 to 2008) ;
Former president of ENCOD (the european coalition for just and effective drug policies) with which he helped conceptualize the Cannabis Social Club concept ;
Main organizer of Million Marijuana March since 2001 in Paris ;
Founder of the association Cannabis Sans Frontières and candidate to several elections in France (european parliament in 2009 and 2014, legislative elections in 2012, regional in 2015) ;
Member of Chanvre & Libertés-NORML France's steering committee since 2014 ;
Central person in the public and mediatic debate concerning cannabis policy reform in France
Activist for more than a decade in Vienna on international drug policies, with a special approach on the topic of narcotic drugs classification, and now works there as #ProCannabisTeam ;
Head of advocacy and relations at FAAAT
* * *
Kenzi Riboulet Zemouli
Activist in the region of Toulouse since 2011, engaged with the health and social practitionners in this region, he has organized events and conferences on cannabis and harm reduction, displayed information in Toulouse with a local collective and took part in the redaction of municipal proposals on cannabis ;
Co-founder of the first Cannabis Clubs initiative in France from 2012 to 2013 ;
Co-founder and steering committee member of Chanvre & Libertés-NORML France, he has worked trying to propose several ways of implementation of CSCs in France since then ;
Nowadays living in Barcelona, he works with FAAAT in France or Regulacion Responsable in Spain to the links between those, and the positive elements that both countries can learn from one another on drug policy matters ;
He have worked with Farid as #ProCannabisTeam, and along with ENCOD on topics regarding the international drug control system and its reform opportunities.
* * *
Olivier Bertrand MD
Activist since 2002 spreading information, prevention and good practices of cannabis use to help the youth reducing the potential damages ;
Nowadays medical practitionner in Nancy (France), he is specialized on addiction and harm reduction
He made his thesis on the perceptions and représentation of physicians, addictologists and general population about cannabis, alcohol and tabacco ;
co-founder and steering committee member of Chanvre & Libertés-NORML France.