Poterie Orientale 12ème Siècle
Création de poterie médiévale orientale (Syrie, Liban, Iran)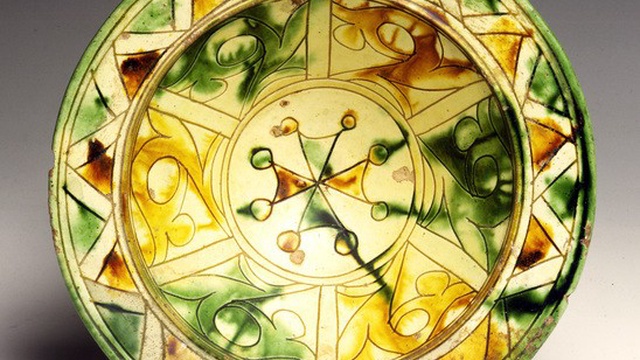 About the project
Le but de ce projet est de faire découvrir lors de manifestations culturelles, un campement retraçant la vie d'un Seigneur et de sa seigneurie.
Situé en Terre Sainte et plus particulièrement à Saint Jean d'Acre lors des croisades au 12ème siècle, ce projet à pour ambition la reproduction de poterie de style orientale (Syrie, Liban, Iran).
Ceux-ci seront exposés sur la table du seigneur et de ses sujets pour une explication et une interaction proche de la réalité historique auprès d'un public de tout âge.
Les informations sur nos futures manifestations se trouve sur notre site web, à cette rubrique :
What are the funds for?
En partenariat avec un potier céramiste, ce projet servira exclusivement à financer l'artisan qui reproduira dans un souci d'historicité des pièces en céramique (bol, assiette, pichet, aquamanile, lanterne) datant de la fin du 12ème siècle.
L'idée est de présenter des reproductions de poterie telle que l'on pourrait voir dans différents musées comme par exemple au Louvre (Département des Arts Islamiques), en évoquant une histoire peu étudiée dans les écoles (Primaire, Collège et Lycée).
Dans un premier temps nous devons acquérir suffisament de poterie afin de présenter une table orientale, a savoir :
environ 3 plats (70€ l'unité) : 210€ au total
environ 3 bols (30€ l'unité) : 90€ au total
environ 3 tasses (20€ l'unité): 60€ au total
1 pichets : 140€
Soit au total 500€
About the project owner
L'association Terra Orientalis a pour objet la valorisation du patrimoine historique médiéval à travers la reconstitution de la vie civile et militaire d'un campement franc en Terre Sainte à la fin du 12ème siècle.
Linda et Kévin Vaucel membres fondateur de Terra Orientalis sont passionnés par la période des croisades et plus particulièrement les us et coutumes de la vie civile et militaire des états latins d'Orient (Syrie, Liban, Israël). 
Le but étant de créer une vie seigneuriale sur un campement se rapprochant le plus possible des sources actuelles (Enluminure, fouille archéologique, textes anciens, etc.).
Vous pouvez consulter notre site web pour plus de détails: https://terraorientalis.wixsite.com/terraorientalis
Consulter également le site du potier céramiste :
FAQ
If you still have an unanswered question, feel free to ask the project owner directly.