Pony Sniper for TF2
A playable MLP mod for Teamfortress2.
About the project
*The aim is to create a playable sniper model for the game teamfortress 2, of the pony Twilight sparkles.
*The final result would be a pastiche, mixing the two characters.
*The budget needed only comission the realisation of said project; once done, it will be hosted so you can download it and play for free, throught a link i'll put on my DA page: http://kassgrein.deviantart.com/
*Approximative concept of project, finished model may vary in design from this picture.*
You can download my previous mods for free at: http://kassgrein.deviantart.com/
Thanks for viewing!
What are the funds for?
*Project contents:
-Ponified Sniper body
-Ponified head (5 expressions)
-Ponified 1st person views (hands)
-Ponified selection hud, and in game hud (HP)
-The project cover the first version only, any updates and bug fixes aren't included in the project.
-This mod will be done the same way i did for the other mods, so if the previous mods done by me and  installed on your computer doesn't work properly (expecially if you have an old directx version which mess the eyes) i cannot guarantee you this mod would.
-The only warrant i can show for this project credibility are the previous mods i have done so far.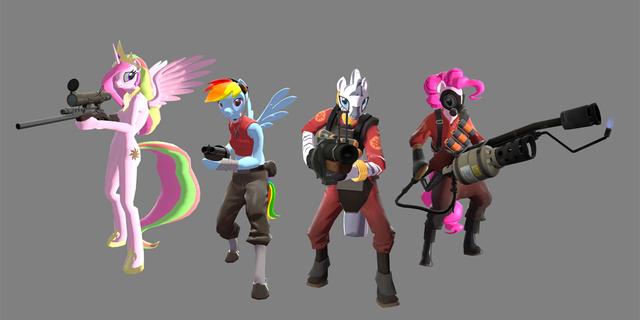 About the project owner
Formerly worked at a video game company , I program and draw, and modelise.
Stumbled upon the MLP show by pure randomness and since i play a lot TF2, it only tooks some time
before the "link" was made under the Rainbow Dash Scout!