Le petit Polichinelle de chiffon de Michael Ende
Promouvoir le livre cartonné cousu et illustré en couleurs pour enfants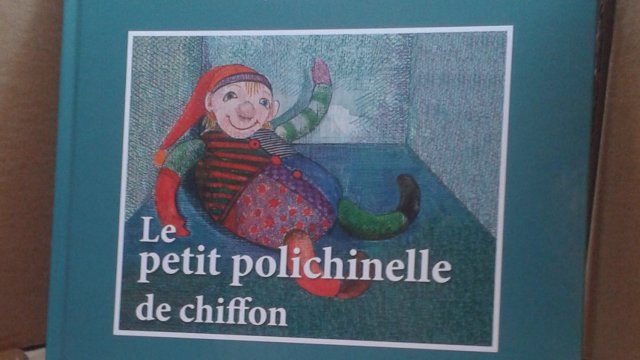 About the project
Quoi de mieux pour promouvoir un nouveau livre qu'un Salon?
Je serais au salon Primevère de Lyon si ensemble nous continuons cette cagnotte pour couvrir les frais d'inscriptions!
Il était une fois un petit polichinelle de chiffon...
... qui se retrouve loin de chez lui. Au fil des textes et des illustrations suivez ses aventures. Comment va-t-il retrouver le chemin de la maison ? Et pourquoi le petit garçon a-t-il tellement besoin de lui ?
Suspens assuré avec des illustrations en hachures croisées de crayons de couleur riches d'émotion et de détails des années 70.
Livre destiné aux enfants à partir de 6 ans ou à lire aux enfants dès 3 ans.
"Le petit polichinelle de chiffon" de Michel Ende (écrivain allemand de livres fantastiques pour enfants) est le premier livre d'une série à venir. Édité à l'origine en 1975 en Allemagne, il a été traduit puis publié en France mais a disparu depuis une trentaine d'années.
Sa réédition 2018 est proposée en livre cartonné de 28 pages dans un format 23x20,5 cm, avec 14 illustrations couleurs réalisées par Roswitha Quadflieg en 1975.
What are the funds for?
L'objectif de notre appel est de financer une partie de la première impression de 1500 exemplaires de ce premier livre en septembre 2018. Selon votre participation, pour 30€ ou plus, vous le recevez dès sa parution. Nous vous proposons deux autres contreparties : pour 10€ ou plus, recevez un lot de 10 cartes postales (des reproductions de tableaux en laine cardée et colorée de thèmes variés), et pour une contrepartie de 20€ ou plus : un lot de 10 cartes postales + 1 puzzle en carton sur le thème de saison pour enfant à partir de 3 ans.
About the project owner
Imagin'édition est une maison d'édition française créée en 1998. L'activité mise en berne depuis le décès de sa créatrice il y a 8 ans, Estelle, l'une de ses filles, a le désir aujourd'hui de reprendre la réédition de livres pour enfants sous le statut d'auto-entrepreneur.