Ping Pong Social Club
This original photobook blending pictures with a personal narrative will introduce you to the new urban and festive life of table tennis.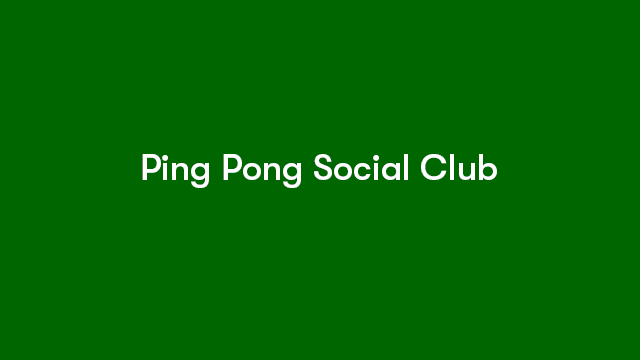 About the project
Often considered as an old-fashioned sport, table tennis has changed, it is attracting younger generations who practice it either in the streets or plan it as a night out. This trend emerged at the beginning of the new millennium in Berlin and then expanded throughout Europe.
These new initiatives try to promote its benefits for society (inclusivity, friendliness). They are driven by a network of passionate people including artists, punks, architects, entrepreneurs and social workers.
Graphic designers play with the shapes and colors of paddles and tables while DJs get inspired by the singular and repetitive sound of the bouncing ball.
To prepare this book, I traveled between 2013 and 2016 to several European cities:

I shouldn't forget Viljandi, a lovely town in the center of Estonia!
I met with a dozen or so initiatives, venues and projects founded by ping-pong aficionados.

I took thousands of photos and conducted about 20 interviews. But I wasn't just an observer, I traveled with my beloved paddle and took the chance to play with almost all the interviewees. I played in the dark, under the rain, on mini-tables, metal tables or decorated tables, in an empty swimming pool, parks, pubs, electro clubs. I also participated in many alternative tournaments. I won a medal in Bristol, a sweatshirt in Moscow and beers in Viljandi!
How is the book going to look like?
Ping Pong Social Club is a hybrid book, combining journalism, photography and graphic design. Visuals are accompanied by a long read that mixes reporting, travelogue and personal memories.
The layout and graphic design will be done by Ismaël Abdallah, an experienced professional and an old friend. He will make Ping Pong Social Club a unique object, to be kept for eternity in your library or to be displayed with pride on your coffee table.

The book will have 48 pages (A5 format), it will be printed on HP Indigo digital presses that guarantees a result almost similar to offset printing.
Here are already a few pages of the book in preview:
* See below.

This book is aimed at champions getting bored on the plane taking them to the next stage of the ITTF World Tour, to licensed table tennis players and their families who don't know what to offer them for their next birthday, to those who play in their garage from time to time, to those who challenge their friends once a year at the campsite, to those who have never dared to use again their racket since high school, to those who read Jerome Charyn, to those who watched Forest Gump, to those who listened to Armin Van Buuren, to those who once attended the fabulous Jacques Sécrétin and Vincent Purkart show. In short: this book is for everyone!
* One of the two images used for this photomontage was taken during the Pingpongo Dazzle tournament in December 2015 in Oslo. Pingpongo is table tennis with obstacles, this discipline was created in 2010 and its rules state: "Anything that is not table tennis is pingpongo".
What are the funds for?
We need your support to make this unique book and ship it right in your mailbox.
Here's how the budgeted costs break down:
- 60% printing.
- 20% graphic design, layout and proofreading of the book.
- 12% rewards purchase.
- 8% Ulule commission.
To thank you for your support, in addition to the book, we offer exclusive rewards!
1 - White Ball Pack (5 euros)
Ping Pong Social Club Postcard
2 - e-Pack (9 Euros)
Book (digital version) + e-Postcard
2 - Orange Ball Pack (17 Euros)
Signed book + Postcard
3 - Silver Ball Pack (27 Euros)
2 Signed books + your name in the book + Postcard
4 - Wooden Paddle Pack (65 Euros)
1 Supersmash paddle + Silver Ball Pack
Supersmash found its roots back in the noughties, with the friendship of two Swiss designers, Ramon Valle and Frédéric Savioz, playing ping-pong in the parks and bars of Berlin and Geneva. They wanted to create paddles that are not only functional but look good.
All paddles are handmade with selected high-quality woods (rosewood, spruce and ayous) to match the best nuances and tints.
5 - Golden Ball Pack (900 euros - limited to 2)
Wooden Paddle Pack + the author comes to bring you your copies and challenge you in your city during an unforgettable ping-pong game (offer restricted to European and MENA countries).
About the project owner
On the ping-pong side, I played for about ten years in a club in Haute-Savoie (France), which led me to evolve at the regional level (team) and to do international training camps (Franco-Swiss) during school holidays. Like many left-handed players, my weak point is the backhand and my strong point is... the forehand topspin, well … when the ball touches the table!
On the journalism side, I have been working as a freelance journalist since 2010, mainly for French and Swiss newspapers (M le Monde, Le Temps, L'Equipe Mag, Mediapart, Le Courrier...). But above all, my childhood dream came true when I published this work in Ping Pong Mag.