Pig for Pikin
Sustainable pig rearing can help children's education in rural Cameroon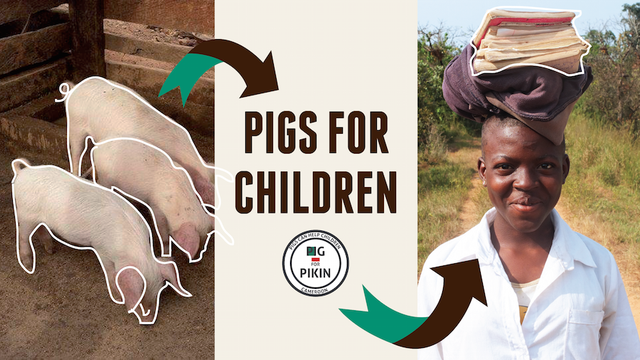 About the project
We are the core of a research team based at the University at Buffalo (New York) that has been working in a rural area of NW Cameroon called Lower Fungom for 6 years now. We have spent long time working in those remote villages documenting the endangered languages spoken there. However, by spending so much time in the field we saw many other things... in Lower Fungom nobody dies of starvation, but life could be enormously better than it is.
Since the inception, in 2014, of our new 3-year research project we decided to co-design a development side project together with local communities. Thanks to the authentic commitment of our local project manager, Mr. Ikom Achuo, we were able to hold a number of meetings with the 13 villages of which Lower Fungom is made: with their chiefs, with local farmers, with the general population. What came out of all this co-design path is "Pig for Pikin", a Cameroonian Pidgin English phrase meaning "Pigs for Children".
The project in a nutshell (see also our website and facebook page for more details).
The current situation is:
most local schools are run thanks to community money, and this includes construction and maintenance of school buildings, and teachers' salaries, but
communities are financially very fragile
as a consequence, schools are often decaying or non-existing, and teachers are paid little if any money at all.
This means that local children have a difficult schooling experience and most of them abandon school before the end of the primary cycle (when they are about 10-years old) in order to help their families farming etc.
This means that Lower Fungom people will continue to be poor and dependent on the unpredictable will of politicians or of philanthropists in order to get support.Children's education may represent the single-most important factor for the development of the area.
A possible solution:
Since the area is perfect for animal husbandry (average altitude is above 850m), local people proposed to introduce a high-yield breed of pigs called Large White;
already adapted to the area, this breed guarantees high revenues to small farmers without devastating their environment nor their cultures (the area is for the vast majority Christian).
our final plan is to establish a local pig rearing center which will contribute, with part of its income, to the amelioration of children's education: better schools, more motivated teachers, libraries, etc.​
For this to happen, Pig for Pikin is subdivided in the following phases:
professional training in pig rearing best practices and accounting to at least one young farmer for each of the 13 villages > DONE last September-October at the School of Agriculture - Polytechnic Bambui (University of Bamenda, capital of NW Cameroon). See photos below.
technical and financial support for the construction of 2 piggeries in two key spots in the area (ongoing, see other photos below)
assistance for the first year of work of the piggeries (September 2016 - September 2017)
Photos from the training:
Photos from the pig pens in Lower Fungom:
What are the funds for?
The funds we used so far came from our research project and our own pockets. Thanks to the collaboration of a leading NGO in the area (Reignite for Action and Development) we were able to develop a sound project budget, but we had to face a number of unforeseen changes, amongst which:
cost of training was suddenly increased by the School of Agriculture by about $ 1,000
plan of building only one piggery was finally considered wrong by the communities (some of the villages would have been too far from it) so we had to plan the construction of 2 piggeries instead of the one we had budgeted for: about $ 1,000 more
the local project manager (Mr. Ikom Achuo) had to work much more than expected: initially we had planned a part-time position for him for 2 years but, in fact, he had to work full-time for months in order to solve critical issues concerning all aspects of the project on the ground.
In all this, the collaboration of Mr. Ikom Achuo proved to be of essential importance. In particular:
success of the training: as is exemplified in the photo below (more photos on our facebook page and our website), Ikom is a man whose main preoccupation is the project's success: on that day one of the trainees could not look after her baby, so he simply said "give your baby to me, I'll keep him with me". How many men do you know who would do that?
relations between villages: this is a key part of how we developed the project. Since one team member (Pierpaolo Di Carlo) has studied Lower Fungom societies for quite some time now, we had enough data to know what we should do in order to ensure that the project be led in a peaceful and productive way. As you can imagine, having to deal with 13 villages (traditionally "village-states"!!!) means exposing the project to a number of risks: jealousies, misunderstandings, rivalries... Being aware allowed us to develop a very clear and agreed upon procedure to minimize such risks. Ikom understood the importance of doing all this (which implied, for him, to travel throughout the area illustrating the project, gathering feedback, and coordinating elections of village committees and trainees in each of the 13 villages...). The photos and video below .
construction of piggeries: during this phase (still ongoing) Ikom played a fundamental role in both motivating volunteers to participate in the work and finding/bargaining for building materials and transporting them. This year the planting season began some 3 weeks before than usual, and this is why we are near to completing the first piggery, in Abar. The next one will be in Kung.
​
So now we are very close to run out of funds and cannot sustain Ikom's full time position. We are seeking funds to cover his salary for at least 6 more months (Goal 1, $ 2,809). More funds will be used as the graph above shows: first toward completing 12 months' salary for Ikom (Goal 2, $ 5,618), then toward securing funds for one more training for 13 young farmers in Lower Fungom (Goal 3, $ 8,400), finally for buying a motorbike for Ikom so that he can move more easily in the rugged terrain of Lower Fungom (Goal 4, $ 11,200).
Mr. Ikom did a wonderful job and is a really key stakeholder in the whole project: the project can succeed only if Ikom is on a full-time appointment.
Today only this project can really do something concrete for a better education of children living in a rural and marginalised area of NW Cameroon.
Moreover, both the co-design workflow and the anthropological awareness that has informed our actions can be taken together to a 
Breakdown of the funds
$ 2,089 = Ikom's salary for 6 months
$ 330 = communication
$ 180 = expenses for rewards (mostly compensating singing groups in Lower Fungom and the Cameroonian PhD students who will work on recording, analyzing and uploading their performances)
$ 210 = Ulule fee
About the project owner
Pierpaolo Di Carlo: Research Associate at the Linguistics Department, University at Buffalo, The State University of New York. MA in Palaeo-Ethnology (2002), PhD in Linguistics (2009, Firenze), then selected by the University at Buffalo (SUNY) to work as a linguistic ethnographer in the project "Towards an areal grammar of the Lower Fungom languages". Since 2010 Pierpaolo travelled many times to Cameroon, spending in total more than 12 months in the country and about 9 months in rural NW Cameroon. Within the research team, he is the main responsible for the Pig for Pikin project, including its communication. 
Jeff Good: Associate Professor at the Linguistics Department, University at Buffalo, The State University of New York. He is the one who "discovered" Lower Fungom languages back in 2005 when he was postdoctoral researcher at the Max Planck Institute for Evolutionary Anthropology in Leipzig. Since then he has been PI of a number of research projects focused on the Lower Fungom languages.