Bring the small cyclists of your childhood to life
Play with small bikes, it's fun!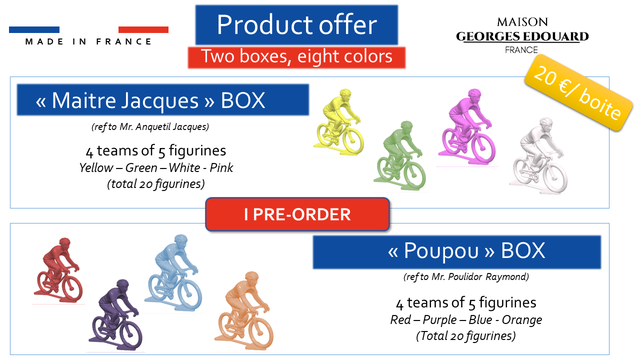 About the project
1. Our company specializes in the conception and design of objects for sports fans.
Our flagship product is the "little cyclist" in metal, an emblematic figure of the childhood of our ancestors; it is distributed in independent shops in Europe or on our website petit-cycliste.com, delivery worldwide.
For a few years now, we have redefined 100% French know-how, as well as a network of suppliers and customers that had disappeared in the 1980s, when this collector's item had seen its appeal wither away. With the craze for "vintage", all generations can now be found in our collection product.
2. Our project: to make an object that is not a collector's item but "playable" and "manipulable" everywhere and by everyone
We want to expand our catalog by adding a complementary and perfect product for outdoor games (on the beach, in the garden) or indoors (in the youngest's bedroom ...). The box of 20 small 100% French plastic cyclists meets this need for versatility.
For this, we need to develop a production line by acquiring a mold and installing tools to start manufacturing directly in France.
3. French production
Our partners are based in France, our know-how is French. Our production unit is located less than 50 km from our head office located in Roubaix. Our raw materials come from recycled plastic.
In short, we have a virtuous production chain, respectful of its environment and socially responsible.

4. Our product
Two boxes of 20 cycling figurines are available: "Maître Jacques" and "Poupou" in reference to cycling legends Jacques Anquetil and Raymond Poulidor.
What are the funds for?
About the project owner