Pekocko
Artisanal, homemade and gastronomic hot chili sauces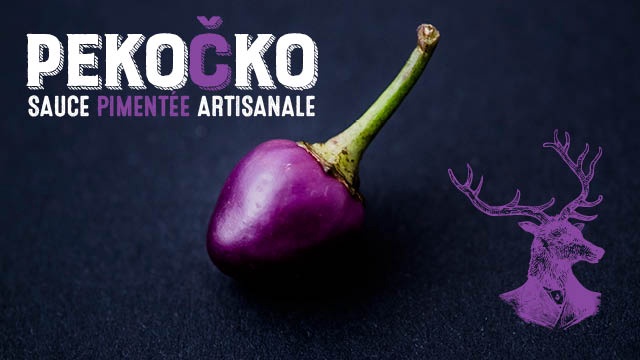 About the project
WHO, OR WHAT, IS PEKOCKO ?
Pekocko is a young Franco-Slovenian brand, founded in 2015, that has been creating artisanal, homemade, gastronomic hot chili sauces since 2016. Passionate about fine cuisine and its wonderful flavors, we were quite surprised to find so little in France - a country famous for its gastronomy - in the way of hot sauces, other than le Piment d'Espelette (not strong enough for us) and an American brand beginning with 'T' that is too vinegary and salty for our (humble) tastes. 
And so, to make a long story short: A Slovenian gardner, a Franco-Serbian cook who lived for 25 years in the French Gers region, a Norman and a Parisian joined together to create 8 sauces, a hot pesto, and a hot chutney - thus putting France on the hot sauce map !
OUR PRODUCTS
They are artisanal, homemade, our babies... from start to finish, it is us, and only us. No industrial input, just our team, a garden, and a prep kitchen.
Our sauces are 100% natural, made with fresh chili peppers, no additives nor preservatives. All ingredients used are grown within 50 km of our garden and kitchen (except for the avocadoes, mangoes and certain spices). They take a long time to make, as we comfit our fruits, transform our tomatoes into sauce and our prunes into jam, and then add the peppers.
Lots of labor goes in... but it's a labor of love.   ;-)
Our sauces taste good, they have their own flavor. We don't just mix any peppers with vinegar and salt. We use taste-tested blends of different chili peppers and spices to produce distinctive flavors : Grilled pepper, cocoa + tonka bean, guacamole, even peaty whiskey !
In addition, so that beginners and connoiseurs alike can relate, we've developed our own strength scale, as the standard Scoville scale is impractical. We use :
mild (2)
medium (4 and 5)
strong (6),
extra strong (8 and 9)
Our products are gluten-free and most are vegan.​
WHAT HAS HAPPENED SO FAR
We've rolled up our sleeves and built a garden, planted 57 varieties of chili peppers, and rolled out a first production of 3,000 bottles. Ziga has tested hundreds of combinations of spices and chillies, Mojca has blisters on her hands from gardening, Sébastien has lent out his apartment for meetings, and Stéphanie has hired an accountant and lured in a banker with promises of quince chutney.
What are the funds for?
WHY WE NEED A HAND
1) To buy a bottle-filling system and a device to glue on the labels, because Mitsy, our cook's assistant, has her paws full filling bottles one by one.  
1,200 euros
2) To develop our own sales site online to help people discover our products because, for the moment, unless one lives in France or Slovenia, it's not easy to access our delicious sauces.   
3,300 euros
3) To Replenish our spice stock (Tonka bean, Bai Malam pepper, Madagascar wild pepper, Turmeric, Origano). Admittedly, we're also short on Scottish whiskey for our Diablement Divine sauce because our cook has a tendency to help himself to it.    
1,000 euros
4) To be able to order a large amount of glass bottles, as ours are expensive - we chose top-of-the-line. Quality content goes into a top quality container ! In addition, we have plenty of new ideas to expand our range of products and surprise your taste buds, thus a need for new containers  !   
2,500 euros
YOUR REWARDS
About the project owner
FAMILY PORTRAITS
THE ONE WHO STARTED IT ALL  
Mojca is just crazy about chili peppers, and pretty much anything else spicy (Pekocko, in fact, means 'that little spicy thing"). She uses extra-strong sauces, with every meal, as liberally as "normal" people use mayonnaise and ketchup. So, she uses several dozen liters per year, and is known to empty half a bottle of Chasseur de Fantôme onto a casserole !
THE ONE AT THE OVEN  
Ziga, a graphic designer in the cooking press field who lived 25 years in the French Gers region, put down his beer, gave up his computer and put into practice all the knowledge passed down to him by Michelin Star chefs. He makes an excellent Chili Con Octopus with the  Douleur Chocolatée ( Chocolate Pain) sauce.
THE ONE WHO BRINGS ORDER TO THIS ADVENTURE  
Stéphanie, a multi-talented publisher who is the only one in the group who knows how to use Excel (handy if you're running a business). These days, she spends half her time in fine food stores turning people on to our fine sauces. She loves making fish ceviche with our Mexicain Moustachu.     
THE ONE WHO'S BROUGHT PEKOCKO AROUND THE WORLD
Sébastien, a photography and gastronomy nut. He roams the world looking for far-out images to post on his Instagram account, always bringing along a couple of bottles of Pekocko and slipping them discreetly into his photos.  He eats, at least once a week, a dish of fragoline pasta with our chilli pesto.
    .​
THE GODMOTHER
Claire, a bubbly personality from Reims, is always in good spirits. She's made her network available to us and will supply the champagne when we will sell our 5000th  bottle of sauce.
THE GODFATHER
Christophe, the founder of marmiton.org, is passionate about food and its nutritive values. His advice is invaluable, as is his ability to keep us organized and moving forward.
THE GARDEN
Our garden is the center of our universe, where we grow 57 varieties of chilli peppers. Peach Ghost, Bhut Jolokia, Trinidad Moruga Scorpion, Yellow Congo Habanero and Carolina Reaper grow side-by-side with nasturtium flowers and rose bushes that keep the slugs away.
We use permaculture techniques to grow our chilli peppers, an environmentally-friendly way to produce, in a small area, a sufficient yield for our sauce production. Both garden and prep kitchen are located in Slovenia.
MITSY THE CAT
Despite some hesitation in the beginning, Mitsy has become comfortable with the peppers and even helps with production quality control, as well as ensuring that not too many peppers disappear, because Mojca tends to snack on them, raw !
THOSE WHO HAVE LENT A HAND
Anne de la Forest (Queen of Fries), Agnès and Claire from the Macis fine food store, Julien Leclerc, Elise Guerrillot, Irmina Samba, Elisabeth Hertzog, Thomas Durio, Derek Guzman, Primoz Vlaga (organic fertilizer supplier and former ski champion), and Milan (who waters the plants when we are too tired to do so).