Pari(s) à 2
Bring about an encounter between French people and migrants | Initiate dialogue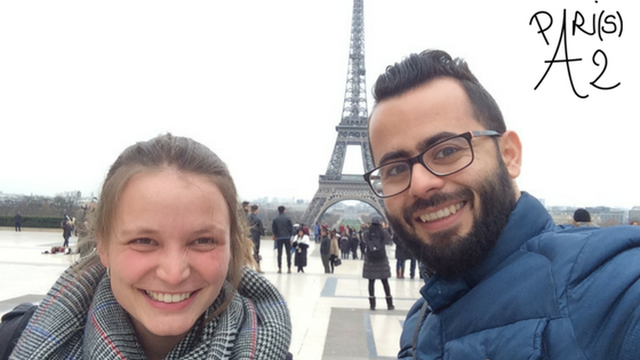 About the project
What is Pari(s) à 2? 
Friendly meetups between exiles and French people to break the loneliness and put an end to prejudices. 

Thanks to our support, our volunteers discover the cultural life of Paris and its surroundings - an opportunity for mutually enriching intercultural exchanges. Facing enthusiastic and moving feedbacks from the participants, we believe in the urging need to develop this project further, in the region of Paris and throughout the national territory. 

Our project is based on a challenging observation: despite all the efforts made, the integration of people exiled in our country remains a challenge. Asylum-seekers are often unoccupied during the processing of their cases and refugees find it difficult to meet French people in an informal setting. Bridges are not easy to create, when on both sides the biases add up!
Our project links people who are living in the area of Paris and exiles during social and cultural activites to create a climate of trust and to initiate dialogue. 
These exchanges give the occasion, generally unexpected, to break the routine of accommodation centers and to go to the discovery of the Paris area. The participants meet in a relaxed context to meet, for real.  
How?
"Hope is what keeps us live"
                                                         - Balde, (Guinea)
By proposing a frame of linguistic and cultural exchange, Pari(s) à 2 creates social links for an audience of various origins, by deconstructing mutuals biases and reconciling differences.
In addition to paired meetups, we also organize group evenings where all participants can meet, discuss their project experiences, and create new friendships. Pari(s) à 2 thus becomes a common project.
By bringing people together, Initiatives of Change France is committed to make our society a better place for everyone.
Help us to make the project bigger! 
What are the funds for?
This campain will allow to fund the development of the project by opening it to new binomes. 
The objective: reach 100 binomes by the end of the year! 
57% of the funds will be allocated to the direct funding of the meetings.
To facilitate the exchanges and allow a true discover, we also provide, if necessary,conversation guidesthat enable participants to communicate in spite of the language barrier. 
To develop the project, we also want to invest in professionals means of project management, in particular a computer and a camera of high quality to capture the most beautiful moments. 
Let's go higher together!
By getting us to 150% ​of our goal, you decide to give Pari(s) à 2 the means to make a BIG difference !

With those funds, we could: 

Reach more people : 34 people more will beneficiate of the program if 150% of the objective is reached, 68 people if 200% of the objective is reached
Develop partnerships with cultural structures (monuments, museums, theaters, restaurants...)
About the project owner
Initiatives et Change is an association of public utility whose mission is to develop citizen engagement to foster a better life together and strengthen social cohesion. 
By acting for the citizen awakening of youth and for intercultural dialogue in society, it contributes to a just, peaceful and trusting society where everyone is an actor is a citizen 

Find all our actions on our website: fr.iofc.org 

Find all our news on our Facebook page!
Follow us on Twitter : @ICFrance .
Project managers: Salomé and Chloé