OVALMANIAKS
THE ULTIMATE RUGBY CARDS GAME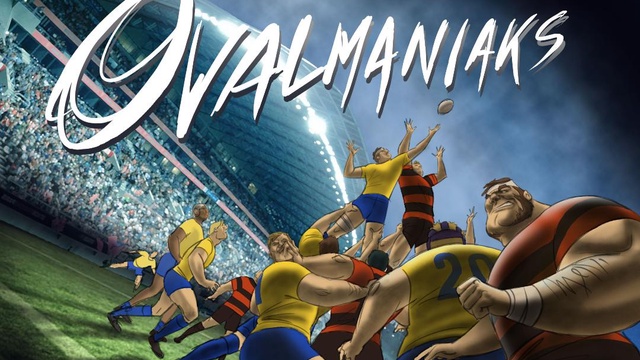 About the project
OVALMANIAKS, THE ULTIMATE RUGBY CARD GAME !!!
Select your cards, chose the strong players and the adequate strategy to win a rugby match against the other coach !
« OVALMANIAKS» is a new game, both tactical and user-friendly that allows the play a full rugby game from your sofa.
FOR WHO ?:
• OVALMANIAKS aims to be play by everybody, even by those who do not know rugby:
It can be played even by children, from age 8, but alos by experienced rugby players,
Rules are easy and fast to understand,
Duration of a whole game lasts about 10 minutes (With an expert rule option for longer games)
User-Friendly Game (2 playres game or 4 players game)
A lot of game available ine the initial box, that allow to play a lot of different parties, using several strategies. New cards will be able in future extensions of OVALMANIAKS.
THE RULES
OBJECTIVE : You are a rugby coach. Chose the best players and the good strategy cards to score as many points as you can during both half-times to gain the match.
NUMBER OF PLAYERS: 2 (Classic Rules), 2 to 4 (Expert Rules)
SETTING: The coach with more scars begins (you can also toss a coin) and become the first ATTACKING Player. The other coach become the first DEFENDER.
RULES - CLASSIC
A - Both coaches select (in secret) 5 players from their 15 players squad. Only these five players will be allowed to play during the half-time. (5 turns per half-time). Other players are stacked in a pile, face hidden..
B - Mix the deck with all TACTIKS cards, ans put it, face hidden, between both coaches. Each coach draws 5 cards in his hand, so his has 10 cards in his hand (5 PLAYERS + 5 TACTIKS).
C - PROGRESS of a half-time : Each half-time lasts 5 turns.
C1 - The ATTACKING coach selects1 player from his hand that will lead the ATTACK  (ATT) and put it face down in front of him. Then he announces the type of ATTACK (« Jeu d'Avants », « Jeu au Ras » ou « Jeu Ouvert »).
C2 - The DEFENDING coach selects1 player from his hand that will lead the DEFENSE (DEF) and put it face down in front of him
C3 - Both coaches reveal their player card..
C4 - Both coaches select a TACTIK card from their hand and put it, face down, on their player.
C5 - Cards are revealed: final result R = ATT - DEF is computed
ATT is the ATTACK score (potentially modified by TACTIKS cards played) in the selected type of ATTACK.
DEF is the DEFENSE score (potentially modified by TACTIKS cards played) in the corresponding type of  DEFENSE.
    If R > 0 the Attacking coach scores (ATT - DEF) POINTS
    If R < 0 the Defending coach scores (DEF - ATT) POINTS
    If R = 0 Nobody scores.
C6 - Both PLAYERS cards and both TACTIKS cards are discardee and cannot be played again. Both coaches draw a new card in the TAKTIKS pile (but they do not draw a new PLAYER card).
C7 - The Attacking coach becomes defender while the Defending cocah becomme Attacker.Then please go back to C1 step,  while both coaches have at least one player in hand. when they do not have a single player in hand, that's the End of Half-Time (go to D) or End of the Match id second hamf-time is finished (go to E).
D - HALF-TIME (After 5 turns)
D1 - Each coach can pie or drink a beer
D2 - Each coach select 5 new PLAYERS (with possibility to selects some players that have already been selected during 1st half-time) from his 15 players squad.
D3 - OPTION : Each coach can select an « EVENT»  card (available in upcoming campaign stretch goals)
D4 - 2nd Half-time starts ! The Attacking coach is the one who began has defending coach during 1st half-time. Please go back to C1 step.
E - End of the match
At the end of 2nd Half-Time, The coach that has more scored points wins the match (Yeaaaaaaaaaaaaah).
Each coach will have played 10 turns (5 in Attack & 5 in Defense)
The losing coach offers a dring to the winning coach ! 
Rules - Expert game
Soon Available !
SCHEDULE
TO BE COMPLETED
• November 2017 to April 2018: Testing phase
• March 2018: Creation of Facebook  & ULULE pages
• April 2018: Finalisation of ULULE campaigne site
• May 2018: Start of ULULE Financing campaign (duration 2 month)
• August-Sebtember 2018: Production of the game
• November-December 2018: Sending game to buyers
• September 2019: 1st OVALMANIAKS world cup near Toulouse
:
What are the funds for?
About the project owner
FAQ
If you still have an unanswered question, feel free to ask the project owner directly.