Onirik's Edition
site spécialisé pop culture, jeux vidéo et art.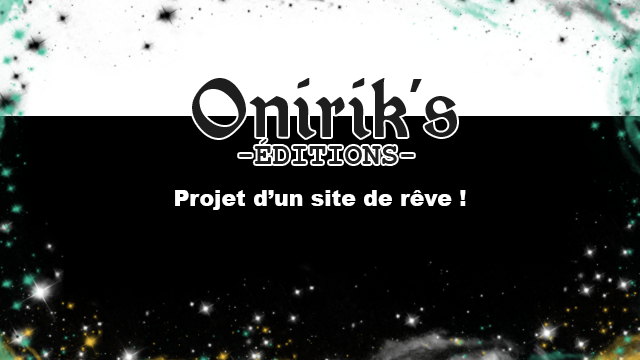 About the project
What are the funds for?
La majorité du financement reçu servira donc à payer des webdesigners professionnels afin de créer le site idéal pour nos besoins, et votre plaisir !
Le reste, naturellement, sera ré-injecté dans cette campagne elle-même afin de vous offrir des récompenses de la meilleure qualité possible !
About the project owner
Salutations ! Moi c'est Slaine, fondateur de l'Onirik's Edition
Depuis 4 ans nous produisons avec un collectif d'artistes l'Art-Bunk, un fanzine présenté dans certaines conventions dont le but était de parler de ce qu'on aimait (bande dessinée, jeux vidéo, ect...) on faisait découvrir des indépendants via nos articles comme la web-série animée Krâa. Cela nous permettait aussi de créer des planches de BD (généralement des strip comics) ou des écrits.
Mon but est de créer un site pour regrouper toutes nos passions afin de les partager, ainsi vous pourrez retrouver sur le site :
des articles, des bandes dessinées et des écrits, romans, des vidéos, lives radio, art-work, etc...
Voilà vous savez tout, ou presque !
Le mot de la fin:
La seule chose ayant une importance est l'état d'esprit du créateur.
S'il crée avec passion, c'est une pièce de son imagination qu'il partage.
C'est la sincérité de la démarche qu'il l'honore,
et il est parfois tragique de voir cette sincérité se perdre dans un monde saturé d'oeuvres interéssées.
Solar, écrivain pour Art-Bunk.