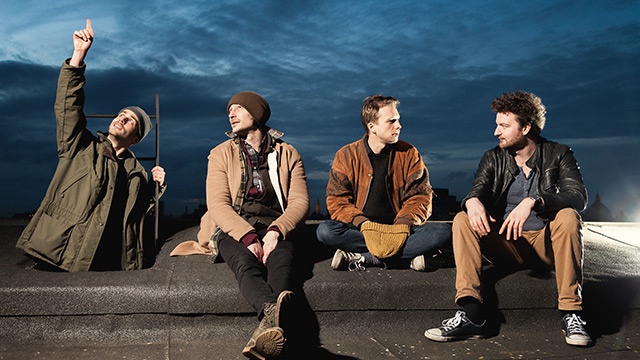 About the project
Dear fans, family, friends and musiclovers,
Our band, New Rising Sun exists for 10 years and we're proud our sun is still rising.
We're proud to announce that a fourth album "Helenium" is in the making.
The album-release will take place on the 20th of september 2018 at De Casino in St-Niklaas, a beautiful location.
As you probably know, making an an album costs a shitload of money :).
By setting up this crowdfunding campaign we need your help to achieve our goal which will only be possible with your help in form of donation or purchase.
We're asking you kindly to think of us with lots of love and money, the show must go on.. :)
Hoping to count on your support!
What are the funds for?
The total production cost is €10.000 of which we managed to finance the first half ourselves. This amount comes from renting a studio, hours of rehearsal in an appropriate setting, production, mixing, mastering, artwork, pressing and all other possible extra costs. For years we have been funding this on our own, but in order to achieve an album which is quality worthy we now need your help in order to take step...!
Now we still need €5000 for the mixing, mastering, artwork and pressing of the album.
As we believe that you fans are exited to hear which new sound and songs we have come up with, and instead of selling the album after production, we are hoping that your help will make our project "Helenium" viable before final pressing. 
Thanks again for the support!
About the project owner
New Rising Sun breathes an evolving sound of pure music based on the most heartfelt encounters marking our world today. In the summer of 2007 the band arose from the hearts and minds of Dries Bongaerts and David Hermans who have been both oil and engine for New Rising Sun's musical journey ever since.
In the following years they recorded a first demo and three full albums joining arms with several other inspiring musicians. After "Paradise for a Stranger", "Good Morning Once Again" and "We're All Coming Home" the band has now completed their fourth album.
Named after a desolate mansion by the Belgian coast where both writing and recording of the album took place, their newest production "Helenium" embodies a genuine characteristic sound, not quite comparable to anything New Rising Sun produced before. Social criticisms and favourable outcomes are some of the themes lamented and chanted about. Mainly focussed on producing traditional folk-rock songs in their early years, they now have entered a more bluesy desert-rock period, soothing melodic dialogues between electric guitars colouring/flavouring the dynamics demanded by the song.
Consisting of Dries Bongaerts (vocals, guitars), David Hermans (guitars), Simon Beeckaert (bass, keys) and Julian Vlemincx (drums), this Antwerp-based, Belgian band stands stronger than ever in their 10th anniversary year.
Releasing their new album on the 20th of september 2018 at De Casino in St-Niklaas (Belgium).
Thanks for the support!
New Rising Sun