NARCOSE
An adventure beyond depth
About the project
SYNOPSIS : Deep water freediving exposes its practitioners to a form of narcosis, which induces several symptoms, among which a feeling of euphoria and levity that earned this phenomenon its nickname of "raptures of the deep".
NARCOSE relates the interior journey of Guillaume Néry, the apnea world champion, during one of his deep water dives. This short film draws its inspiration from his physical experience and the narrative of his hallucinations. Alternating between reality and imagination, the film shows how far human abilities can be stretched and it reveals the intimate and primal bond between the athlete's inner world and his aquatic environment, bringing the understanding of the human relationship with the underwater world to new levels.
I have lived with Guillaume for the last 7 years and we have just had a baby girl together. I thought I knew everything about him and his views on apnoea and freediving, but a few years ago he started sharing with me his underwater bouts of hallucination, intimate confidences that he had never shared with anyone before: NARCOSE was born in my mind.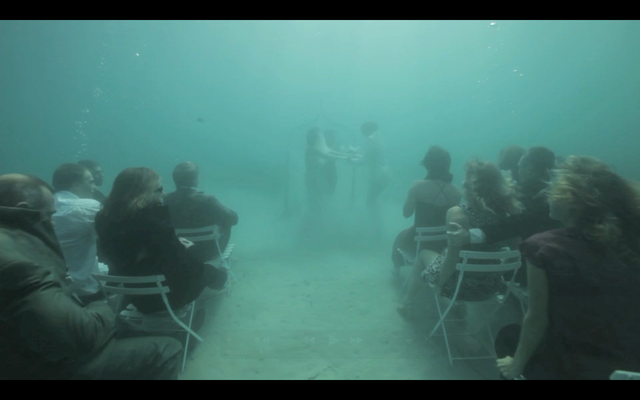 I have picked out his most striking visions and meshed them with our personal story. 
« I've seen us getting married ». We are not and to be honest, it is not a commitment we are very keen on. So to enrich the scene and make it more coherent with us, I imagined an underwater wedding. This is how the script reads:
11. Outside/Day: underwater, white sand bottom and seaweed.
(FLASH 3)
Milky water. A path lined by four rows of benches leading to an arch decorated with white tulle. Underneath that canopy stand a priest (CYRIL) and the groom (GUILLAUME). Holding the groom's hand, stands the bride, her face shrouded by a light veil floating in the current. We can't see her face. Wide angle, from the back of the scene we can see the guests seated, all fully dressed in their best clothes. Their hair and clothes float. Small fish swim between the seaweed. 
 …(to be continued)
This scene has already been shot. It is extraordinarily satisfying to see a vision materialize, and even more so when the result exactly matches up with what I imagined.  This feeling has given me wings and since then I have worked hard to improve the script and I have already made many underwater tests. I just cannot wait to film the rest this summer.
The film will last about 8 to 10 minutes and I can promise a festival of breath-taking (or should I say breath-holding?) images, with all the aestheticism and the originality I can bring to this project.
What are the funds for?
2 sequences have been shot already. The last shooting session is planned from the 2nd to the 9th of August. We were supported by a production company that let us down at the last minute so, it is very urgent and vital for us to find funding before that date.
Everyone works for free on this project. But some costs remain :
- HD camera with under water housing : 2500 eur/day.

- Low speed camera : 2500 eur/j (for 1 day).

- Sound : 500 eur/day.

- Lighting : 700 eur/j.

- On water traveling system, (homemade) : 1500 eur.

- Drone for aerial shots) : forfait 1000 eur.

- Regie : Air plane tickets, gas, renatl baot, food ...etc : 1000

- Music. Purchase of rigths or original : don't want to think about it yet !!! 

- Reward cost
The estimated duration of shooting is 7 days with 2 days of setting.
TOTAL = about 25,000 euros
The amount we ask for is far from covering all our costs. We are still looking for partnership to reduce our equipment fees.
So we really NEED YOUR HELP and QUICKLY, otherwise we won't be able to shoot this summer and the project will be delayed to next year !!!!!!
About the project owner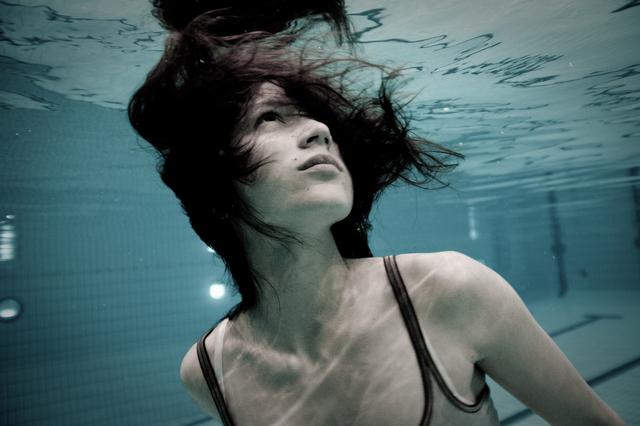 As a previous freediving record holder in France myself, I am well acquainted with all the technicalities of the sport, but rather than seeing it as an end in itself, I wish to further use these competences and this knowledge towards the expression of an aesthetic vision of freediving. I would like to share with a larger audience my vision of this sport and way of life. The success of our first short film posted on YouTube two years ago: FREEFALL, which has gathered about 12 million views so far, confirmed the strong interest that my vision could inspire, way beyond the restricted circle of the performance freedivers:  I have been able to introduce large audiences to the beauties of a secret world.
My aim was to show freediving under a fresh angle, disconnected from the performance issue. I want to expose all the various aesthetic layers of the liquid element, to bring out its visual richness and its cinematographic qualities, as the weightlessness one feels in water amplifies the fluidity and beauty of the movements. My filmmaking ethics stay however very close to my freediving one and is based on simplicity, sobriety, truthfulness and aestheticism.