Nanook: the pursuit of a dream
A solo skis crossing of the Canadian Arctic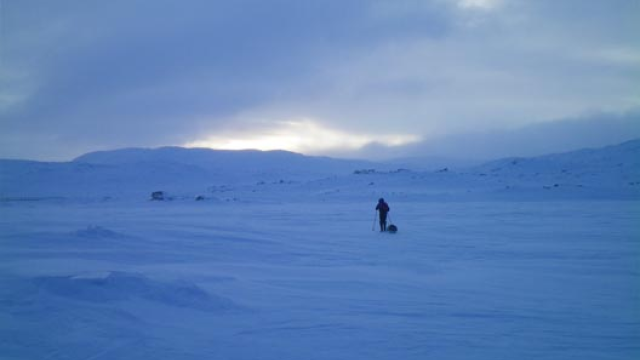 About the project
Resume of the project:
     In the course of February 2014, I will start the most difficult of my
adventures: a solo skis crossing of the Canadian Arctic. Departing from Kugaaruk, a small
Inuit community on the Northern coast of Canada, I will travel by skis, pulling a sledge
loaded of equipments and food, going from village to village, until reaching the Greenland
community of Qaanaaq,2300 km (1400 miles) further, on Greenland's Northwest coast.
Avid to make share this fabulous adventure with the General public, to inspire them, to make
them dream and discover the Arctic such as I will see it, I joined with the production company
" Moosestash Films " - based in Vancouver, and created by the talented film-makers
Joséphine Anderson and Brittany Baxter to realize a 20 mn documentary movie about the
real-life adventure. It will be realized in English and French version, and proposed in diverse
adventure film festival.
     I began a full crossing of Canada, from South to extrem North in 2007. I completed 2/3 of it: 2300 km from British Columbia to the Northwest Territories, solo and by canöe (in 2007), then 1800 km from the Northwest Territories to Nunavut, again solo and by canöe (in 2010). The renewing of the visa and the lack of fund slowed me down, but I persevere,  and I'm going to do anything to complete the third part of the journey, the crossing of the Arctic, in the Winter/Spring 2014. The Nanook Expedition can be followed in my blog http://nanookexpedition.blogspot.fr/
     I finished the expedition file and start sending it to potential sponsors and partners. Fingers crossed! 
The partners of Nanook Expedition:
What are the funds for?
     I will need about 10 000 Euros (CAN$ 14500, AU$ 15000) to make the expedition happened. 
Equipments: 5 000 Euros
Food: 2500 Euros ( high energy freeze-dried food)
Flight Paris-Kugaaruk: 1 966.38 Euros
Flight Qaanaaq-Paris: 1 196.31 Euros 
     I can fund almost half of it on my own and try to get some donations and reduced prices on equipments and services. For the remaining, I count on you! Thanks
About the project owner
 I'm used to the world of adventures, and I'm an enthusiast of the polar region. Since about twenty, I multiplie wilderness trips by foot, by canöe, by sea-kayak, by dog-sled or by skis... I don't have any home, I travel from a country to another, jump from a job to another, live an adventure after another. I'm guided by the curiosity, exploration, culture, challenge... So much things to discover in that world! Only the money slows me for now, and I understood that to receive, I need to give. 
     Some articles have appeared in locals newspapers and french magazines, but I want to get to the next level, and realize documentary films to share the adventures and propose those films on various Adventure Film Festivals, around the world. I dream about crossing the Arctic for years now, and I feel ready and very motived to do it this Winter/Spring 2014. If you can read French, or at least see some photos from previous adventures, have a look at my blog http://cochinvincent.blogspot.com/‎
My previous adventures:
Solo canoe trip ascending the Snare River (500 km)         June-August 2013 following by a hike through the Mackenzie Mountains                                   down the Canol Heritage Trail with 2 friends (355 km)                               Northwest Territories, Canada
Solo sea-kayak trip                                               December - February 2013 circumnavigating Tasmania (1400 km)                                                        Australia
Camel trip in the Simpson Desert (180 km)            August-September 2011 Assisting guide for Outback Camel Company                                           Northern Territories, Australia
Solo canoe trip across the barren-lands (1800 km)           June-August 2010 From the Northwest Territories to Nunavut, Canada
Sled-dog trip on the Great Slave Lake, with a friend (750 km)   March 2010 Northwest Territories, Canada
Solo sea-kayak (1000 km)                                     August-September 2008   around Kokiak archipelago                                                                             Alaska
Solo skis trip across Great Slave Lake (200 km)                         March 2008 Northwest Territories, Canada
Solo canoe trip through the boreal forest (2300 km)         June-August 2007 From British Columbia to the Northwest Territories,                                   Canada 
Sled-dog guide in Lapland                                                  Winter 2006-2007 Arktika Camp, with polar explorer Gilles Elkaim,                                        Finland 
Solo hike through Lapland (500 km)                                           August 2006 From Vadso (Norway) to Ivalo (Finland)
Canoe trip in Québec, with a guide and my brother (200 km)        July 2005 Canada
4 months mission in Ivory Coast                                       January-April 2005 Operation Licome with the French Army, Africa