My World Is // T-shirt d'illustrateur //
Trois modèles originaux en prévente
About the project
"Et si chaqu'un d'entre nous disait à quoi ressemble son monde ?"
Jeune marque de T-shirts (majoritairement coton bio et aussi coton standard) vendus en ligne MY WORLD IS... a eu une idée très originale en demandant à des artistes du monde entier d'exprimer leur vision du monde en terminant la phrase : "My world is...".
Ceux-ci s'y collent avec enthousiasme, imagination et en couleurs, réalisant des illustrations énigmatiques et drôles.
A travers les illustrations des artistes, nous cherchons à donner une interprétation des mondes et des univers qui font notre vie de tous les jours.
Faire en sorte qu'une certaine unité puisse émerger de ce concept nous tient à coeur. C'est pour cette   raison que chaque représentation est composée majoritairement de noir (80%) + une couleur  (20%). Une contrainte pour les artistes ?  Plutôt un cadre où évoluer et se dépasser.
3 t-shirts en prévente sur ULULE : Editions limitées - 80 exemplaires par visuel
(coton standard, 160gr)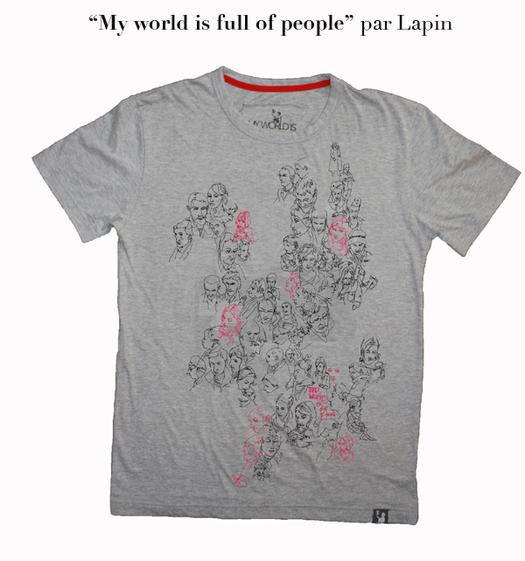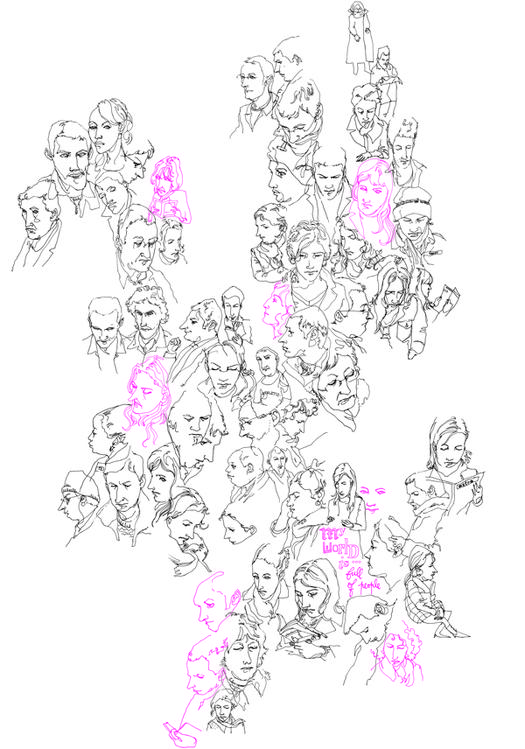 Qu'est ce qui a inspiré «My World Is Full of people» ?

«J'aime dessiner les gens de la rue et saisir leurs expressions. J'imagine ce qu'ils pensent et se qu'ils vont faire...  My world is full of people c'est tous les personnages de mes carnets et de mes voyages...»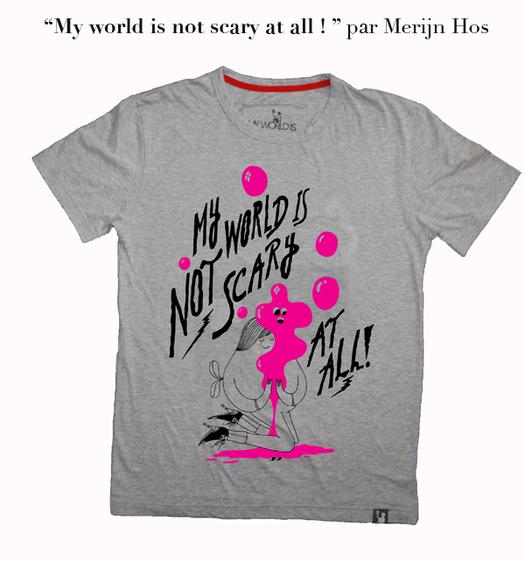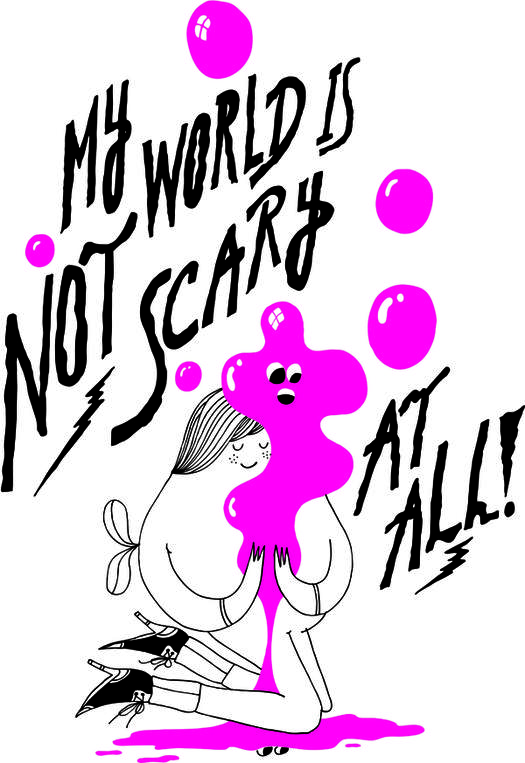 «Here is a little text I wrote about the design:

For the "My world is..." project I choose to show two signifant elements that are very reconizable for my work and style I usualy work in.

One element that is significant for my work are the happy worlds and friendly characters but on the other side there is also an other element in a second layer underneath the friendly and happy worlds in my work that represents a darker, mysterious side.

The title of my design "My World is not Scary at All" refers to this contradix in my work and sys no more than, please be not affaid to the darker, mysterious side. It's something that is inside everybody.»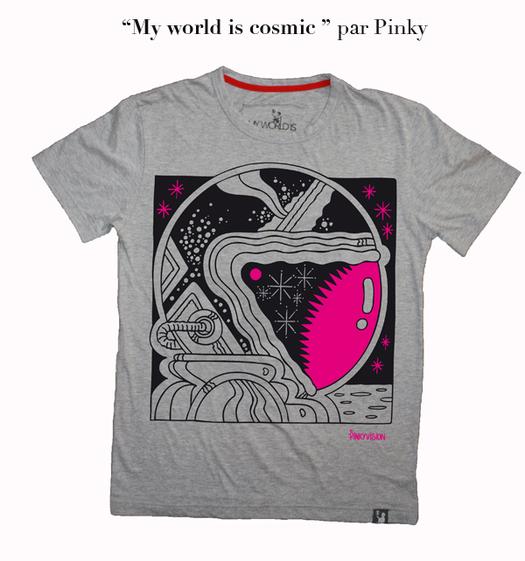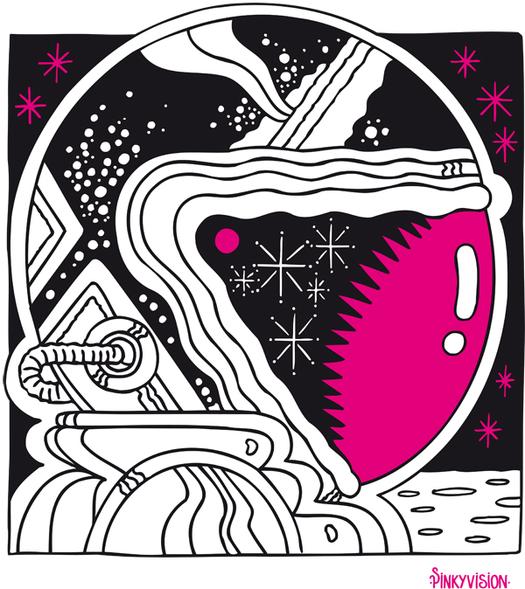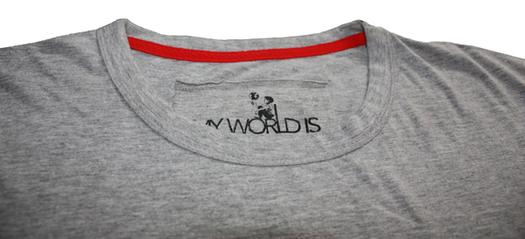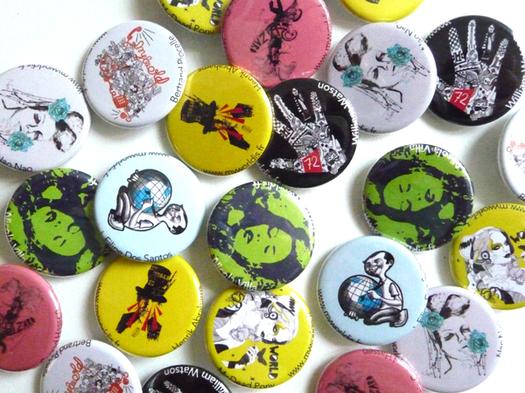 About the project owner
Le projet "My World Is", c'est une envie de mieux connaitre les gens et tenter de découvrir leurs univers et les partager.
Le principe est simple: Finir la phrase «My World is» afin d'avoir le plus grand nombre de définitions du monde.
Pour réaliser cette exercice, nous avons fait appelle à des illustrateurs d'un peu partout (Portugal, Danemark, France, Italie, Etat-Unis, Allemagne...). Ils ont tous eu les mêmes contraintes: Finir la phrase «My World is» - et l'illustrer avec une majorité de noir (80%) + une couleur (20%).
Outre le fait que la majorités des t-shirts soient en coton biologique, My World Is est membre du réseau 1% Pour la Planète. Pour chaque revenu généré par MyWorldIs.fr, 1% est reversé à des associations qui agissent sur des actions environnementales et sociales.



Venez découvrir les premières collections sur notre site :
Et suivez nous sur facebook
FAQ
If you still have an unanswered question, feel free to ask the project owner directly.