mobileDRUM
Use microDRUM with iPhone!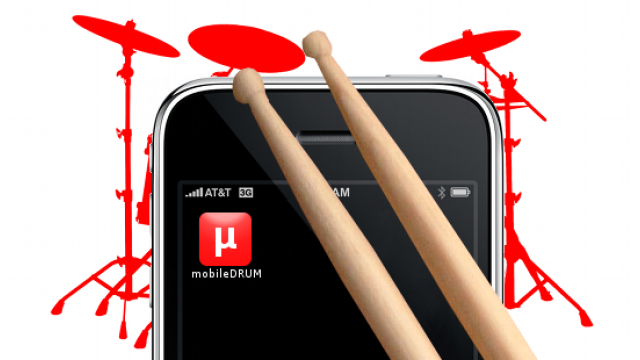 About the project
With mobileDRUM you can play the drums using an iPhone, but not like the software already present, where you are limited to tapping on your iPhone .... with mobileDRUM you can connect iPhone to a real electronic drum kit!!
Connect the eDrum to your iPhone, put the headphones away and play with the convenience of being able to set the parameters with the touch screen, an option which is not offered by eDrum module that costs thousands of euros!!
I have played the drums from the age of 15 and a few years ago, when I moved into an apartment, I started looking around for an electrical drum machine. I noticed that the prices were very high and so I decided to try to build one myself. For the cymbal and pad there are many online projects, but for the  module there was no unit that met my needs. I thought it must have this characteristic: Simple Cheap Expandable Multimode Open. In a word S.C.E.M.O. (an Italian word meaning stupid). Thus was born microDRUM, the simplest and cheapest eDrum you can build yourself (or be assembled from a friend that can use a soldering iron). In particular microDRUM is a Trigger2MIDI: it receives the pulses of the pads or cymbal and converts them into MIDI note that the PC must be convert into sound via a VST. Ok Cheap and Simple are facts, but Expandable and Multimode? My idea is to make the microDRUM independent of the PC both for the configuration and for the generation of sound. I have a set of ideas, this is one of them: mobileDRUM.
What are the funds for?
mobileDRUM comes from a very simple consideration: switching on the PC, wait for loading the operating system, start a series of programs, takes too long... why not make an iPhone application that would allow you to control the microDRUM and which generates sounds correctly? mobileDRUM is here! To program an iPhone the SDK is required which is free but only works on Mac . Furthermore, once you have developed the application so you can test on a real iPhone you have to pay a small fee to Apple for one year which allows you to sell your application online....
Mac Mini: 699 €
Devel tax for 2 years: 198€
Total: 897€
About the project owner
I am an Italian engineer...