MKRLAB
PHASE 2: A Makerspace For All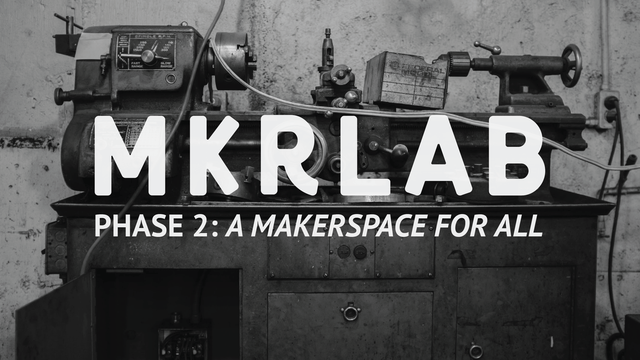 About the project
This Summer MKRLAB will be expanding and opening up an additional garage space! The garage is your space to get dirty with us. It is for all the making that can't quite be squeezed into a 3D print nozzle or placed on a lazer bed, and will house a traditional shop for wood and metal, as well as plastics recycling and moulding machinery and tools. With your help, the latter will be fully available to the public, and anyone will be able to use our Precious Plastic system to shred, extrude and inject recycled plastic.
Your support will allow us to offer a free community resource in the form of a free and public plastics recycling shop!
If we surpass our initial goal, we will introduce the following initiatives at MKRLAB:
Camp Scholarships - STEAM scholarships for kids and teens
Maker Talks - free public talks on the maker movement
Let's get into the details...
Precious Plastic:
We are passionate about ethical resource use, and firmly believe that a new politics of plastic use is a moral imperative for our times. You might have heard of Precious Plastic: an open-source plastics recycling system that allows users to easily repurpose plastic waste. Modelled on industrial plastics recycling, the system allows users to shred "waste" plastic in a shredder, before heating it up and reshaping it into new forms using an injection mould.
We intend to build our own Precious Plastic system, and understand that the ethos of sharing is pivotal. This is where you come in. Your contribution will not only pay for the materials and labour costs of building the system, but also allow us to keep the system completely open to the public. Anyone with who undertakes our free machine training will be able to use the system as long as the space is open.
Camp Scholarships:
It's a cliché for a reason: children are literally our future. We believe in training and empowering young people to build and make well beyond our own capacity. We work with kids to revive lost skills: from soldering and wiring their own flashlights, to sewing buttonholes, to machine diagnosis and repair. And we want them to exceed us too: we get them young and fill their brains with STEAM dreams.
With your help, we will offer ten full scholarships to our summer camp. We have an access for all policy, and adults are able to exchange volunteer hours for membership. Unfortunately, our kid and teen programming is very resource intensive, and we're not yet able to offer free places for our kids' camps while still keeping the lights on in the shop. But we believe we need to! Underserved communities deserve cool and inspiring STEAM programming! (And underserved parents deserve the summer off!)
Maker Talks:
The maker community in Montreal is pretty amazing. Just within the MKRLAB alone, we have: builders of musical architecture, robot entrepreneurs, toy designers, and established Montréal jewellers. We have partnerships with groups that get together to make and innovate past their own chronic pain, and groups teaching our local community how to prepare for disaster.
TLDR; we're proud of our community, and we want to take every opportunity to learn from them.
Maker talks will allow us to present the work and process of local makers: deepening our understanding of the possible, and strengthening community ties.
What are the funds for?
Our target goal of $6,500 will allow us to construct a plastic recycling machine and make it open and free for the public. An extended goal of $12,000 will allow us to provide financial aid for campers as well as a series of free maker talks for the community.
About the project owner
At MKRLAB, our mission is to build a community of makers. Five months in, we're seeing this dream come to pass. Our volunteers and members come here to imagine, design and fabricate the stuff of their lives—from bread, to Scrabble boards, to car parts.
The key principles of MKRLAB are: resilience, creativity, and community. We want people to make things, things they need for the world they live in, things they will need for the world to come. We don't know what life will look like in ten years, but we do know that it will be radically different. We are the resource for building our world with our own two hands: with and for our each other. To do this, we use both traditional and digital fabrication; hosting an impressive digital fabrication lab, as well as an extensive tool library.
We also stand out as one of the few fabrication spaces dedicated to families and kids. Our regular programming drops young makers straight into the world of STEAM. You're never too young to wield a screwdriver (with adult supervision!)