Mission Asia Tenggara
Societal and environmental exploration with Indigenous peoples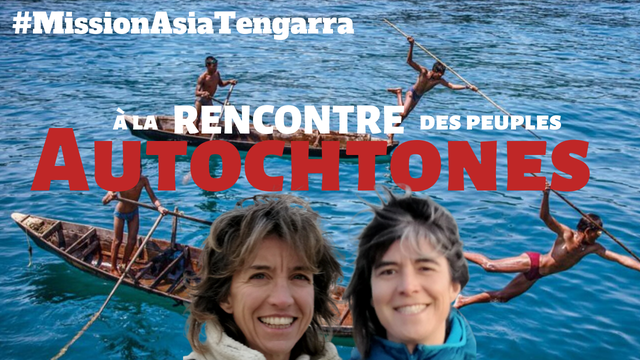 About the project
#ABOUT THE PROJECT
Our commitment:
Contribute to the development of a more respectful Society for Humans and Nature, more sustainable
Contribute to Ethnographic Research and Development
Contribute to the Valuation and preservation of Aboriginal culture
​Our source of inspiration: Indigenous peoples, Guardians of Nature, Memories of Humanity.
Our mission: to reach out to First Nations people to share their experiences and learn from them
Our team: 2 Women, Karine and Virginie, dynamic and committed explorers
The purpose of the project: to transmit this exploration and the results to as many people as possible and in different forms (Conferences, a documentary film, a book, Coaching and training)
For you: We suggest you to follow us during our adventure (as long as we have a network...) on social networks!
# PROJECT SUMMARY:Meeting First Nations peoples to get inspired and build a sustainable future
Faced with current environmental, societal and economic issues, we are convinced that indigenous peoples, millenary root societies, are the carriers of solutions to help us build a sustainable future.
In search of "inspiring" teachings and models for Innovating, Living and Entrepreneurship in a more respectful approach to Humans and Nature, we decided to meet with indigenous peoples of Southeast Asia in 2020 (11 months) to explore their experiences, collect their testimonies and transmit them in different forms. This is our "MissionAsiaTenggara"!
#OUR SOURCE OF INSPIRATION: Indigenous Peoples, Guardians of Nature, Memories of Humanity
Unlike our Western practices, Indigenous peoples, who live in interdependence with the natural environment, have been able, better than others, to preserve this Vision of a holistic World that forms an interdependent Whole, where Man is connected to the rest of the Living World. Guardians of Nature, Memories of Humanity, they have developed effective knowledge and practices over thousands of years that have proven their worth over time.
# THE DIRECTION OF THIS PROJECT:Responding to an environnmental and social and Emergency context !
#Get Inspired by First Nations peoples
Guardians of millenary knowledge

High resilience

Can share knowledge to help us reconnect with the environment
#Adopt an eco-responsible humanist approach
Restoring meaning

Adapting and Innovating

Explore new ways of living and doing business
#Preserving biodiversity
Living tissue of the planet

Source of essential and irreplaceable goods and services

Knowledge and Innovation Library
#PROJECT OBJECTIVES:Explore to find concrete and sustainable solutions
Objective #1 - Share and Explore the Experiences of First Nations People
Objective #2 - To collect their perceptions, lessons learned and "good practices"
Objective #3 - Valuing Indigenous Cultures, Memories of Humanity
Objective #4 - Transmit our exploration and its results to live and undertake Otherwise
# OUR APPROACH: an immersive experience
Our posture: Respect for peoples, their cultures and their integrity, ethical and responsible attitude
Our approach: Immersion and sharing of everyday life, beyond differences
# THE ROUTE: 11 months between land and sea in Southeast Asia
Departure: 06 January 2020, Return: 15 December 2020 - Duration of the trip-exploration: 11 months
Natural and cultural diversity: we have chosen to go to a variety of natural environments to explore cultural differences and similarities.
4 countries: Burma - Philippines - Indonesia (Eastern part, including Indonesian Papua) - Fiji Islands
3 natural environments: sea, mountains, forest / jungle
6 First Nations peoples: Sea nomads in Burma, mountain peoples in the Philippines, jungle people in Indonesia (Borneo/Kalimatan) and sea nomads (Sulawesi), jungle and mountain people (Papua)
We are already in contact with some local contacts, but our usual approach is above all to favour meetings on the spot to reach the communities by following our intuition.
The itinerary may change according to the situations, climatic conditions and opportunities along the way.
# TRANSMISSION OF OUR EXPLORATION: On a large scale and in different forms
We are committed to making our Mission Asia Tenggara exploration USEFUL to as many people as possible for the POSITIVE transformation of our society, towards more HUMANITY and RESPECT for the environment and indigenous cultures. For this reason, we will share the results of our exploration in different ways.
Production of a documentary film
Conferences
Writing a new book
Coaching and Training

# ACT FOR FUTURE GENERATIONS: schools partnerships
We have proposed to schools ( Brittany, Montpellier) to become partners by allowing primary school children to follow our exploration in a participatory way. This being the opportunity for an education for Sustainable Development by offering them the opportunity to:
Broaden their vision of the world and their understanding of it
Open up to other cultures, particularly those of Aboriginal peoples
Discover various natural environments and biodiversity
What are the funds for?
# HOW MUCH DOES THE OVERALL PROJECT COST?
Small drops make big rivers... !
Such a project involves a major investment: we started the preparation 1 year ago, we will go into field exploration in 2020, we will carry out post-production when we return in 2021, and we will transmit our approach from 2021 and in the long term
In project all budgets exist... When we have, like ourselves, the ambition to carry out a scientific study, to write a book and to create a documentary that can be distributed in theatres, both visually beautiful, inspiring, documented, in at least 4 different countries, we need a minimum of resources, both human and material!
We estimated the total cost of the project at €282,000 over 3 years. (Preparation 2019 - Exploration in 2020- Post-production 2021), distributed according to the following items:
Technical equipment: audiovisual, computer and outdoor/exploration

Aboriginal Language Guides and Translators

Travel in at least 4 countries: transport, accommodation, meals, visas, special access permits to the territories

The audiovisual research and filming team (2 people): ourselves

The post-production team, with whom we will finalize the work: editor, sound and image technicians, voiceover, graphic designer, etc.

Social security contributions

Artistic rights: authors, music, translations...

Insurance, legal fees, health costs
We are investing time and money in this project, but our financial capacity is not sufficient to cover all the costs of the project. For this reason, we are also looking for Sponsors and we already have Partners. To complete the financing and bring together a community that is sensitive to our approach, we are launching this participatory fundraising campaign.
OVERALL COST OF THE BUDGET : 282 000 € (3 years)
#HOW WILL THE MONEY FROM THE PARTICIPATORY FUNDING HELP US?
Our minimum target to achieve for SUCCESS TOGETHER and GRACE TO YOU our campaign is 20 000€.
We have established SUPERIOR OBJECTIVES in steps, with the objective to CLIMB THEM TOGETHER as high as possible, in order to allow us to carry out this exploration Mission Asia Tenggara and its transmission, in the BEST CONDITIONS.
About the project owner
# A FEMININE, DYNAMIC and UNITED TEAM
Virginie LOTTIN
Globe-trotter and Navigator
Age: 47
Project manager in a telecommunications company
My Passions: People of the world, Nature, Sailing
My Role:
Project management
Video and editing
Communication
In search of meaning in the face of the imbalances in our societies, wishing to contribute to invent a society more in harmony with the environment, more sustainable, I decided to bring my experience and support Karine in this Exploration by contributing to communication, sound and video technology, and documentary making.
Karine MASSONNIE
Explorer - Reporter
Speaker, Coach
Age: 49
My Passions: First Nations people, wide open spaces, hiking
My Role :
Research by the First Peoples
Audiovisual production
Transmission
I was born in Canada in 1970. I grew up in the great natural spaces and close to the Amerindians. Inspired since the beginning by the Adventurer-explorers, passionate about the relationship between Man and Nature, I became interested in Aboriginal peoples very early on.
I have been travelling the world alone for over 25 years to meet First Nations people and share their daily lives.
Each of my "off the beaten track" trips, immersed in the North and South Amerindians, the Bushmen of Botswana, the Khalkas of Mongolia, the Saami of Lapland, the Aborigines of Australia... have proved to be a formidable school of Freedom to Be and Act.Today, I share my experiences in different ways.