Miss Harley Tome2
Ta tronche ou ta moto dans le prochain album de Miss Harley!!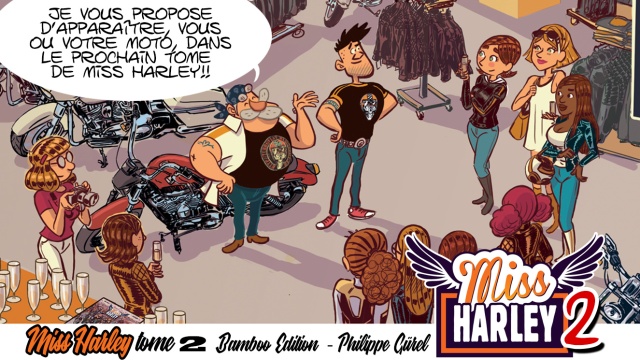 About the project
Miss Harley, c'est l'histoire d'une petite nana à fort caractère qui se passionne pour la Harley et son univers impitoyable (scénarisé par Mickaël Roux, dessiné par Arnaud Poitevin et moi même)!
Le Tome 1, parru aux édition Bamboo il y a un peu plus d'un an, a été très bien accueilli par le public et le milieu motard. Il est d'ailleurs en vente dans la plus part des consessions Harley Davidson.
Depuis sa sortie, j'ai rencontré beaucoup de lectrices, lecteurs, bikeuses, bikers lors des nombreuses scéances de dédicace que j'ai pu faire dans les consessions, les festivals moto ou BD. C'est en discutant avec eux que j'ai régulièrement entendu "Miss Harley c'est moi!" ou "tu pourrais me représenter dans la BD"... Effectivement dans le numéro un je me suis parfois amusé à dessiner les copains ou leurs motos pour leur faire un clin d'oeil et cette petite attention est devenue un amusement et une fièreté pour le modèle qui sont devenus les meilleurs embassadeurs de la BD "c'est une super BD, surtout la page 20!!".
Aujourd'hui le Tome 2 est signé (toujours chez Bamboo!), nous avons fait une dizaine de planches et je vous propose donc en contreparties:
- des dédicaces soignées sur Miss Harley 1 et 2 - des dédicaces sur Les Américaines.
- avoir votre caricature ou votre moto (ou les deux!) dans les planche du tome2 de Miss Harley (contre-parties limitées).
- le crayonné format A3 de la couverture de Miss Harley tome 1
What are the funds for?
le financement va servir à renouveler mon matériel informatique.
achat les albums à dédicacer.
les frais d'envoi.
la part d'Ulule!
About the project owner
Ancien étudiant de l'école de l'image d'Angoulême (section bandes dessinées) et de l'école des Gobelins (section cinéma d'animation) je me suis spécialisé dans l'illustration motarde.
J'ai eu comme premier client le BMW Moto Club de France puis de nombreux magazines moto tels que Moto Magazine.
Des entreprises telles que Continental Tires France, Total, Elf, S-One Harley- Davidson à Ballainvilliers, Highway Custom 77, Pontault-Combault, Panda Moto à Villeneuve sur Yonne, Mombaerts, CS concept, Héritage Import, L'Alternative...
Des participations dans des collectifs regroupant moto et illustrateurs:
Motorcycle Graphics par le journalise britannique Gary Inman (2013).
FFM, 100 ans de Passion, par Baudouin Deville , éditions Paquet
Des clubs et festivals en France et à travers l'Europe: Toutes En Moto, Toutes en Moto Suisse, le Trofeo Rosso, Musicasens, les festivals BD/moto...
Et bien évidemment Miss Harley 1 en 2016, Les Flat Twins (préface de Frank Margerin) et Les Américaines (préface et textes de Charlie Lecach).
https://turboflat.wixsite.com/turboflat
https://www.facebook.com/profile.php?id=651918813