Minima Organics
The first plastic-free natural toothpowder made in Spain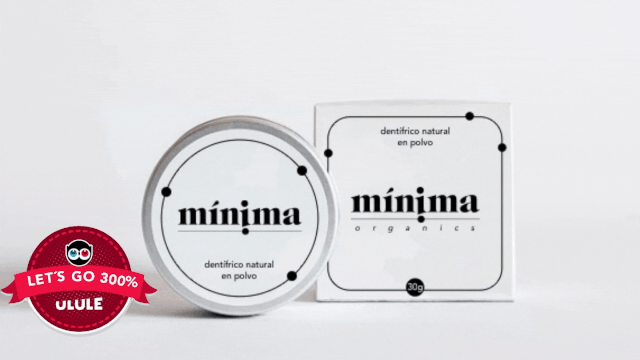 About the project

Your toothpaste reinvented
Have you ever wondered...
What do you do at least once a day? Mmmm many things… But you certainly brush your teeth, for sure!
Did you know that millions of toothpaste tubes and millions of toothbrushes end up in the trash and take up to 400 years to decompose? When we found this out, it seemed terrible to us, and you will surely find the same. 
Can you imagine changing the toothpaste for another texture? We asked ourselves the same thing and discovered a sustainable alternative for our health and the planet without giving up the freshness we are used to.
We wondered why this product is not manufactured in Spain, in a country with a great diversity of plants with wonderful properties for hygiene and oral care.
The first natural plastic-free toothpowder made in Spain
Minima's powdered toothpaste is 100% natural and organic. Its aluminum container can be reused over and over - you can buy the refill in compostable paper bags, reducing the carbon footprint by simplifying its distribution.
Besides having a fresh breath, your gums will be healthy, your teeth will be clean and white and without cavities. 
Minima's tooth powder: ingredients and benefits
We came up with a formula with local and organic plants that we have fallen in love with!
Through our project we want to spread the word about dental hygiene: the importance of eating, having good habits and brushing. A good cleaning does not depend on the amount of foam or the good taste, but on a proper brushing and on products that are not toxic or too abrasive.
Bamboo toothbrush and plant-based dental floss.
To help make our daily routines respectful to the environment, we also offer biodegradable and plastic-free bamboo toothbrushes and plant-based biodegradable dental floss.
Our toothbrush is made with a 100% biodegradable bamboo handle. Bamboo's natural antibacterial barrier is the main reason why it is the fastest growing plant on the planet, making it one of the most sustainable material on Earth.
The plant-based dental floss is 100% vegan and biodegradable, with candelilla wax and organic peppermint essential oil. The stainless steel container can be refilled many times, thus avoiding waste.
We have included these ecological options in all packs, so that with a simple daily gesture, you can contribute to the conservation of the planet.
Mission and values
Minima is a new project that was born from the desire to create products made responsibly and ethically at all stages of the production chain, from the production of raw materials to transport and relationship with the final customer.
We will always avoid the use of plastic and will use minimal packaging. In our production we care about using high quality raw materials obtained directly from the producer and the closest possible ones. With this we intend not only to value nearby plants and resources, but also to support other small projects carried out with coherence and responsibility.
Minimal arises from the questioning of how and what we consume. This project embraces the dream of supporting the transition to a more sustainable life, supporting reforestation and generating fair work.
Minima is connected with Jacutinga do Caparaó Permacultural Association, located in the middle of the Atlantic Forest, next to the Caparaó National Park, in Espírito Santo, Brazil. A group of people - among them, the founders of Minima - united by common interests have acquired 18 hectares of land degraded by agro-industrial activities. In this rich biome, we let nature do its job of regeneration without the interference of humans, while we study and experiment with different practices for the transition to a more sustainable world. By supporting our project, you are also helping to regenerate the environment. 
They already trust us
We are pleased to announce that from October our natural tooth powder will be available in the following stores, which we share values and commitments with:
What are the funds for?
The resources of our campaign will be used to obtain the international COSMOS NATURAL certification. Being certified by a prestigious entity such as Ecocert is a guarantee that this product contains a certain percentage of natural and organic ingredients, and therefore the consumer can ensure that the product does not contain substances with pesticides and other chemical treatments in its cultivation and processing.
COSMOS is a certification standard agreed by the main European certifiers, a common certification to unify criteria and establish a single standard. It has been developed by five of the main certifiers of organic cosmetics in Europe: BDIH (Germany), Cosmebio (France), Ecocert (France), ICEA (Italy), Soil Association (United Kingdom). In our case we chose Ecocert.
About the project owner
We are Andrea and Juliana, a Brazilian journalist and a Mexican economist who met in Barcelona working in an education company 10 years ago. We share good humour, many values and lifestyle. Throughout these years we made many changes in our consumption habits: having less and less to make room to live more fully.