Miguel M Live à l'espace Athena ( St Saulve )
Financement du 4 ème album de MIGUEL M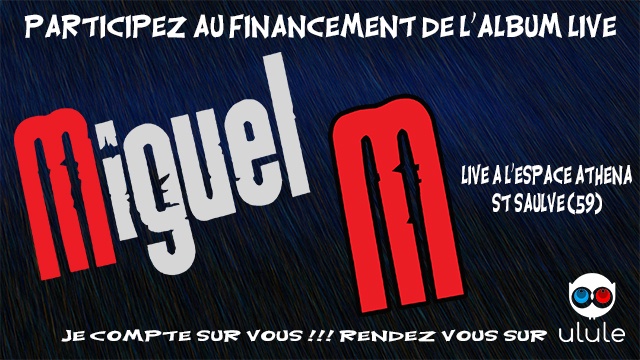 About the project
Salut mes amis !
Il y a longtemps que je vous en parle mais cette fois-ci c'est imminent … mon album « Live » arrive à grand pas avec une sortie prévue pour le 1er Juin 2017.
Cet enregistrement a été réalisé à l'Espace Athéna (Saint-Saulve 59), j'en profite pour remercier l'ensemble de l'organisation et techniciens qui ont fait un très bon boulot, MERCI A TOUS.
J'étais parti dans un premier temps sur l'enregistrement d'un nouvel album studio, tout était prêt concernant les titres qui devaient y figurer, le studio était calé mais … cette enregistrement Live est venu me perturber, car j'aime l'énergie qu'il dégage ! J'ai donc décidé de repousser l'enregistrement studio pour vous présenter dès le mois de juin mon nouvel album :
« MIGUEL M Live à l'Espace Athéna »
Ce projet d'album live me tient à cœur depuis quelques années, la scène, le contact et la relation avec le public n'ont rien à voir avec un album studio ! Je suis fier de cet enregistrement qui représente exactement ma personnalité et ma musique …
Ce sera le quatrième album en mon nom et je tiens à ce qu'il dégage un maximum d'énergie positive pour ceux qui découvriront mon univers, ceux qui me suivent depuis longtemps, mes proches, mon staff, et même pour ceux qui ne m'aiment pas !
Pour que ce projet se réalise, j'ai besoin de votre soutien à tous, je compte sur vous mes amis pour aider ce projet à se développer en likant, partageant, mais aussi en participant à la cagnotte qui m'aidera à financer mon album.
Peace. Miguel M
En écoute un morceau qui figurera sur l'album, pour vous donner un aperçu et vous mettre l'eau à la bouche pour écouter le reste du Live !!

ATTENTION : le morceau en écoute n'est pas finalisé concernant le mixage et le mastering

.
What are the funds for?
J'ai besoin de cette participation pour palier aux frais de :
Location Studio : 200 €
Cachets Technicien (x 5 jours) : 1 500 €
Ré-enregistrement ligne Basse ( Cachets Bassiste x 3 jours) : 600 €
Transports + Hébergements : 400 €
Création graphique + Glass Master : 500 €
Pressage CD : 1 600 €
Envoi CD : 200 €
% Ulule : 8 %
Total : 5 000 €
About the project owner
Miguel M, chanteur-guitariste et auteur-compositeur puise son inspiration dans les musiques noires américaines. Sa musique est un cocktail revitalisant de blues, de rock, de funk et de soul. Sa voix et son goût du show font de lui un artiste original qui n'hésite pas à rendre hommage aux artistes qui l'inspirent en reprenant des titres phares et en les revisitant de façon inattendue. Il a participé à de nombreux festivals dans toute l'Europe et assuré la première partie d'artistes de renommée aussi bien Français qu'Américains.
​2013 : So Fine ( Album Studio )
2010 : Tout Mon Possible ( Album Studio en Français )
2005 : A New Day ( Album Studio ) (  Récompensé par le titre du meilleur album de l'année décerné par le trophée Euros Blues )
Suivez moi sur les réseaux sociaux ( Page Facebook... ) 
Egalement sur mon tout nouveau site internet : www.miguelm.net
Ainsi que sur le site internet de mon tour management : www.zemusictour.com
A très vite les amis !! 
Peace
FAQ
If you still have an unanswered question, feel free to ask the project owner directly.