Mesh Magazine
Issue 01 of an independant printed magazine exploring the theme of vulnerability within cultures.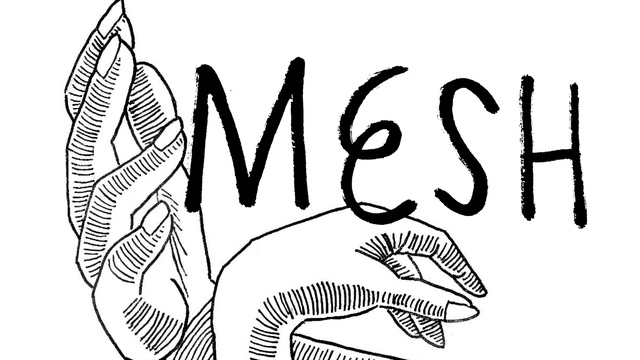 About the project
MESH MAGAZINE
Mesh Magazine is an independant bilingual printed magazine based in Tiotia:ke (Montreal) exploring vulnerability through photography, illustration and words. This magazine-collection gathers moments of vulnerability with the aim of creating strength, by inviting all beings in accepting their vulnerability as a healing path. Through these mediums, Mesh Mag sheds light on different experiences that norms marginalize.
One of Mesh Mag's particularities is that we are compensating every artist that we publish in the magazine, even if we don't receive any grant. We want to promote the work of creative people who don't necessarily have the financial means to live off their passion or what is therapeutic for them.
Here, you can pre-order the issue 01 and support local artists !
ISSUE 00
In August 2017, we printed a first publication: PILOTE_VULNÉRABILITÉ. This 34 pages self-published prototype is presenting the main essence of the project through the creations of 5 artists based in Tiotia:ke (Montreal).
ISSUE 01
Our first issue will have "I Choked" as a specific theme. It will be about those moments when shame and/or fear block us from acting. We are thinking about the unsent letters ; the appointment we never met ; the thought that stayed in our throat ; the feeling of abandoning a side of ourselves in a broader sense. Why did we "choke"?
What you will find inside :
+ 72 pages of content (photography, illustration, text)
+ An original MESHMAG text & photo editorial exploring the self-perception of 7 mixed race persons
+ Exclusive pieces of 12 Tiotia:ke (Montreal) based artists :
GENEVIÈVE B-BLAIN
ODILE MYRTIL
JAMES CADELLI
SWARM
MARIE-ÈVE GROULX
SARAH SONY GUERTIN
MIKE CLAY
LOVESTRUCK PRINTS
DOUG BIEREND
FALLON
JEREME MATALA
SPILT MILK
+ No publicity
+ Format 8 x 10 inches
+ Recycled paper (160M Enviro100, velvet laminated)
VULNERABILITY ?
Vulnerability refers to the fragility of existence. It is a universal emotion, but a specific condition. Gender, sexual orientation, ethnicity, abilities, community belonging and all of their intersections influence how we are threatened in our autonomy, consent freedom, integrity and physical and mental dignity. Mesh Mag aims to give a space to explore this subject.
What are the funds for?
All funds will be used on printing fees and on the collaborating artists' honorariums.
Mesh Mag team counts only two persons. The management, edition, photoshoots, graphic design and all artistic direction is made by us, during our free time. This is why we need your contribution so the project stays alive. We invite you to pre-order the issue 01 :)
We know that making a printed magazine is an ambitious choice, but it's important to us to create a tangible object that allows direct communication. Mesh Mag is not only a creation collection ; it is a creation itself. Also, not including any publicity is a way to keep the project authentic and to give a coherent flow through the discovery of every artist.
About the project owner
THE TEAM
Artistic direction - Sorya Nguon & Gabrielle-Léa Tétrault
Edition - Sorya Nguon & Gabrielle-Léa Tétrault
Photography - Sorya Nguon
Graphic design & original illustration - Gabrielle-Léa Tétrault
Gabrielle is interested in creativity and movement as a primal, liberating energy. She questions performance; on stage, in life narratives and in rituals.  She deeply cares about nonhuman animal liberation and, more generally, about the ethics of relations between beings.
Sorya is fascinated by healing methods and she tries to integrate them in her daily life.  She works as a massage therapist, is a social intervention student and maintains a close relationship with photography, music and words. These are her ways to reach living beings in their wholeness.
Our communal intention is to deconstruct social schemes that prevent self-empowerment. Through the magazine, we are targeting toxic stereotypes with the purpose of destroying them.
ORIGINAL MESHMAG POSTER :
FAQ
If you still have an unanswered question, feel free to ask the project owner directly.