Massage and Yoga on Madeira Island, Portugal
Creation of a space for a tourism of wellbeing and of meeting.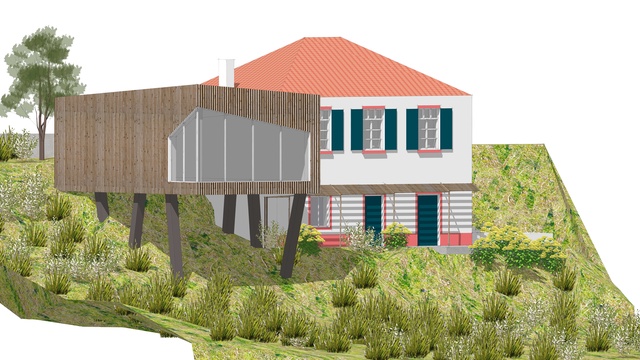 About the project
We are a family living on the island of Madeira, Portugal.
Madeira is a paradisiac island, with multiple landscapes and climates, were you can grow everything, from apples to mango,from sweet potato to yam, without forgetting the banana and the sugar cane. The climate is subtropical, neither too cold, nor too warmly.
Rich with a history starting at the beginning of the XVth, it possessed one of the most beautiful primary forests in the world (UNESCO world heritage).

There is, on this island, a small agricultural area called Terra Baptista, it is an agricultural area which is being depopulated due to the ageing of is population …
Except us, there are not many young people … however, it is a place that deserves to be exploited, because there is everything: sea and mountain, traditional terraced agriculture and forest primary, sports activities such as the hiking,  surfing, canyoning, paragliding, etc. wich attracts many travelers.

Currently, we rent in AirBnB (https: // www.airbnb.fr / rooms / 7061267? S=51), we have at the moment only 2 rooms to be rented but it works rather well.

Cilene is specialized in wellness service, she does massages on the seaside during the summer, and right now, she is graduating to be a Yoga teacher (https://www.facebook.com/profile.php ? id = 100013906471363).
I, Antoine, I continue as a mountain guide, and my experience allows me to propose original and personalized activities for visitors of Madeira (https://www.facebook.com/Vagamunndo/) ...
Next to that. we grow our vegetables...
Our personal goal is to be able to be autonomous.

To realize our dream, we need to develop us a little and create a structure that can accommodate travelers who would like to discover Madeira differently.

We want to be able to welcome these people in an agritourism environment with a wellness zone (yoga and massage), but also to be able to offer cultural activities (cinema - workshop - exhibitions) and thus create meetings with the local population.

Our short-term goals:

    Complete the various works (yoga- terrace-garden room) of our house. (See "Whats are the funds for?")

Our long-term goals:

    Buy 2 other houses to enlarge our offer (possibility of participation, for those who are interressés there may be another crowfounding).
What are the funds for?
The funding will be used to create a multipurpose space that will allow us to offer, to people who wish to come to us, original experiences!

Among these experiences, there will be mainly yoga and massage, that will be delivered by my wife, who has a long experience and many training on these topics (see https://www.facebook.com/profile.php?id=100013906471363 ).

This space will also allow us to offer other types of activities such as regional cooking classes, presentations of Madeira, workshops ...

But above all, we would like this space to be able to initiate an exchange with the local population by bringing in artisans and artists, allowing the locals to participate and discover new projects, and to have new experiences, by the organization of events (music, dance, art, workshop, etc ...)

This space was designed to be facing west, towards the sunrise to the sea, what better to meditate? ...

For financing, we offer, in return, experiences in our house (see counterparts) that can be used when you want, from September 2018 ... A good way to have a great holiday on a paradise island! !

About the project owner
We are a family of 2 children, Açu, 10 years old and Tao 6 years old, Cilene and Antoine, their lovely parents ...

We are a united family, love to travel, discover and share.

Our goal is to have a simple life, but rich in experiences. For this, we have chosen the path of independence, we grow our vegetables and fruits, we have chickens for eggs (or vice versa!). And this project will allow us to bring our stone to the edifice of a society oriented towards sharing, knowledge.

We like to enjoy life and love to share happy moments.

We hope you would like to help us in this wonderful project ...

Do not hesitate to contact us in case of doubt ...

Where to find us:

AirBnB: https://www.airbnb.fr/rooms/7061267?s=51

Facebook of Cilène: https://www.facebook.com/profile.php?id=100013906471363

Antoine's Facebook: https://www.facebook.com/Vagamunndo/

Antoine's LinkedIn: https://www.linkedin.com/in/antoinelammertyn/