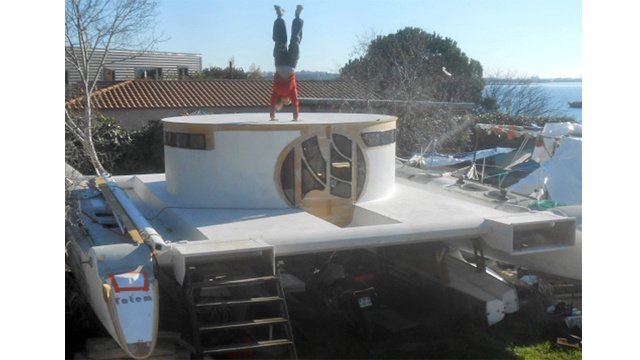 About the project
My project is to build a sailing circus catamaran. It provides a platform to create shows and perform them all around the world. To challenge the nomadic and independant tradition of a circus, by replacing the big tent with a stage catamaran, and the wagons with an armada of sailboats.

The creation of a floating circus

Circus is a popular and nomadic art, inspired by travels and exotic atmospheres,
it's essence resides in the constant motion.
A sailboat, with its long crossings, has the liberty to visit countries in all the continents of the world.
The circus catamaran functions as an autonomous performance structure, offering a stage,
a home and a way of transportation.
Additionaly the possibility exists for other artistboats to join and create a floating circus armada.
What are the funds for?
Build a rigging designed specially and adapted to the project.
Mange Nuage is a catamaran build in 1987 and originally used for regattas in coastal waters.
Plans drawn up by naval architect Denis Kergomard transform this former racing vessel into a floating circus stage with arial structure and live aboard space.

The initial budget for the adaptation of the boat does not include the price of new rigging, sails and masts.
After initialising the construction of the live aboard space and the stage, it seems logic to opt for a circus adapted rig with 2 masts,
instead of the original long and heavy racing mast.
This opens up a much wider array of possibilities as you can see in the plans below, for exemple.
The quote established by a professional sailmaker for this rigging is of 20 000 euros.
My real goal would be to collect 12 000 euros here.
If i can collect with ulule 6000 euros it would be a great beginning!
If i can collect more, it would be more confortable.
If you are interesting by all this story, please share it with your friends!!
About the project owner
Circus artist, aerial artist on the trapeze, qualified circus artist, École Nationale Supérieure des Arts du Cirque (CNAC), musician and sailor, I work since one year and a half
- with the help of a naval architect- on building the circus catamaran.
See: (http://mangenuage.wordpress.com)
It looks like I was a dreamer since a very young age...
When I was 7 or 8 I was initiated to trapeze. It was rigged on a oak branch in front of the older girl's house that was teaching me. This is how I got familiar with half angel, bird's nest,
mermaid and other basic moves taught to children in circus schools.
As a teenager in the Caribbeans, my brother use to call me « sistabaleine » (whalesista), because I was always the first to spot their strong geyser when we were sailing.
Always disappointed no to be closer, I wanted so much to swim among them....
Dream aside, at some point in life it's time to choose a path, a profession,
an area in which one can evolve : I chose to be a circus artist.
Why circus, because I still wanted to dream. Circus to me, was a good mix of all I loved :
stage, sport, artistic work and music, but the direct contact with nature was the missing element.
I passed the entry exam to circus schools and studied on year in Châtellerault, then 2 years in Rosny-sous-Bois and ended up in the CNAC in Châlons en Champagne for three years and got my diploma as a professional trapezist.
I was totally living my circus dream but still far away from my dream of whales !!!
During all this years in the nothern half of France I was dearly missing the wild nature of my teenager years,
the sea and the traveling in other worlds.
Little by little the idea of a circus sailing boat started to merge in my head and heart as a way to travel independantly around the world,
giving me the opportunity to share my passion for circus with people from all continents...
As I was working as professional trapezist and circus artist,
I was searching for companies, associations, sailors, in other words,
I was looking for anyone who shared the same dream.
I found some people, and we travelled a while together :
co-ownership of a monohull in Trinidad and creation of the company « Mange Nuage ».
I sailed on different boats assuming differents responsabilities.
Experience after experience, through hope and dispear, I decided to carry a project by myself.
A family heritage allowed me to launch the project.
I am working with the great help of naval architect -Denis Kergomard-
who is guiding me in the building of my boat.
Indeed, since september 2015, I sand down, I glue, I build, I cut, I cut out,
and step by step I bring my future circus catamaran to life.
My initial budget financed the building of the boat as well as the interior layout
(everyday life equipement, paintings, navigation systems, electricity, engine, etc...).
The realisation and set up costs of the rigging are above my estimations, and I need new fundings.