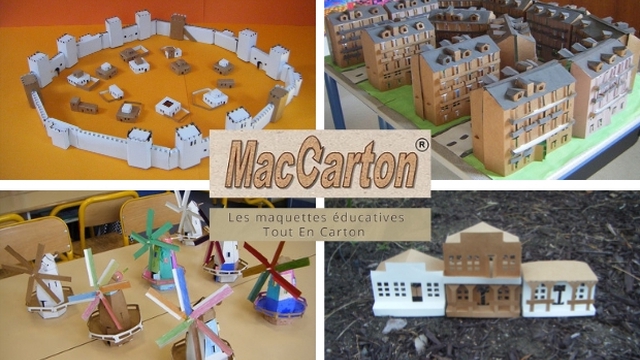 About the project
The best way to learn, is to have fun, with interesting activities, creative and educational, using models to build alone and / or as a group.The MacCarton project was born in the head of a teacher, passionate about her job and driven by the desire to educate.
The Haussmann house
There are several educational models, each one allows you to approach topics such as history, geography, society, technology …
Model calls "My Home". This model can be use as a pencil holders or a nightlight.
MacCarton models are for everyone : children and adults. They are a perfect option for schools, families and any groups as they are available in small sizes.
The roman camp - The double-tone cardboard allows you to give different aspects.
Suitable for all levels, to build alone or in groups and to decorate according to your taste, the construction of those models will be a moment of pleasure and sharing !
The ancient city ... Try to guess which city inspired this model ?
The main ideas that were used to create this project are:
1. Put children and students in research AND success, with models that are neither too easy nor too difficult.
2. Promote group work by offering modular models to assemble together (patented process). Group work can be done in community (school, recreation center), or at home (family, friends, etc ...).
'' The Old Western City '' was inspired from the famous ghost town of Calico, located in Southern California.
3. Develop interdisciplinarity from a visual arts activity linked to the discovery of the world, history, geography, technologies (computer science, renewable energy, etc.).
4. Create links between traditional activities and new technologies. Some models came with :
a) decorative vignettes for coloring and offered as downloadable files in jpeg extention. These vignettes can be colored either under Paint, or in a traditional way with colored pencils or markers.
b) simple arrangements with links to technology:
-> presence of notches allowing to place mini leds and to illuminate constructions.
Paris by night, on the boulevard Haussmann.
-> For the windmill, the axis of rotation is long enough to insert a gear wheel and show very simply how wind energy can be converted into mechanical energy.
The mills also turn very well in the wind ....
5. Create human bonds and connexions by building group models together.
6. Offer an environmentally friendly product using recycled and recyclable materials.
What are the funds for?
The money will be use to advertise our products, while providing us with essential financial support for the development of the project.It is MacCarton organization that will collect the entire money.
The development of a model requires:
between 3 to 6 months of development (design, testing and manufacturing),
a number of exchanges between the various stakeholders,
and a financial contribution ranging from 3500 € to 5000 € per model.
If the money collection exceeds the desired amount, please do not stop there! Your engagement will give us significant financial support and allow us to develop faster.
As part of the counterparts, you can build yourself models to develop your personal experience. You will be able to make us a return information so that we can take into account your opinions for the next models, and make known MacCarton around you.
About the project owner
My name is Rebecca ... a nice adopted name. I'm European by chance, even if I feel more like beeing citizen of the world. I like the nature, sea and mountains. I like to observe, share and give back.
After a master's degree in biology, I worked about fifteen years in the distribution of newspapers and magazines. Then, I change completly : I became a teacher for elementary schools. I discover an exciting and very fascinating job.
The idea of developing models, then came simply because children learn better when they having fun.
Thank you…

To my children and my family, who I took time to materialize this project, during which I could not show them enough how much I love them.

To my friends, and to the graphic designers, Internet professionals, production and industrial manufacturing, ... who contribute to this project by bringing their talents, their advices, their knowledge or simply their proofreading, criticism or enthusiasm!

To all those who will believe and contribute to MacCarton.