The18.org - World Tour Stop0
LET'S SAVE THE OCEANS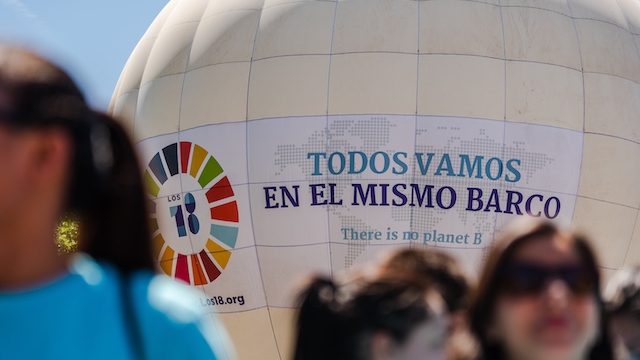 About the project
Welcome to Los18.org's inaugural scale of the around the world tour. A world tour consisting of 18 scales promoting each of the Sustainable Development Goals (SDG) of the United Nations. We dedicate this Scale0 to the world's main lung: our oceans. The route of this stop0 will be Valencia-Ibiza-Formentera-Valencia. We will have conferences, a hackathon, the biggest SDG human figure and many more activities! Volunteers from many different industries will get on board. It will be unique.
What are the funds for?
WHAT WILL WE DO IN STOP0?
We will act, raise awareness and inspire towards the preservation of our oceans. Impact and passion!
DAY 1 - VALENCIA: We will have an impactfull Hackathon at the Oceanografic in Valencia. Several projects related to SDG14 will be presented. Participation will be open to all citizens. Teams will be formed and the members of the winning team will get the opportunity to get on board with us. Something unique and with a usefull goal.
DAY2 - IBIZA: Hands on! We will organize a social collaboration activity involving all citizens where inspirational conferences will take place. Educational activities will be carried out where high schools will participate where we will not only clean the beach but also have a session to talk about the threats our oceans have today. Luckily, we will also count with the presnece of a local band that will play music in the port of Ibiza! Exciting, right?
DAY3 - FORMENTERA: Keep going! Here we will dive to understand and see how the Posidonia is suffering with our own eyes. We will organize classes and debates on board where we will talk about the challenges and threats the oceans are experiencing, such as the invasive species, water polution, etc.
DAY4 - VALENCIA: Let's party! Our entrance in the port of Valencia is going to be spectacular. We will count with the presence of fantastic musicians who will make us boogie all morning. Also experts and colaborators will give a awarness speech about the SDGs, and lastly but surely not least, we will create the biggest SDG human figure ever seen. You can't miss it!
Together we can! With your donation our boat will sail. We will be able to involve tjousands of people inimpactfull actions. Your donation will enable us to bring the best experts to educate us and to help us find solutions. MAKE IT HAPPEN, PARTICIPATE!
About the project owner
The18 is a group of normal people who dream of making the world a better place. We believe the SDG's of the United Nations are the best tool to change the world and to make a better place out of it. A better, more equal and peaceful place.
We organize and execute activities to promote sustainability where all change agents participare: governments, citizens, startups, companies, socities and foundations. Our long term objective is to navigate around the world, in 18 stops, to work on one SDG in each of these stops.
This Stop0 is our pilot project with which we intend to train ourselves for the world tour!
THESE PICTURES REPRESENT SOME OF THE INCREDIBLE MOMENTS WE HAVE EXPERIENCED SO FAR. DON'T MISS OUT!