The Little Witches Exodus
The illustration book from the Inktober 2017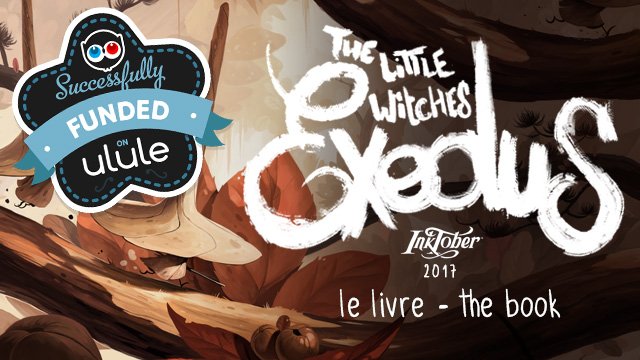 About the project
What is this "Golden ticket" ? Well, everyone who have backed this project will have one, giving a place to a lottery done at the end of the crowdfunding. And if you're the winner, you will have an original illustration, done with ink, in the world of our little witches, just like any other inktober, just for you !
The Little Witches Exodus is finally becoming a book !
«Samain is coming, i have to hurry... there is so little time left», can you hear, if you discreetly slip you ear between the orange foliage of autumn.
Looking closer, we can see a little witch not much larger than the palm of a hand (hat included), running between the branches in search of her friends, for the great ceremony at the end of October.
Will she arrive in time? What obstacles will she have to overcome, the dangers she will face? And what is this mysterious ceremony of Samain, who looks so urgent?
The Little Witches Exodus, did you say?
It's first of all a small challenge, the Inktober. Yes, but what is the Inktober? It's a project started by Jake Parker : its principle is simple: one drawing per day, done with ink, throughout the month of October.
Many artists have followed this event, and it has become an expected tradition every year. A prompt list is created for the occasion, giving one theme per day. For this month of October 2017, I imposed myself a small additional challenge: to make a link between each drawing, and create a story over the month.
In a previous edition of the Inktober, a small book has been made, including all the images created on this occasion. Of course, the idea of ​​redoing a book with this edition quickly came, encouraged by multiple requests, every time I posted a new illustration.


And here we are ! Let's talk about the book !

72 pages - format 240x165 mm - soft cover - "soft touch" coating - black and white interior
text in french and english.
So the book includes all the illustrations made during the Inktober 2017, with all the texts written day by day. It will be printed on a nice thick paper (offset 170gr / m²), in black and white. The cover will be a color, soft cover, with a "soft touch" coating (you know, the thing that gives the book a velvet feeling when you touch it! ). At the moment, the book is almost ready, so I hope to finish it quickly, because i don't want you to wait too long.

Of course, the Little Witches wanted to read the story, to be sure all i'm telling you is true.
Much care has been taken in producing the book. A neat layout, corrected text and proofread, translated into English by Sheryl Curtis, experienced translator.
So, it's time to talk about how we can succeed in doing this book ... because "winter is coming" (as some would say), and we must put a lot of hazelnuts, nuts, mushrooms, chestnuts aside to be quiet. And it takes a lot to make a book!

So here are the rewards :


Reward limited to 50 !
What are the funds for?

Why go through Ulule?
I think the simplest reason is that publishing a book can quickly cost a lot of hazelnuts, chestnuts, currants ... uh ... money, sorry. And also because it's a rather fun way to prepare a pre-order for this project! And, why not, depending on the success, improve the way the book is made (and its content too, let's be crazy! But we talk about it a little lower).

The Little Witches love to eat, and wanted to give a little help, so they offered to cut a cheese to make it more visual. But basically, here is how the money will be used:

1. printing.
2. shipping costs
3.Layout, translation, goodies, promotion, and hundreds of pounds of hazelnuts (I told you they were gluttonous!).
4. Ulule's percentage.

And if we exceed the funding, what happens?
Well, here's a little idea of ​​what could happen !!
About the project owner
It's time to introduce myself!


My name is Xavier Collette, aka Coliandre, i'm an illustrator, working in this field for a little more than 10 years: Comics (Alice in Wonderland, Soufflevent), children's books (The cat who was afraid of shadows, The little wood of Sunday night), board games (Dixit Journey and Anniversary, Abyss, Mysterium, Timeline), covers of novels, concept art for video games and advertising. And some self-publishing experiences, first with an Ulule campaign for a first sketchbook (see here), successfully funded. As well as the Inktober 2015, for which I made a classic pre-order. If you want to take a look, just click HERE
And if you don't know my work, the best thing to do is to check my Portfolio.
Or simply find me on social networks :