Lettres à Montréal
Fabuleux bouquin de Montréal - Montreal Comic Arts Fables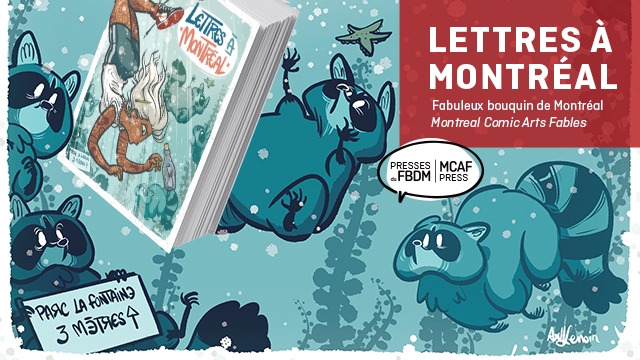 About the project
Si vous avez ratez le coche et que vous souhaitez commander votre livre avec un peu de retard, contactez-nous à [email protected], nous nous ferons un plaisir de vous répondre !
LE PROJET - ABOUT THE PROJECT
La sortie prochaine du livre Lettres à Montréal sera le troisième ouvrage portant la marque du FBDM. Il se démarque pourtant de son prédécesseur, Rues de Montréal, édité en collaboration avec la revue PLANCHES.
Lettres à Montréal se veut le premier d'une série de recueils de bandes dessinées originales qui suivront l'histoire et l'évolution du festival à travers les années. Nous inviterons donc, à chaque nouvelle édition de l'événement, certains des bédéistes présents – d'ici et d'ailleurs – à nous soumettre de courtes histoires respectant chaque année une thématique différente. Ceci nous permettra de conserver en nos bibliothèques le souvenir d'une fin de semaine où nous saluons et célébrons le travail des artisans et artisanes de cet art qui nous fascine tant.
Ce premier recueil annuel n'a pas pour ambition d'être un florilège de lettres d'amour à la métropole. Certains y verront l'occasion de le faire, certes, mais l'intention est simplement de faire apparaître dans chaque récit ne serait-ce qu'une mince référence à la ville, un clin d'oeil qui nous rappelle que c'est ici que nous déployons nos énormes chapiteaux, dans cette ville ambivalente, à la fois européenne et américaine, francophone et anglophone. À l'image de la ville et du festival, Lettres à Montréal se veut bilingue, chaque histoire se racontant dans la langue du bédéiste.
Ils sont beaucoup à avoir répondu avec enthousiasme, nous indiquant que nous pointons définitivement dans la bonne direction. Quelle joie !
-
The upcoming release of Lettres à Montréal/Letters to Montreal will be the third publishing project the Montreal Comic Arts Festival has been involved in (such as our most recent book, Rues de Montréal, published in colaboration with PLANCHES), and our first from our new MCAF Press!
Lettres à Montréal/Letters to Montreal will be the first in a series of annual comics anthologies that will follow the ongoing evolution of the Festival over the years. Each year, MCAF will invite a selection of our exhibiting creators from Montreal and beyond to create short stories, with a different theme each year. This annual will allow us to celebrate the work of our talented creators all year long, with the books available in bookstores.
For our first year, we don't expect all of these "Letters to Montreal" to necessarily be love notes to the city, though some of the stories certainly are. But in each tale the reader will encounter an aspect of the city, a reference small or large that it is right here in the heart of this unique metropolis that our Festival raises its tents each year, a beautiful and sometimes strange place that can feel at once European and North American, French and English, historic and modern. Reflecting our city and the Festival, Letters to Montreal will be a mixed bilingual book, with each creator working in their own prefered language.
Our creators have responded to this project with great enthusiasm, a clear sign that we're pointed in the right direction!
LES AUTEUR·RICE·S - THE WRITERS
Vous retrouverez donc dans les pages de cet album les talents de :
Within these pages you'll find new work from an all-star lineup, including:
Axelle Lenoir, Jacques Ferrandez, Catherine Bard, Julien Dallaire-Charest, Meags Fitzgerald, Boum, Mélodie Vachon Boucher, Elyon's, Iris, Richard Suicide, Jeik Dion, Eldiablo, David Daneman, Xavier Cadieux, Michel Hellman, Laurence Dea Dionne, Julie Rocheleau, Pierre Lecrenier, Keenan Poloncsak, Salgood Sam, François Vigneault, Christopher Olson, Dimani Mathieu Cassendo, Jackie Davis, Jennifer Kiakas.
À vous tous et toutes, tant de remerciements !
A huge round of thanks to all of our amazing contributors!
LE LIVRE - THE BOOK
La magnifique couverture est l'ouvrage d'Axelle Lenoir. Le livre est encore en chantier mais voici quelques échantillons du travail accompli !
-
The wonderful cover is from Axelle Lenoir. The book is still a work in progress, but here are some samples of the work done!
Extraits du travail d'Iris - Excerpts from Iris' work
Extraits du travail de Boum - Excerpts from Boom's work
Lettres à Montréal marque également la naissance des Presses du FBDM/MCAF Press, à qui l'on espère une longue vie prospère.
-
Lettres à Montréal also marks the birth of Presses du FBDM/MCAF Press, to which we hope a prosperous life.
PACKS
Frais de livraison au Canada compris dans les prix affichés, prévoir des suppléments pour les États-Unis et l'Europe.
L'équipe du FBDM communiquera ultérieurement les dates et les horaires d'ouvertures du bureau.
-
Shipping costs in Canada included in the adverised prices, provide extras for the United States and Europe.
The FBDM will communicate the dates and opening hours of the office at a later date.
UNE CONTREPARTIE EXCLUSIVE
Pour la dernière semaine de la campagne, vous pouvez contribuer à hauteur de 6$ pour obtenir ces superbes cartes postales ! Par lot de 3, elles feront des heureux, quelque soit la fonction que vous leur attribuerez !
What are the funds for?
En commandant le livre dès la prévente, vous nous aidez à obtenir les fonds nécessaires pour la publication du premier livre des Presses du FBDM/MCAF Press et d'en faire notre tout premier bébé, en espérant qu'il devienne l'aîné d'une grande famille en devenir !
Concrètement, votre participation permettra :
– De participer aux frais d'impression du livre
évalués à 6 540 $ et qui est la principale dépense du projet.
– De nous aider à sa promotion et à sa visibilité
en en parlant autour de vous, en partageant cette page sur les réseaux sociaux, vous participez à cette aventure et nous vous en remercions.
– À soutenir le Festival BD de Montréal
qui, tout au long de l'année, met tout en œuvre pour valoriser et diffuser les artistes du neuvième art avec beaucoup d'amour et pas mal de passion.
-
By pre-ordering Letters to Montreal, you will be directly helping us to gather the funds needed to launch this book, the first book from the newly formed FBDM/MCAF PRESS. We can't wait to see this new baby book, and look forward to Letters to Montreal being the eldest child in a growing family of publications as we move forward!
You pre-order will directly allow us to:
– Pay for the printing of the book
anticipated to cost $6540 (the biggest ticket item in our budget!)
– Help FBDM/MCAF PRESS promote and advertise the book
speaking of which, don't forget to share this crowdfunding campaign on you social media feeds! It really helps!
– Support the Montreal Comic Arts Festival
which works hard all year long to promote comics and comic creators!
About the project owner
Le Festival de bande dessinée de Montréal (FBDM), est une affaire de cœur et de passionné·e·s de BD. Le festival plante les piquets de tente au cœur de la ville, en plein milieu du parc La Fontaine, chaque année à la fin mai, qu'il pleuve ou qu'il vente, mais surtout lorsqu'il fait soleil.
-
The Montreal Comic Arts Festival/Festival Bande Dessinée de Montréal (MCAF/FBDM) is a labor of love created by and for fans of the comic arts. Each year at the end of May we set up our tents in the heart of La Fontaine Park, come rain or come shine (but we definitely like it most of all when the sun is shining).