LET THE CHILDREN PLAY
BY BRAVA FABRICS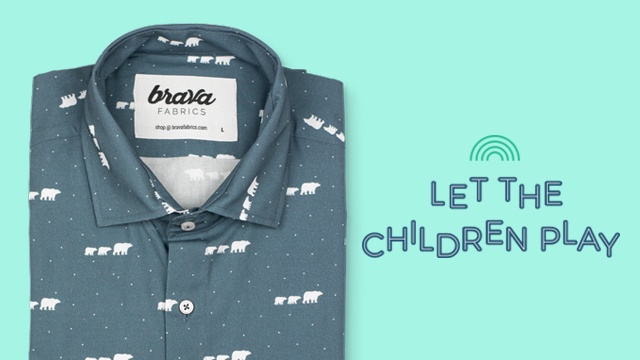 About the project
Let the children Play is a campaign to sell solidary garments for a good cause.
At Brava Fabrics we have created a limited edition design to raise funds to make 50 families of the AEIRaval association can enjoy a unique experience in the snow.
Let the children play is born of the will to give children the opportunity to play their role, to be simply children. That is why we believed that the best we could do was precisely what we are best at, to elaborate unique products with a lot of love so that you feel special with each one of its details.
In Brava we do not want to change the world, we just want a few children to have a good time and enjoy their time with families.
Can you help us?
That's easy, shopping.  All the people involved in this project want to achieve the same goal. Therefore, of all the profits collected, not a single euro will go to Brava or any of its collaborators. We believe that it is important to highlight this point so that you trust the project and believe in it as much as we do.
To achieve this we have designed Let the Children Play, a limited edition collection of Brava Fabrics that can only be obtained through Ulule and will be available only for a month.
Our limited edition Family Bear shirt is a representation of the family bond between parents and children. The young polar bears are very dependent on their parents during the first years, experiencing their contact with snow for the first time. This similarity led us to express on our Family Bear shirt the importance of family relationships, especially with the youngest ones.
Available for men and women.
Regular fit shirt 100% cotton poplin certified by Oeko-Tex, seal of environmental guarantee.
If you are not sure of your size, please consult our size guide to know more precisely what is yours.
Check my size: https://goo.gl/26iv3V
100% cotton Boxers Fairtrade manufactured in Barcelona
Sometimes a concise message is better than a great explanation. This is our limited edition T-shirt Let the children play. The time has come to make a few children play and being simply children. Available for men and women.
100% cotton t-shirt made by artisan workshops in Porto while respecting fair trade.
Let the children play notebook is a collaboration with Imborrable, our favorite sustainable stationery company. This time with an exclusive design full of details that cannot represent better the idea of this project.
Imborrable notebook with. Size: DIN A5, 148x210mm, 5.8x8.2 ". Interior in Point mesh
Are you a fan of our shirts and want a special design?  What do you think if, besides that, you will be the only one to wear it? You just have to decide which icon you would like to have stamped the shirt, the colors and the pattern (short sleeve or long sleeve). We take care of the rest!
How does it work? Our designer will receive your request and work on it to present different proposals, the one you like the most will be the one we will produce just for you. Please note that there may be technical and design limitations, although we will do everything possible to make you feel satisfied!
All the rewards of the project will be delivered in mid-February. They are exclusive garments whose manufacturing process is two months.
What are the funds for?
From Brava we have always promoted, through our business and personal ethics, measures that respect fair trade, ensuring optimal work conditions in all our production processes.
Despite this, we wanted to get involved in a social project with which we could help those who really need it. That's why we thought of AEIRaval to carry out this project together.
Let the children play means for all the participants the opportunity to offer a unique experience to a group of children with family problems and social exclusion.
For this, AEIRaval will organize a family getaway to the Vall de Núria with the children of the center and their families. The magic of this getaway is not only the fact of spending a whole weekend with your parents and friends, but most of them will know, see and touch the snow for the first time, making it an even more moving experience.
In addition, this opportunity will be used to work on positive parenting, healthy and family leisure alternatives and coexistence with other families, all in a natural environment and far from the environment in which they develop their day to day.
In order to fund the project and make many people happy, we need to reach a minimum amount of € 5,000. With all the benefits collected, AEIRaval will cover the expenses necessary to make this project work, which includes:
(*) In case of obtaining a higher benefit, the number of available places would be extended to other children.
We are sure that we will reach our goal, but if we do not reach it, the money contributed for each of the rewards will be returned to the contributors. If you have not yet participated, you are one step away from contributing your bit and helping to make this project a reality.
About the project owner
A Friday when leaving work, a meal with friends or a day at the beach. This is Brava. An image of our city, Barcelona, ​​cosmopolitan and transgressive, Mediterranean, but with strong traditions. We want to surprise you with every detail and make you feel unique, that's why our prints are exclusive and different from usual.
We do not do things like the rest, we are creative, nonconformist and daring.
If you want to know more about us you can also check our website www.bravafabrics.com
AEIRaval (Integral Educational Association of Raval) is an association that works to achieve equal opportunities, accompanying children and young people so that they have a social and educational development, enhancing positive relationships with their family and social environment.
Do you want to know better what your job is? Learn more about his project at aeiraval.org
Thanks in advance to all who bet on this project and help us achieve our goal. Remember that any help is valid, if you cannot contribute you can always collaborate by spreading Let the children play
You can also know us more in our social networks!