In need of more organic lavender fields
Support a French small-scale organic lavender farm !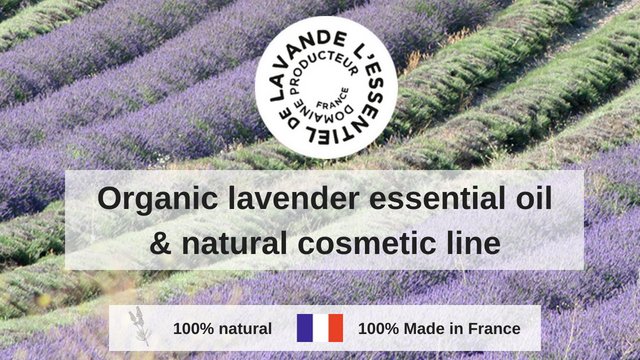 About the project
For over ten years, L'Essentiel de Lavande produced natural lavender and lavandin essential oils extracted from the chalice of flowers cultivated in accordance with French Organic Quality standards. Lavender is our true passion that is why we are considered as the French expert brand in the fields. Today we sell our products within our Domain in Clansayes as well as online worldwilde.
Today we need more space to further develop our business.
This space will be used :
- To cultivate more organic lavender fields (variety : true lavender and lavandin).
- To store our products and agricultural materials.
- To properly greet more than 8 thousands visitors per year...
We want to keep complete control over our entire production process in order to ensure product traceability and thus the high-quality of our essential oil and our cosmetic line.
What are the funds for?
OUR PROJET
Our goal is to plant as soon as possible our new lavender fields with an expected first harvest in 2020. Unfortunately the soil need much more work than expected that is why we absolutely need to raise 20000€ by the 16th of September.
OUR PLEDGE : ORGANIC CULTURE & NATURAL PRODUCTS
We take care of the entire production process from soil to sell. The components of our comestics line are carefully selected. They do not contain any parabens, silicones, thiazolinones, hydrocarbon and absolutely no animal testing.
This is a contribution for an eco-responsible project and a 100% Made in France venture.
You will be part of our passion and authentic adventure.
About the project owner
ABOUT L'ESSENTIEL DE LAVANDE
Located in the region of Tricastin, between Saint-Paul-Trois-Châteaux and Grignan, the territory of Clansayes is characterised by its varied landscapes: fertile plains, steep green valleys, sheer cliffs, wooded hills, plateaux and Provençal style garrigue woodlands.
OFFICE LIFE : from the fields to the computer !