Les Pyrenees en 3D
Pyrenees stereoscopic photographs book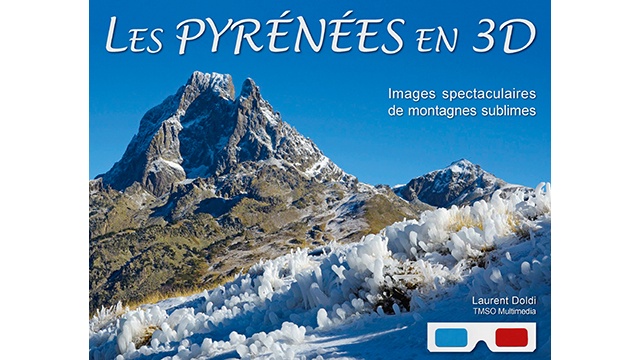 About the project
My project consists in publishing in November 2017 a book (in French) containing a selection of my best 3D photographs of the Pyrenees: Les Pyrenees en 3D - Images spectaculaires de montagnes sublimes
Size 9.5"X12" (24X30 cm), 80 pages, offset printed in 1000 copies on nice paper by Escourbiac (France), the one of the best printing companies.
This book is the first 3D book on the Pyrenees. It will transport you into the heart of the most neautiful sites of the French and Spanish Pyrenees. This book uses an improved process to print the anaglyphs, resulting in an immersive depth experience: thanks to the provided glasses, you will watch without headache more that 80 large format stereoscopic photographs, taken while I climbed 110 summits, walking or ski touring. Five years waiting for the best lights, to get unique images.
Contents:
mountains to die for: Aneto, Posets, Ossau, Vignemale, Mont Perdu, Gavarnie and more
animals, cheese making
magnificent flowers
traditional musicians and dancers
wonderful caves
Here are some photographs from the book (selection not final); I do not show them in 3D (anaglyphs) because Ulule compresses much the images, resulting in ghost images. You can see some photographs of the book in 3D here: http://phereo.com/album/58babce6888428b372000000
Descent from the Malibierne peak, facing the Besiberri range
The lac des Gentianes and the Vignemale peaks
Mont Valier just after a snow storm
The breche de Roland and the Casque du Marbore
The aiguilles d'Ansabere
The Grandes Canalettes cave
First snowfall on Mont Valier
The Boums du port, pic de la Mine, port de Vénasque and Aneto
Background photograph: "La Bethmalaise" group in 2015, during the transhumance to Campuls cirque.
What are the funds for?
If I get 3502 €, for example if you buy 103 books at 34 € each (29 € TTC + 5 € shipping), it will remain me 2551 € after deducting:
the Ulule fees: 8% = 280 €,
the French tax VAT: 5,5% = 156 €
and the postage: 103 X 5 € = 515 €
The printing will cost me around 8100 € including the 3D glasses. So I will pay: 8100 € - 2551 € = 5849 €, wich I hope to recover thanks to the sales in the bookshops through my distributor.
About the project owner
I am the author of six books:
I know how to make books with good 3D rendering (especially for the pre-press that I make myself), like "Toulouse en 3D" that I published in 2014. Indeed it is very difficult to avoid ghost images when printing in offset.
Here is my Facebook page: https://www.facebook.com/LaurentLJ.Doldi