BD/Manga : Les dimensions de Damiel
Le tome 2 des aventures de Damiel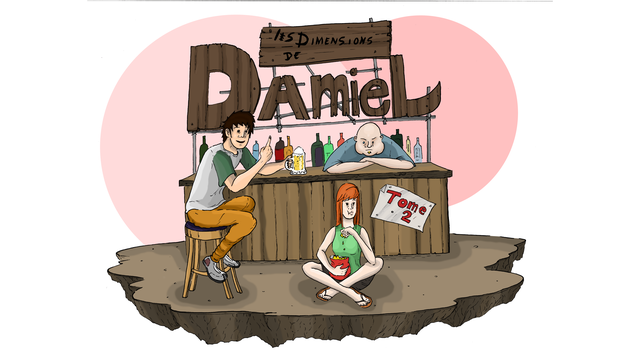 About the project
L'histoire:
Damiel et ses amis vivent entre des mondes parallèles.. Ils sont à la recherche de leur dimension d'origine a laquelle ils ont été arrachés. A l'aide de leur zapette dimensionnelle et de leur soif de fête, les voilà repartit dans un voyage d'exploration qui tend à les rapprocher de leur but ultime.. Cette fois ci, leur aventure les menera à rencontrer de curieuses créatures
Voici ce que vous retrouverez dans ce tome dont voici la maquette ! :
Quelques extraits de planches :
Les contreparties :
Et pour les personnes encore plus généreuse, une bouteille du Château Mauvinon Saint Émilion Grand Cru dans sa caisse en bois personnalisée aux couleurs de Damiel ! Mais pour celle-ci je laisse le désign secret, il sera révélé sur ma page instagram à l'issue du financement !
What are the funds for?
Basique, à tout financer ! Qu'il s'agisse de l'impression de la bande dessinée, jusqu'a la production des goodies et de l'expédition !
Ces trois postes de dépense représentent environ 200€ chacun, le reste de la collecte permettra de payer la comission de 8% prise par ulule, et le surplus de rémunerer mon travail.
About the project owner
Pierre Carvin, auteur amateur, fan de manga/bd/comics et plus généralement de pop-culture, je vous ai déja proposé le premier tome des aventures de Damiel sous ce même format !
Merci à tous pour le temps que vous avez accordé à la lecture de mon projet !