The Destroyers
Where the lightning strikes, Shauna's Edda - Between comic and graphic novel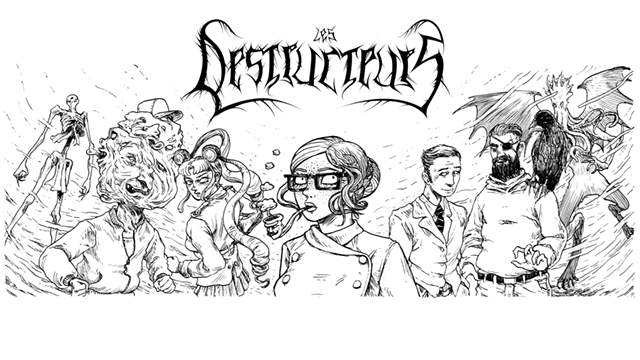 About the project
Our orphan heroine, Shauna Bubblebottom, lives life by fighting for it. Life has been harsh on her.  People have been cruel to her.  Even the ceiling of her flat is trying to crush her little by little everyday. Eventually, Shauna snaps and goes to war against the vicissitudes of her time.
Her pain and frustration is personified by deities filled with dangerous and devastating powers. It's a new pantheon led by pollution, stupidity, illness and narrow minded creatures ready to get their asses kicked by Shauna.  She answers their violence with violence and together they'll kickstart the end of the world.
No ethics here, only an adventure filled with dark humor and nonsense.
It's possible to read the first pages, here, on my blog : http://www.francoisamoretti.com/blog/
The way the pages and the narration are drawn changes according to the characters and the storytelling, combining comic-book artwork with traditional illustration.  It mixes the epic battles seen in US comics with fairy tales filled with poetry, onirism and hidden legends.
The entire 96 page long story is penned in black and white to enhance its gravure style.
The book (A4 size) itself is an object of beauty. The cover is made of a cloth with gold printed illustration. The pages are neatly sewn together and include a bookmark so you can easily return to your favorite part.  It is like a book created in the Victorian age.
What are the funds for?
More than half of the money will be invested in the physical creation of the book. It is a beautiful object which doesn't fall out of the blue.
Another big part will be used for shipping. The book is heavy, and requires a thick envelop and secure shipping.
Money raised will also be used to cover promotional costs such as prints, photos and flyers.
Translators, Elisabeth and David, will be paid for the English version as will Alexandra Banti for her wonderful photos of Shauna.
Alexandra Banti, natural born photographer, gave me a hand to produce three pictures of Shauna (played by pin-up, Nella Fragola). These prints are available as counterparts.
Whatever remains will allow me to work full time on the story and the drawings.
About the project owner
My name is Francois Amoretti, I'm an illustrator. I have published 3 books with Soleil publishing, 3 others books (the last one comes out next march) with Ankama publishing and a last one with Comix Buro publishing.
I would like to crowdfund The Destroyers to be independent, to get the liberty of telling a story from the bottom of my heart to my readers.
Spy and check my web site where I started to write in english ! www.francoisamoretti.com
We are serious people and we are professionals. For a while now, it has occured to us that it's harder and harder to express ourselves through our creations via the usual means.  As friends who share the same crative philosophy, we decided to assemble under a shared label, Four Horsemen.  Our themes cross each others, our way of working is meticulous and neat, our universes are rich and we wish to share them with those who will appreciate them. Yes that's you !
We are :
– Lostfish,
– Alexandra Banti,
– Messalyn,
– Nella Fragola,
– Francois Amoretti.
Our label, Four Horsemen, has existed for few months now and under its maternal gaze our projects are beginning to come to life : comic books, artbooks, illustrated books, photography and videos. .. and that's just for starters.
You can follow our respective news on our websites and blogs.