Lion's tower
A new outdoor game with Kubb & Petanque in the mix!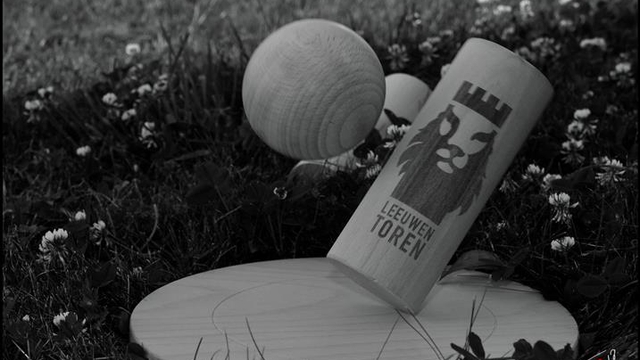 About the project
LION'S TOWER is a fun throwing game, designed and produced by myself, for young and old with the charms of Kubb and Petanque, played on grass and sand.
My name is Stefaan Vanoplynes, 32 years old, a professional teacher and I love outdoor games like Kubb, Mölkky, Petanque, ... and of course Lion's tower!
Enjoy the story behind the project and ... lots of outside play greetings!
ORIGIN
Lion's tower was born in the summer of 2017. As a fan of games the original idea was to create a board game about the medieval gates of Ypres or the ramparts. On a beautiful sunny day my son Ties and I went on a stroll on a path on the ramparts of Ypres to get to know that part of Ypres better. He was riding on his balance bike and I was on foot. We read every sign with information and when we came to the Lion's tower the idea hit me. What fun would it be to teach my pupils about the history of Ypres by means of a game! Who can tell me where the name Lion's tower found its origin?What is the purpose of the island with bushes and trees in front of the tower? Why was the Lion's tower built?
The first thing that crossed my mind was to create a game that was a mix of 2 other games : Kubb and petanque, a game that is accessible to both young and old. I thought of a game that combines the authentic charms of a ball throwing game and more modern gaming strategies. I think it's really important that my pupils play together and enjoy playing outdoors in this digital area.
THE GAME
Lion's tower is a fun throwing game in which you have to overthrow your opponent's soldiers by means of wooden cannon balls (bullets). You win the game when you can overthrow the lion of your opponent from its tower.
How is the game played?
Start
Whoever throws closest from his or her defence towards one of the two front soldiers from the opponent, can start. When you overthrow one of the front soldiers, your opponent can start.
Action in your turn: What choice do you make? Defend or attack?
Defend: standing behind your own tower your throw 6 balls to your opponent
Attack: you throw 4 balls and you place one soldier of your own back (in the front or at the back)
How can I get my soldiers back?
You attack and then you get one soldier back.
For every two overthrown soldiers of your opponent, you replace one soldier back of your own after your turn. (1 overthrown: 0 back, 2 overthrown: 1 back, 3: 1 , 4: 2, …)
Extra
You don't have any more soldiers on your island ? Too bad … you can't attack or stand on your island.
Is the lion overthrown too early in the game ? Then your opponent gets one extra soldier that he can replace wherever he wants.
MOVIE GAME RULES

English: https://www.youtube.com/watch?v=RjZgaa4SeCo&t=128s
Lion's tower made of solid beech
18 cylinders, two with lasered lion ( sawn and sanded down myself)
6 bullets (wooden cannon balls)
2 measuring sticks to indicate the distance
2 disks or towers (engraved on scale)
Game rules (Dutch, French and English)
A solid gunny with printed logo
First version that only 200 were made of
Lion's tower made of rubber wood
18 cylinders, two with lasered lion ( sawn and sanded down myself)
6 bullets (wooden cannon balls)
2 measuring sticks to indicate the distance
2 disks or towers (engraved on scale)
Game rules (Dutch, French and English)
A solid gunny with printed logo
ADVANTAGES of Lion's tower
Plays smoothly and is easy to teach
It does not take long (about 10 to 20 minutes)
You can make the playing field bigger or smaller
For all ages
Tactical element: am I going to defend or attack? Where do I replace my soldiers? Which soldiers do I try to overthrow first of my opponent?
Fun for many years
What are the funds for?
WHY THE CROWDFUNDING?
In February 2018 I received the bad news that the game was too expensive to produce. I had already contacted more than 35 different experts in wood and the cost remained too high: € 85 for the wood and that's the price without the bag and the game rules.
So in April 2018 I decided to saw and sand down the wooden cylinders myself. This way I could bring my game on the market and I sold 160 pieces of the 200 that I made. A humble success due to a lot of help from my friends, family, the city of Ypres, and many more. I'm still very grateful for that!
In June 2018 I even got to send a game to the headquarters of BEX SPORTS AB in Sweden. In the months after a prototype was developed in Italy and contact had been made with China. Unfortunately that deal fell through because they wouldn't take the risk.
I had to find another solution to keep the game financially healthy. There were also costs for the brand name protection and a CE-label.
I couldn't give up my dream after all the positive reactions. Hours of fun playing, the Lion's tower became a part of a city walk in Ypres, the first tournament on the 14th of July 2019, the family of the Lion's tower keeps on growing.
Because I stand by my project for 200% I have decided to take the risk myself to remain head supplier. I made an investment of € 35,000 so I can offer the game qualitatively and at a competitive price (€ 59 instead of € 75). Packaging, control and shipping are all done by me. The idea of the crowdfunding is to reach a bigger audience so that Lion's tower and playing outdoors can be promoted. If the order 'rubberwood' is delivered on time, I can do the first shipments in May. In order to monitor the quality and I do not know where this adventure brings me, the edition is limited to 900 games. Only available on Crowdfunding and later in my own webshop.
SHIPMENT
The shipping costs are determined by the weight of the game. (+/- 7,5kg) In the shipment the box and shipping are included. Only for a few countries in Europe! See the list below.
Zone 1: Belgium, the Netherlands and Luxembourg (+ € 10)
Zone 2: Germany, France, United Kingdom, Italy, Spain, Portugal, Austria, Poland, Finland and Sweden (+ € 20)
Zone 3: Hungary, Croatia, Slovakia, Slovenia, Czech Republic (+ € 25)
Zone 4: Bulgaria, Estonia, Latvia, Lithuania, Romania, Greece and Ireland (+ € 35)
The delivery of the wood takes place mid-April. In case of a correct delivery the shipment will take place from May.
About the project owner
About the project owner
I am a teacher of pupils of 11 years old, a job I practise with passion. To make my dream come true I applied for a secondary occupation statute. Also my wife and my son are big fans of the game. It won't be long before our daughter also has the hang of it.
MORE INFO