Leatherman "Rumania"
Deluxe/collector color vinyl Jacques Duvall & Jean-Marc Lederman + digital audio files MP3
About the project
Martyrs of pop presents :
Jacques Duvall  wrote songs for  Marie France, Lio ("Banana Split"), Alain Chamfort, Jane Birkin, Sparks, Etienne Daho, Bijou and Henri Salvador.
He sings too ! Jean-Marc Lederman was Fad Gadget and The The keyboardist. He worked for a long time with Alain Bashung.
Together they started a new and awesome new project: Leatherman.
Creative covers of : Solomon Burke, Nino Ferrer America, Nino Rota, Screamin' Jay Hawkins, Ray Charles, Seeds, Gloria Gaynor, Bobby Darin and Ian Tyson...
<Help us to make this project real in a deluxe/collector vinyl physical release
normal edition 20 € (limited to 450 buyers)
1 x Vinyl Leatherman 180g : Rumania
1 x full album in mp3
1 x full instrumental album in mp3

+ 1 x Bonus CD Alexander Faem (while stock last)

 

Deluxe edition collector  35 € (limited to 50 copies)

1 x Vinyl Leatherman 180g : Rumania Signed by the artists and numbered with a silk-screen printing
1 x luxury impression photo
1 x full album in mp3
1 x full instrumental album in mp3
+ 1 x Bonus CD : Alexander Faem (while stock last)
Bonus :you will get a free song as soon you suscribe and another free song will be sent to you if you bring two other suscribers !
vous recevrez une chanson dès inscription et une autre vous sera envoyée si vous faites signer 2 autres personnes.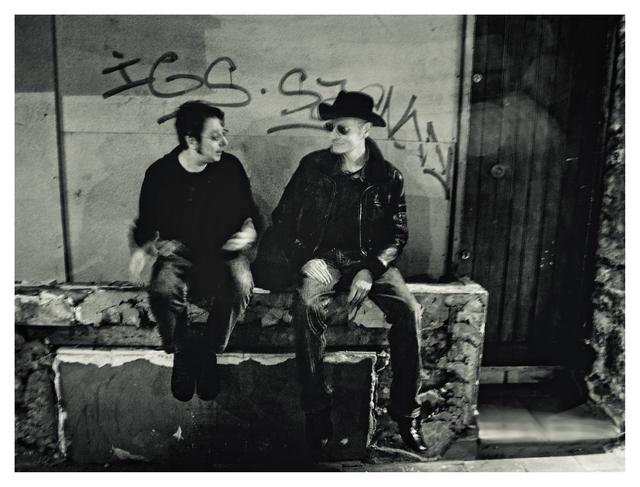 Bios :
Jean-Marc Lederman :
Played keyboards for English band Fad Gadget in 1981.
In 1982 he played with The The.
In 1985 he founded The Weathermen.
In 1995 he was hired by Alain Bashung for the Chatterton album.
In 1998 he wrote « Ode A La Vie » for the same Bashung (on Fantaisie Militaire).
The rest of his time has been spent hanging around in front of his TV set, doing fuck all. Which would lead him to write stuff for the Baywatch famed TV series.

Jacques Duvall :
Wrote his first song for The Runaways in 1977 with Joan Jett, their guitarist.
He then wrote for Jean-Marc Lederman, Marie France, Lio ("Banana Split"), Alain Chamfort, Jane Birkin, The Sparks, Etienne Daho, Bijou and Henri Salvador.
Since his meeting with guitarist Miam Monster Miam from Lièges, Belgium, he's been also « singing » from time to time.
But he's merely spent most of his time hanging around in front of his TV set, doing fuck all. Which has led him to nothing worth at all.
Well, sometimes cases can slightly differ, can they ?
"I hope you're aware of the fact that I'm not a real singer". That's what lyricist Jacques Duvall (he wrote songs for Jane Birkin, Sparks, The Runaways, Lio) told Jean-Marc Lederman when asked if he was interested in participating as a vocalist in Jean-Marc's new musical project. Lederman, one of the most versatile keyboard players in continental Europe (he worked with French rock icon Alain Bashung and numerous British bands such as Fad Gadget, The The and Gene Loves Jezebel) dryly answered: " That would be no problem, since I'm not a real musician". The diabolical duo named themselves LEATHERMAN and their first album consists of somewhat deranged cover versions of several favourite songs of theirs. If you believe that beauty can sometimes be slightly out of tune, then you're a candidate to fall in love with this very peculiar record. LEATHERMAN's goal is not to de-construct or to shock, both participants are devoted popular music lovers. They just attempted to prove that a good song can perfectly stand the test of being left in the rough and non conventional hands of genuine amateurs, as opposed to well skilled but jaded pros. Does this presentation paper look like a 1977 punk record review? Well, LEATHERMAN is not a punk band but it might be of some significance that both Lederman and Duvall started their careers in musical crime that very year when the two sevens clashed...
(c) photos : Michel Clair.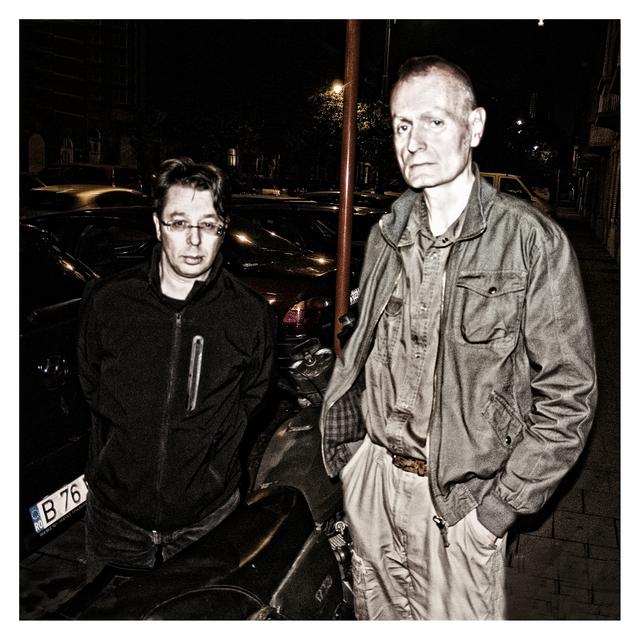 Financing will help covering fees for mechanical royalties, mastering and pressing the vinyl record in audiophile vinyl version, luxury record pocket, and mind-boggling bonuses (silk-screen printing and photo).
180 grammes Vinyl. White color
Inner black and white, printed.
Pocket in colour (quadrichromy) 280 grm thick - matt impression.
Square back, 5 mm, gloss.
With download card.
 50 vinyls will be numbered with a silk-screen printing (in colour) signed by the artists and a  photo (luxury impression) + a bonus CD of Alexander Faem.
The 500 vinyls will be numbered as part of a limited series.
All the buyers will receive the whole album (the songs + the instrumental versions)  on digital files !
So if you don't have a turntable you still can listen to the record on your ipod and enjoy the object !
A collector for sure !
(c) photos: Michel Clair.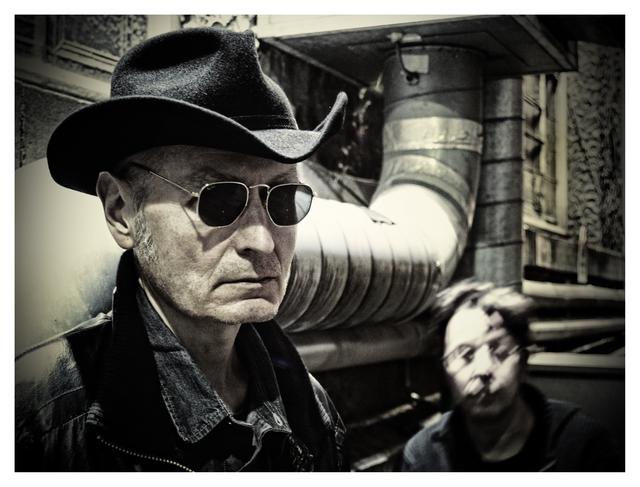 About the project owner
(c) photos : Michel Clair.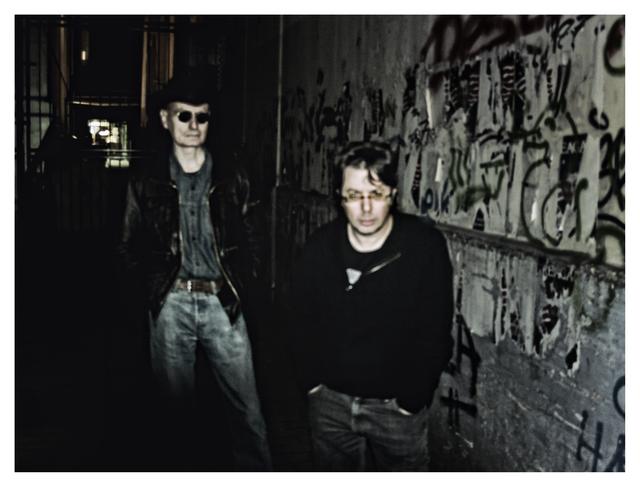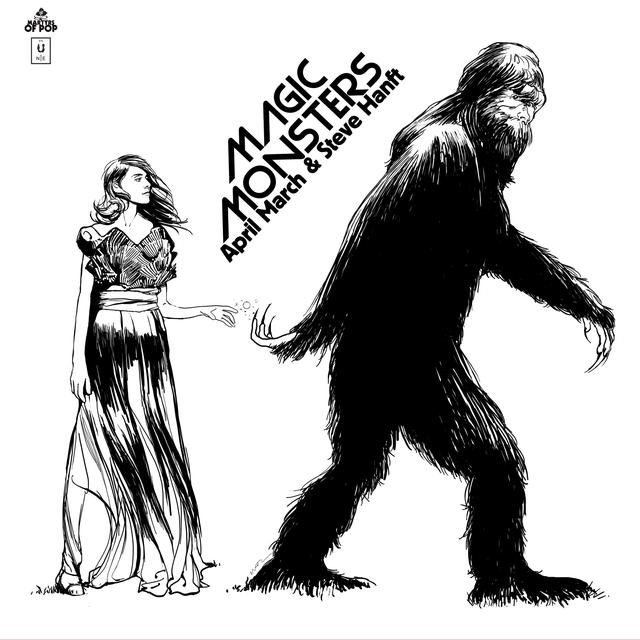 Martyrs of pop is Jean-Emmanuel Deluxe's label. I'm a journalist and pop culture activist, I'm a current writer or have written for Standard, Rock & Folk, M.C.M., Canal +, Geek, Dedicate, Crash, Voici, Playboy, Roctober, Schnock, Shindig, The Idler, Technicart, Fluide G & Citizen K, to name but a few.

I collaborated with Bruno de Stabenrath or Gilles Verlant, as well as I wrote many books on pop culture (with forewords by the likes of Jean-Pierre Dionnet, Bertrand Burgalat and Christophe Lemaire). I'm working onaudio-visual things, a novel, scripts, an album and many more !

As a pop performer , script-writer, author and DJ, creating a label only seemed totally natural for me.

You see, I've always liked to share my own enthusiasms and discoveries !

As it now goes with this brand-new project with Jacques Duvall & Jean-Marc Lederman !

Martyrs of pop finds its roots in labels such as Sordide Sentimental, él Records, Factory Records, Rough Trade, Tricatel & Compact organisation...

The idea is to establish a strong friendly link between artists and their audience in a craftsman-like spirit.

Our catalogue : 

April March &  Steve Hanft : Magic Monster

The incredible April March whom I once introduced to my dear friend Bertrand Burgalat, with the artistic good fortunes that we all know about now ! April, of whom Tarantino used "Chick Habit" (her cover of France Gall's "Laisse Tomber Les Filles"), which I had released 15 years earlier on my previous label Euro-visions!

(vinyl LP)

Alexander Faem : Agent 238
A mock soundtrack to an espionage movie, in between John Barry and Ravel ! (CD)

Penelope : Benefit of doubt

(see-through red vinyl EP) Phoenix's protégés, they offer a  retro-futuristic garage rock blend with vintage electro !
Purple Submarine Orchestra : Acapulco EP
Purple Submarine Orchestra truly belongs to the the Wilson- O'Hagan (High LLamas) family ! (EP vinyl)

Seamonster : Two Birds (EP vinyl)

Enchanting psychedelic indie-rock from Elefant 6 galaxy (Apples in Stereo, Olivia Tremor Control)

With Lion Productions 

The Beautiful Losers (Jay Alanski): Nobody Knows The Heaven (CD)
Jay Alansky, a cult musician who was the other half of Lio's "Banana Split" with Jacques Duvall, and both a producer forJil Caplan and a pioneer of techno with A Reminiscent Drive, had recorded this masterpiece of a glam folk album with his accomplice Christophe J. It had long since been unavailable and considered as a lost treasure that specialists did not hesitate to compare to Lou Reed's Berlin ! 
Groove club vol 1: La confiserie magique

A compilation of rarities and bracing psychedelic nuggets from French pop of the 60s et 70s.
Bye, Bye City" by Le Coeur, "Flower Power" & "Georgie Girl" by Les Hamsters, "Dee Duck" by Maraton, "Une Petite Fille" by L'Empreinte, "Bye, Bye Brighton" by Epta, "Nevada" by Les Rotomagus, "Crazy Mister Badge" by Mister Badge, "Monsieur Cyber" by Les Chimeriennes, "La Vie Est Belle" by le Système Crapoutchik.
With Chalet Films 

THE COMMITTEE

Directed by Peter Sykes in 1968, on a script by Max Steuer

A cult, existentialist, psychedelic pop trip

Though clearly influenced by Harold Pinter, R. D. Laing and contemporary Czech cinema, the film has a wild narrative life of its own. "In a glade bathed in summer light, a hitch-hiker coldly beheads the man who has just given him a ride. Soon, the hitch-hiker is invited to join a strange assembly, gathered up in a country house by the powers-to-be" : what an insight, innit ? 
 Filmed as Swinging London was in full bloom, The Committee  makes one think of TV series such as The Prisoner or The Avengers, with a touch of Kafka's Trial as seen by Orson Welles.
It also features an unreleased score by the Pink Floyd, recorded just after Syd Barrett's departure from the band, and is granted with an incredible performance by Arthur Brown (off famed "Crazy World Of") !
MONDO HOLLYWOOD Directed by Robert Carl Cohen in 1967
This underground documentary is a cult film about Hollywood in the sixties, featuring a lush gallery of its actors, sportsmen, LSD gurus, hippies, dancers and transvestites ! Viewed on its release as a "weird prophecy" by critics, a "pro-communists" film by the CIA, or as "glamorising capitalism, with too many cars and swimming-pools " by the communists themselves, it was banned in France, due to its " apology of  deviant conducts, including drugs and homosexuality". The film witnesses a society whose morals were deeply changing indeed ! Featuring Frank Zappa, Sean Connery, Brigitte Bardot, Alfred Hitchcock, Ronald Reagan, but also Bobby Beausoleil, once a member of the Manson family, now convicted for murder, and Jay Sebring, himself a victim of Manson…
At Serious Publishing :

http://shigepekin.over-blog.com/article-peep-show-1965-de-j-x-williams-55612050.html

http://cinephiliquement-votre.blogspot.com/2010/09/jx-williams-psych-burn.html

http://contre-cultures.blogspot.com/

A DVD introducing the best-kept secret of the movies : J.X Williams, the man who influenced Scorcese and Tarantino, whose tumultuous life (the mafia, Kennedy, the Vietnam war, sex, drugs and betrayals) is to made into a biopic, Hollywood being really fond of such "larger than life"stories. A fascinating and exploding Barnum !
To finish with, I'll add that I'm about to release a new album in the line of the first I made called Tribute to Delon/Melvillewhich featured April March, Bertrand Burgalat, Jacno, Helena Noguerra, Saint-Etienne, Luis Régo and Ariel Wizman.
On this new opus, entitled Rouenllywood (Rouen being my hometown), the guest will be April March, Fifi Chachnil, Helena Noguerra, Bertrand Burgalat, Kevin Coral, Sean O' Hagan (High LLamas) et Zappi (from Kraut-rock legends Faust)
Two vidéo previews :
FAQ
If you still have an unanswered question, feel free to ask the project owner directly.