Le Roi se meurt d'après l'œuvre d'Eugène Ionesco
CAP sur les 1000€ ! - Du 22 au 26 janvier 2018 à 20h30 au Théâtre de l'ENS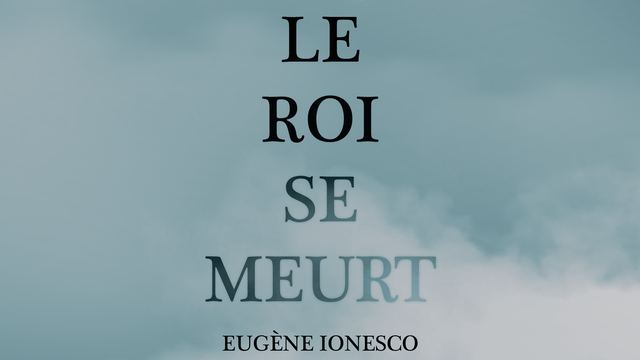 About the project
"Tout homme est une sorte de roi, qui est au centre de l'univers, et l'univers lui appartient jusqu'au moment où, évidemment, tout cela s'écroule."
Ce sont ici les mots de Ionesco lui-même confiés lors d'un entretien du 13 janvier 1963 avec un journaliste sur sa pièce nouvellement écrite : Le Roi se meurt.
Un collectif de jeunes comédiens se propose d'éclairer l'écriture de Ionesco, comique, tragique, absurde. C'est cette contradiction, ces oppositions, ce décalage face à son sujet central, essentiel : la mort, que nous cherchons à mettre en travail au plateau par le jeu.
S'attaquant à une pièce mise en scène et jouée par les plus grands, les comédiens du collectif désirent y retrouver et partager des problématiques qui les touchent profondément : celles qui sont posées à un homme face à sa propre fin et son désir de vivre, son emprise sur le monde, ses limites temporelles et physiques.
La scénographie cherche à donner à voir un espace symbolique, mystérieux, étranger où évoluent des personnages complexes à la fois monstrueux et attachants.
Le spectacle est déjà programmé pour cinq représentations du 22 au 26 janvier 2018 au Théâtre de l'ENS.
Désirant faire du théâtre un partage, une rencontre acteurs-spectateurs, des bords de plateau sont organisés à la fin de chaque représentation.
What are the funds for?
Les fonds récoltés sont dédiés à 3 axes :
Scénographie : plateau métamophosé en un espace à mi-chemin entre une forêt et une salle du trône. Dispositif lumière original.
Costumes : création costume originale pour le projet.
Communication : affiches, bibles.
FAQ
If you still have an unanswered question, feel free to ask the project owner directly.