"Le Grand Jacques"
"rêver un impossible rêve"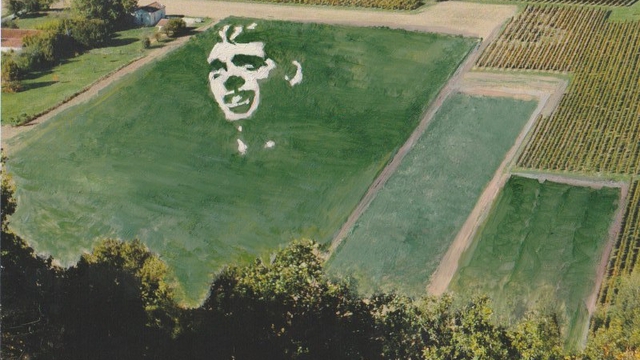 About the project
Ce projet est la réalisation "land art" végétalisé d' un portrait de Jacques BREL de 110 mètres de long sur 55 mètres de large sur  un terrain serti par les vignes, visible depuis le joli village Lotois de BELAYE, situé à cent mètres d'altitude. Le portrait de Jacques BREL se situera en contrebas dans la vallée, dans une boucle du Lot, petite rivière tranquille et apaisante. Cela nous a semblé être l'endroit idéal pour honorer la mémoire de celui qui nous manque tant et nous a tant donné... (le 9 octobre 2018 cela fera 40 ans qu'il s'en est allé) Le terrain est dors et déjà loué... Parallèlement à cette réalisation, une expo ayant pour thème Jacques BREL, illustrera en sculptures et peintures, sa vie, ses chansons. Un concert donné par la chorale "Voix des Toits" qui interprétera des chansons de Jacques BREL aura également lieu. (l'été prochain, date non encore fixée) Un chemin de randonnée  allant de PRAYSSAC, commune voisine, et montant jusqu'à BELAYE, sera balisé sur le thème de Jacques BREL. ( 2 h 30 de marche environ, aller et retour) 
L'équipe  : Anne SCHLESSER, peintre, Vincent CAVALIE, paysagiste et peintre, Jacques COHEN, sculpteur et porteur de projet.
What are the funds for?
Ce financement comprend : location du terrain, réalisation d'une maquette à l'échelle d'un portrait de Jacques Brel quadrillé qui nous permettra de reproduire son visage en contrebas. Ce portrait devra être représenté de façon anamorphique sur le terrain afin d'en permettre une vue sans déformation depuis Bélaye. Préparation du terrain : bornage, damage, balisage. Achat de graines, trèfles, gazon, paille, plusieurs centaine de mètres de fil, "sardines", appareil de traçage, location de matériel, frais de communication et de représentation, frais de déplacement, intervention régulière d'un paysagiste pour l'entretien.
Maquette...

About the project owner
Jacques Cohen, Sculpteur (bois, pierre) Je sculpte également des arbres morts dans les jardins des particuliers, et j'exécute parfois des commandes pour des mairies. Ci dessous portrait en anamorphose  de Jacques Brel.
FAQ
If you still have an unanswered question, feel free to ask the project owner directly.