Laser Drone
Before, the only way to do that was in video games!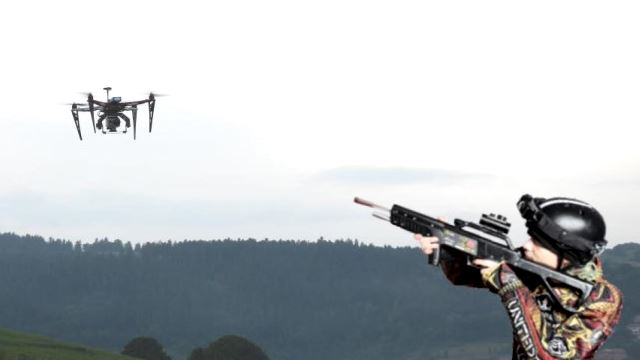 About the project
Laser Drone is an outdoor Laser Game with Drones. 
For video games lovers, Laser Drone is the Unreal Tournament IRL.
The concept is pretty simple:
Take an open paintball-like outdoor field, place on it two 10-players teams fighting to capture a flag or for deathmatch.
Each team includes soldiers with laser guns that can shoot and can be shot like in a classic Laser Game, but also drone pilots that can fly their machines above the battle for observation or attack missions. The drones themselves are equipped with lasers guns, and can be shot like ground players.
The magic formula?
Laser Game + Paintball + Video game = Laser Drone
Two teams of 10 people compete on the ground and in the air with huge tactical possibilities!
The goal depends on the scenario:
Team deathmatch (eliminate all the enemy units)
Capture the flag
Hostage release
Score as you kill
As in a standard Laser Game, a player can't shoot for 30 seconds when she has been shot. The player who took the shot scores.
Each team has:
4 soldiers (shooting range between 1 and 50 meters)
1 sniper (shooting range up to 150 meters)
1 medic (shooting range between 1 and 25 meters, can heal friendly soldiers)
4 drone pilots (safe at the HQ, the drone has a shooting rage up to 150 meters)
To give you an overview of the huge tactic possibilities offered by Laser Drone, here is snapshot of a game opposing a red and a blue team for a capture the flag game:
These two soldiers are preparing an ambush to defend their flag
These two drones are fighting in the air. They are a 100 meters above the ground and nearly out of range for the soldiers on the ground
This blue soldier tries to break the cover of the enemies in 1, she has an air support for that
This drone and this soldier are standing by to defend their flag
This soldier tries to take down the red drone attacking him from behind
This red drone is attempting an attack on a blue soldier who was hiding to defend her flag
This blue drone is hovering to defend the flag
This drone is flying high, ha has an overview of the whole game and reports every enemy movement to his team
This sniper waits for 3 to dislodge the soldiers in 1, and eliminate them from a distance
This soldier is hammered by the hostiles in 4, he is waiting for an air support
The soldier is a ground player equiped with a laser gun.
A soldier can shoot the enemy soldiers and the enemy drones.
When a soldier is hit, he can't shoot for 30 seconds.
The pilot is a ground player, safe at the HQ.
He is equiped with immersive video glasses and a radio controler, his mission is to pilot his drone to fight and observe from the sky.
With his drone, the pilot can:
Fight with enemy drones

Shoot soldiers on the ground

Observe the field
He sees the game and the enemies as if he was in the drone.
The pilot cannot be shot directly, but his drone can be taken down.
When a drone is shot, the pilot looses control, he can't shoot anymore and his drone heads back to base automatically.
The drones are very handy 1.2kg quadrirotors, with a top speed up to 50km/h.
Each drone ships:
An adjustable stabilizer platform

A GoPro camera

A laser gun

A

 GPS
​
As on the soldier's helmet, a laser receiver target is also shiped on each drone. When a player aim a drone, she has to aim for this receiver.
A drone has a maximum flying time of 15 minutes.
After that, the drone returns automatically to its base for battery change, then it is not available for the game.
As an F1 team integrates supply and maintenance of the car in the race strategy, it is essential that teams intelligently manage the availability of their drones.
Drones are relatively easy to control thanks to the GPS and the stability offered by their 4 rotors assistance. Players will follow a short flight training before starting the game.
Have a question about the Laser Drone project? 
Ask on the Crowdfundingforum.com!
What are the funds for?
To start the project, we definitely need your support.
Here's how the money will be used:
€4,000 - We can start working seriously. The € 4,000 will be used to buy the first equipment and to start the development the technology on board drones: 1 quadrotor drone DJI Innovations with GPS equipment, the GoPro camera and FatShark video immersion glasses (2200€) + 1 kit laser gun with target and the central radio system for counting score (1500€) + 2 batteries for the UAV (200€) + 2 carbon fiber spare propellers (100€)
€6,000 - We can purchase the equipment on drones, but also to fully equip a soldier on the ground. In other words, the €6000 level allows us to completely build Laser Drone technology and develop attack air/ground strategies.
€10,000 - We can fully equip 2 drones and 2 soldiers to begin in-depth game system testing
€20,000 - Things are getting serious, we can equip 2 teams with 2 drones and 3 soldiers in each team
€50,000 - Two complete teams (6 soldiers, 4 drones) can fight!
The bearing base is €4,000, without this we can't build and test the gaming technology.
About the project owner
My name is Matthieu Garde, I'm 27 years old.
I'm a software engineering expert, .NET developer and an entrepreneur.
I took a 5 years course in an IT school, and started my career as a CTO and co founder in a startup. Since that day, I never left the world of entrepreneurship.
Today, I'm the founder of Lean Startup France, the very first french consulting firm helping entrepreneurs building their business model with Lean Startup and customer development strategy.
In this context, I train and mentor a lot of entrepreneurs who are building products and services and looking for their market.
I am also the organizer of the largest French Lean Startup Workshop who introduced 500 entrepreneurs to the Lean Startup in it's first year.
Meanwhile, I never stopped building startups!
Some of them are failures , others are more promising. That's life as an entrepreneur !
Outside the world of business, I'm a big fan of cars and planes and a video game lover. The idea of Laser Drone came to my mind in Paris, when I was looking for a flying drone.
I immediately began to tell people about the concept to test their reaction. With 80% of respondents who leave their email to be kept up to date, it is time to move to the second step: raise funds and start building the project!
How to be informed if you have not given me your email?
Besides the Ulule page, here's how you can follow the Laser Drone project:
If you subscribe to the newsletter, you will receive two emails per month to keep you informed of the progress.
The official website will be populated with articles describing what is behind the project, the operation of drones, the development of technology, and of course the overall progress of the project.
Feel free to send me an email at matthieu.garde (AT) laserdrone.fr or shoot me on Twitter (@MatthieuGarde) for any question.