'Là-bas' de Cécile Metzger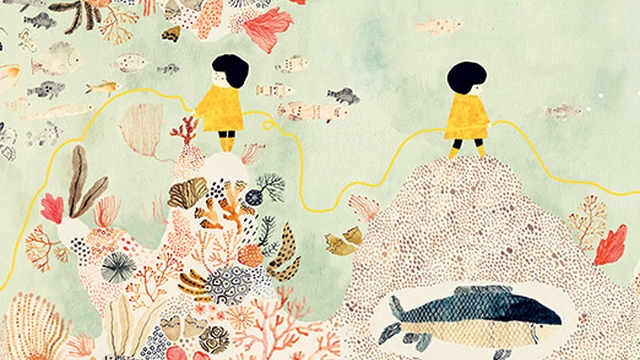 About the project
In November, 'Là-bas' will be released a superb youth album by Cécile Metzger.
It is the story of a child who finds a yellow thread on the ground. Curious, he decides to see where he takes him. To live his adventure, he will have to overcome his fear of the unknown. He will discover sumptuous landscapes populated by animals and at the end of his journey, a nice surprise awaits him ... 'Over there' is a visual poetry, a leporello that invites you to travel that makes you grow ... The album speaks of change, of fear of the unknown which, once tamed, becomes an experience that makes you grow and enrich. Behind the sometimes scary unknown, this is often where the magic hides, because at the end of the road there will surely be something pretty waiting for us, or at least one that will help us grow.
Some pictures of the leporello:
Below is the start of the deployed leporello
...
Below the folded leporello :
By double page

The book is a leporello which when opened measures 165 x 20 cm and when closed its format is 15 * 20cm. Convenient to slip it into a small backpack. Take it everywhere with you. It will be printed in color not far from Lille, in Ghent in Belgium, in a printing press that is very close to ecology.
Little extras: The leporello (accordion book) fits into a cover-jacket whose interior can be colored . Want to display the leporello? This is possible because it is not connected to the jacket. The album becomes an object of decoration. The child can lie down on the floor with the book unfolded in front of him or even hang it near his bed ...
What are the funds for?
Buying 'Over there' is of course a great moment of discovery that awaits you, it is also supporting Cécile Metzger's work, supporting Cyprienne Kemp's choices and risk-taking. By purchasing 'Là-bas', you are helping the independent edition which, thanks to you, can continue to offer bibliodiversity. Thank you !

How was this book born?One day, Cécile left to live in a country she did not know and that scared her. To overcome it, she drew up the story you will have in your hands. The stranger seemed to him to be a tall, somewhat frightening figure, like an immense animal. But she learned that the closer you get, little by little, the more the animal that frightens us can become sweet and fun. Through this book, she wishes to whisper that the unknown is often full of magic.

With your purchase, you will be the ambassadors and supporters of this edition !

The rewards: a badge of a meeting between a butterfly and a panther (45mm in diameter), a set of 10 envelopes in the colors of the adventure, an A5 travel notebook ... and a zine which includes a set of sketches, of Cécile's research for this album, a way to go behind the scenes of creation! Make your choice !
About the project owner
Who is Cécile Metzger?

A young woman from Franche-Comté, she has been drawing for a very long time, like all children in fact, except that she continues to do so. She studied French literature in France and English literature in England during a one-year Erasmus stay in the city of Leicester. As an illustrator, she is self-taught (but has nothing to envy others). She likes to look at the little old people on the benches, the decrepit but so pretty houses, the people in the airports and the flowers, and then she gives them a different story than theirs by setting them down on her slightly yellow paper ...
Who is Obriart éditions?

An independent edition based in Lille which publishes artist's books and children's books. Cyprienne Kemp, the editor, is keen to show the existing artistic plurality and to offer books that allow children to "think of themselves". She wants to have a reasoned editorial production (if, if like organic).
The philosophy of publishing? 'Make sure that what was closed is no longer so. Move what prevents free passage. ' The book is a meeting place, a world where we exchange. We enter this world, close it and open it as many times as we want. You can transport it and exchange it with others. It is a space for words, sometimes improbable encounters. The book leaves a trace of this exchange over time. Open up to difference, whether artistic, cultural, opinions (or other); because the differences are not opposed, but rather complement each other. The difference is a wealth.